Note: the built-in Google Font selector is outdated and does not reflect modern web best-practices: https://developers.google.com/web/updates/2016/02/font-display
For added flexibility, we have included  11 of Shay's favorite Google webfonts in the customizer options in Cravings Pro and Seasoned Pro: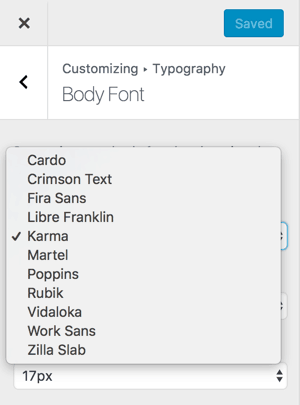 You can set any of these typefaces to work for your body, accent fonts, and headings.
Sometimes you already have a font in mind that works for your brand, though.  And we get that.  To override the Customizer settings and use your own Google webfont, place the following snippet in the code snippets plugin.
Replace Droid Serif and Open Sans with the fonts that you want to use (correct codes can be found at google.com/fonts).  Then, you can easily change your stylesheet to use your selected fonts.
Custom Fonts with Cravings Pro
Add this to the code snippets plugin:
Custom Fonts with Seasoned Pro
Add this to the code snippets plugin: