DO NOT UPDATE TO WORDPRESS 5.5.
WordPress 5.5 contains a number of features. We'll cover off first impressions below. The quick summary is:
Update to Genesis 3.3.3
Do not update to WordPress 5.5
A number of plugins need to release fixes for WordPress 5.5
Do not use the new "auto update" feature for themes and plugins
Do not edit images in the block editor (always optimize/edit BEFORE uploading)
Block patterns are neat, but won't be stable for many months
Do not use the block directory (this is basically just a plugin directory, and you don't want to install too many unknown-quality plugins)
WordPress' new native lazyloading is not an adequate replacement for WP Rocket's lazyloading
WordPress' new native XML sitemap is not an adequate replacement for Yoast sitemaps
The block editor looks slightly different in WordPress 5.5, but most functions the same
Jump to:
Genesis 3.3.3
It's okay to update to Genesis 3.3.3, and you'll want to make sure you do this before updating WordPress to 5.5 (not recommended yet) to avoid breaking changes:
Breaking
Updating to WordPress 5.5 will cause errors to display on your category pages: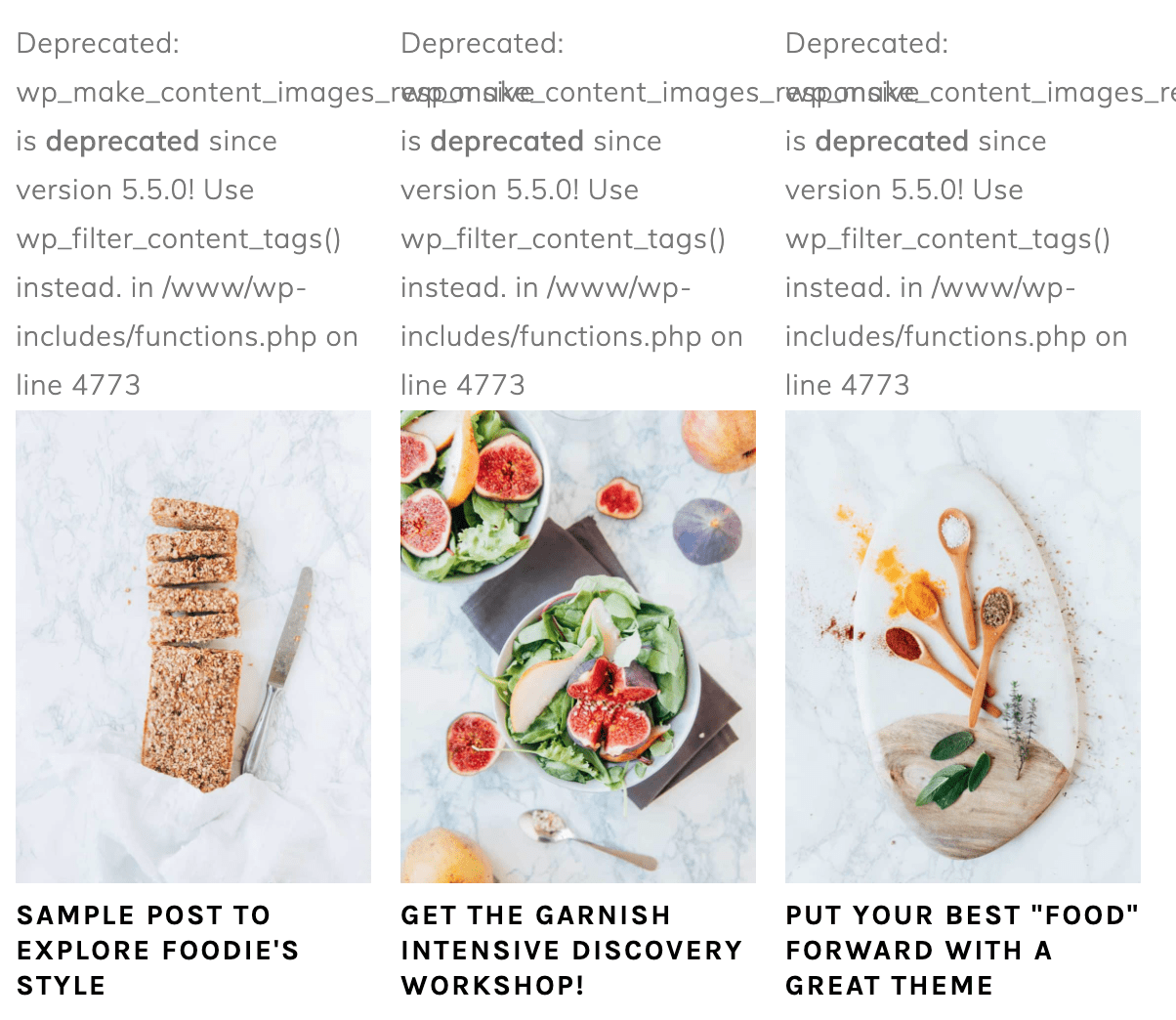 To resolve this, make sure you've updated to Genesis 3.3.3 before updating WordPress.
There's also a large number of errors being generated in the block editor by plugins that were previously compliant, such as Create by Mediavine and WP Rocket.
Warnings
WordPress 5.5 currently throws a number of PHP warnings for the Create recipe card, as well as WP Rocket.

We recommend waiting for these issues to be patched by the plugins before upgrading to WordPress 5.5
Plugin auto updates
In general, you want to avoid performing automatic updates because it makes it impossible to tell which update caused a specific issue. This is a troubleshooting nightmare.
Major version changes change for a couple weeks.
Even minor version changes should be avoided for about a week, as they introduce breaking changes frequently enough to be problematic.
Only patch updates should be applied when available. And even then, we'd recommend doing it manually so that you can test your site after applying the update.
The bright side here is that 5.5 only introduces the ability to apply automatic updates, and doesn't do it for you. You have to manually enable it, and we don't recommend doing so.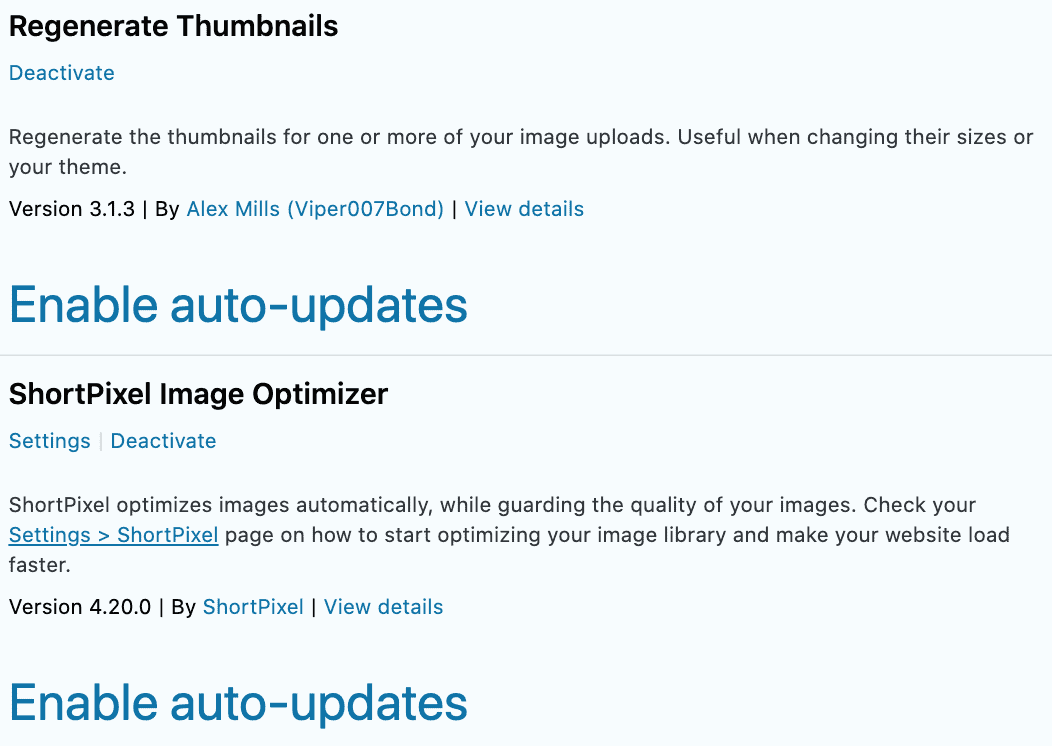 We will not offer support for sites with automatic updates enabled.
We've added the ability to disable the auto updates user interface via the Feast Plugin:

Note: we've temporarily disabled this in the Feast Plugin v.4.6.3 for further testing.
Theme auto updates
Theme auto updates only apply to parent themes. As our themes are "child themes", the theme auto update feature will not work.
Regardless of whether it could be applied to child themes, we don't think enabling automatic theme updates is a good idea because of the changes and configurations people make to themes, which are overwritten during theme updates.
Themes are dead and should not be relied on for functionality. All future development is going into the Feast Plugin, which already has an update feature.
Image editing in the block editor
WordPress 5.5 introduces image editing to the block editor. We recommend avoiding this entirely because of unintended consequences.
There's no substitute for pre-upload image optimization. WordPress developers are not image optimization experts and this inline editing will never be as good as using a real photo editor.
Always perform your image editing before uploading.
And for content sites like food blogs, images are critical.
It's also a problem to not have working copies backed up to your computer. If you ever lose the image on your server or it becomes corrupted, any changes you've made post-upload have been lost.
As is typical of developers, they've looked at 1% of the problem and thought "we can technically do this and it's interesting so let's do it" and shrugged off serious issues because it's "not their problem".
Block patterns
Block patterns are an interesting concept, but are likely to change significantly over the next few months/years. This should be treated like a BETA feature, not ready for public use. We recommend avoiding this for now.
Block directory
The block directory is essentially a plugin installer and we don't recommend using it.
Large quantities of poor quality plugins = bad on pagespeed and can cause plugin conflicts.
You don't want to add a ton of unnecessary garbage to your site that can slow it down, especially if these are things that will only be used on a single page.
We've been saying for years that you should be extremely selective with your plugins, this applies to the "block directory" too.
Native lazy loading
This is a good addition with a lot of benefits, and is better than no lazy loading. Nothing needs to be done here. If you didn't have lazyloading before, your site speed will improve.
But WordPress 5.5 lazyloading is inadequate for recipe sites. You need WP Rocket.
If you did have WP Rocket before, it will override the WordPress lazyloading.
XML sitemaps
WordPress 5.5 now includes a default sitemap, but it indexes things like tags (which shouldn't be indexed!)
But WordPress 5.5 sitemaps are inadequate for recipe sites. You need Yoast.
If you use Yoast, it will still be the default sitemap, and should override the WordPress setting. Be sure to review our recommended Yoast SEO settings for food blogs.
Block editor styling updates
The block editor received a number of styling changes, related to accessibility and standardizing the interface. The top-menu previously looked like:

And now looks like:

Additionally, the interface tied directly to blocks used to look like:

And now looks like:

Note that the container highlight has disappeared, and to drag/re-order the block you now hold the up/down arrow and drag.
Other notes
You can find additional coverage on WordPress 5.5 update from Yoast and update notes from Kinsta.