We now have easier support tickets built into the Feast Plugin! Simply log into your sites WordPress admin and go to the Feast Plugin.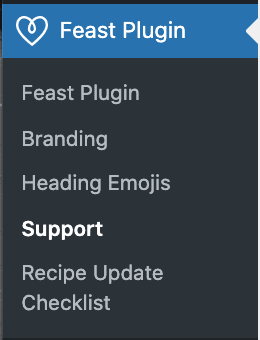 We love helping our customers! We want to make setting up your food blog as simple as possible, which is why we've put hundreds of hours into developing our tutorials, and continue to add more every week based on what our customers need help with.
Check out the tutorials first, to see if your question has already been answered. Start in the tutorials for your theme, then try the general tutorials
Try Google'ing - if the question isn't theme-specific, it's probably a WordPress or Genesis, or plugin issue that has been answered already somewhere
If you're not seeing changes you're making on your site (especially if you just updated your theme), you need to clear your cache - this is not theme related
If your issue remains unresolved, reach out to us with a support ticket below so that we can update our tutorials
Please keep in mind that support tickets takes resources away from updating the themes and implementing new features, which benefit you directly as well as thousands of other food bloggers. Reach out if you're stuck on something (or need guidance), but use your discretion.
Need help with setting up the Feast Plugin? We offer White Glove setup services for the Feast Plugin
Submit Support Request
Please familiarize yourself with theme support vs. customizations - we don't offer support for customizations.
Support is offered for customers who've purchased our premium WordPress themes for their self-hosted wordpress.org blogs. We can help troubleshoot issues or point you in the direction of a tutorial or how-to.