Have you ever avoided updating your theme because it was difficult, time consuming, and you were afraid of losing your changes?
Do you know that your blog is being penalized because it's outdated, but updating is a hassle?
We've heard you.
Update Without Reinstalling
The Feast Plugin will make updating your theme simpler, providing functionality that can be kept up-to-date without having to reinstall your theme.
Save Customizations When Changing Themes
Even better, we'll be making these persistent, saving your plugin customizations between theme changes.
Unlock Next-Gen Features
We're building out next-generation features (including the block editor) and further customization settings, helping food bloggers who want to take their blog further, and get the most of their time and efforts.
All new features will be built into the plugin moving forward, instead of the themes, so that we can update them as necessary over time.
Bonus
For a limited time, subscribing to the Feast Plugin grants you access to all 5 Feast Design Co. themes, including:
Foodie Pro v.4.3.0
Brunch Pro v.4.2.0
Cook'd Pro v.4.2.0
Seasoned Pro v.4.2.0
Cravings Pro v.4.2.0
Normally priced at $199/year for the plugin and access to themes, we're offering an early subscriber price of $99/year including the plugin and all themes. You can cancel the subscription at any time to avoid being re-billed.
$99.00 / yearSign Up Now
Jump to:
2019 And Beyond
2019 will be the year of user-experience (UX), shifting the focus to making sure your blog is optimized for the user-experience of your visitors. The Feast plugin makes complying with these changes simple, with options for:
Toggle: Navigation Before / After Header
Additional Image Sizes
Configurations audit (in development)
Disable Social Pug pinning on non-post pages
Upcoming features include:
Foodie Profile
Additional styling
---
Modern Mobile Menu
The navbar for the modern mobile menu drastically improves above-the-fold content being displayed. This is a more user-friendly experience.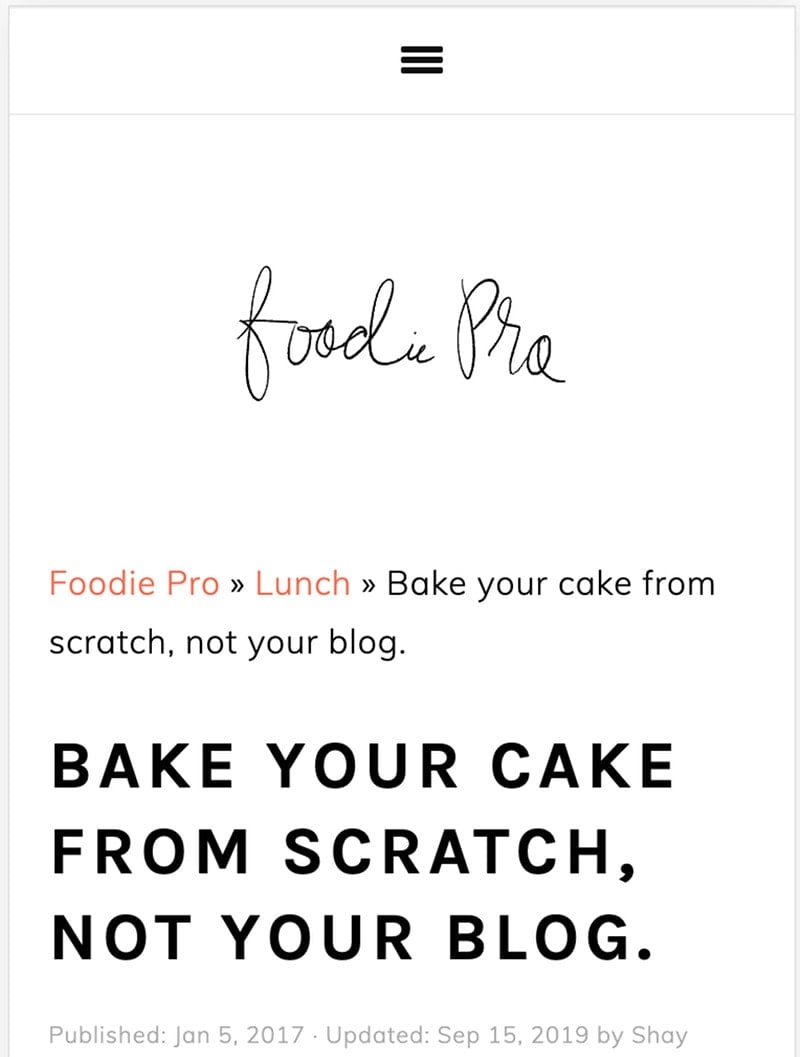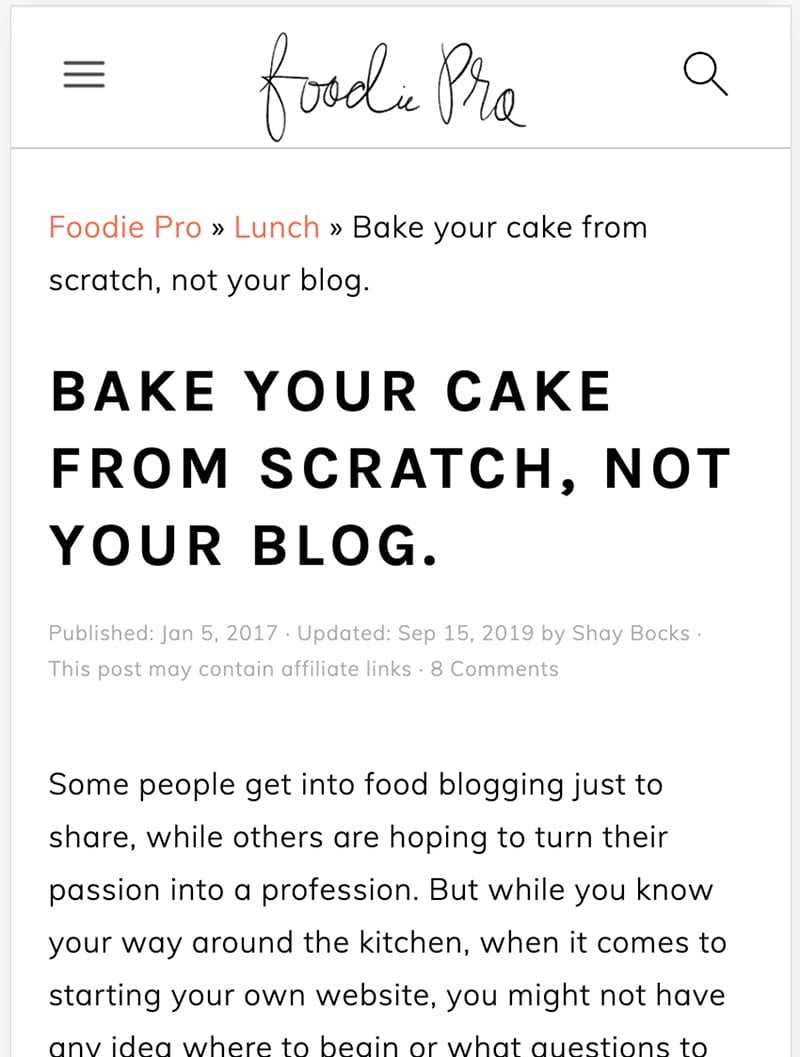 ---
$99.00 / yearSign Up Now
Simple Category Index
The Simple Category Index introduces a way to visually display categories, improving site structure and reducing the click depth of posts.
---
Foodie Profile (in development)
Roughly 80% of traffic to food blogs now being driven by mobile. This means that when someone lands on your recipes (typically, 90% of your website traffic), you're failing to demonstrate "creator expertise", which negatively affects your E-A-T and page quality.
Is your "About Me" located in your sidebar? Chances are that 80% of your visitors never see it and never know who you are. On the mobile version of food blogs, the user-profile sidebar gets pushed below your content - all the way down at the bottom.
The Foodie Profile adds an author box above your posts, explaining who you are and why you're an expert on the page's topic.
This is also a great place to put a short call-to-action - whether to sign up for a newsletter, buy your latest cookbook, or join a membership program.
---
Additional Styling (in development)
We've added styling classes, making customizing your blog easier than ever. Included are:
feast-round-image: make your images a circle
feast-vibrant: make your images brighter and more colorful
feast-vibrant-2x: even brighter and more colorful!
feast-greyscale: turn images an edgy monochrome color, and restore the color on hover
feast-chat-bubble: make images and content distinctive with a chat bubble layout
Note that these styling classes affect the display of images on your blog's front-end, not the back-end, and they don't actually modify the image. If someone downloads or pins your images, the original file will be used. These do not create additional versions of your image on your host.
---
Simple Recipe Index (in development)
The recipe indexes in all themes were set up in different ways, depending on what the prevailing best practices of the time were. Unfortunately, this means they're all setup different, and it makes changing themes difficult.
With the Simple Recipe Index, we're creating a new recipe index into a re-usable template that will be integrated into the block editor over time. This new version will contain feature requests and solutions to common support requests.
Rather than complicated widgets and custom page types (which sometimes created duplicate pages), this will be built using shortcodes, with support for the block editor added over time.
$99.00 / yearSign Up Now
---
Configuration Audit (in development)
Have you followed the hundreds of updates and articles put out by Google, Yoast, WP Rocket, WordPress, Genesis and Feast over the years? If not, your blog settings may be holding you back.
The configuration audit checks your settings against current best practices, which are regularly reviewed and updated here at Feast, and notifies you when your settings should be updated.
---
Support
The Feast Plugin is designed to work as-is, and does not include anything not explicitly outlined above.
You can always send in a request for something you'd like to see implemented.
We have not seen any issues with Jetpack, but expect that it may cause conflicts with some sites.
---
Pricing
The Feast Plugin is a subscription service:
$99/year - Base plugin

$199/year Limited Time: $99/year - Gain access to the Feast Plugin, plus all 5 Feast Design Co. themes, and switch at your heart's content. No refunds (or money back guarantee) due to theme files being non-refundable.
You are purchasing a yearly license subscription which grants you access to plugin updates and priority support.
$99.00 / yearSign Up Now
---
Requirements
Genesis Framework (not included)
Theme from FeastDesignCo (for some of the features, but not all)
Hosting with:
---
Refunds
With the base plugin, you can cancel any time in the first 30 days for a full refund. At this time, we're not selling the base plugin separately. Only the $199/year option (includes access to all themes) is available for sale, and is not eligible for refunds.
Plans that include access to theme files are not eligible for refunds or the 30-day money back guarantee.
---
Canceling
You can cancel your subscription at any time and you'll retain access until your year is complete. Canceling the subscription does not initiate a refund.
---
FAQ
We'll answer questions as they arise via the Feast Plugin FAQ.
Features and functionality may change as they're developed. Some statements are forward-looking plans, and not guaranteed to be implemented or maintained long-term. Version 1 has been launched as a minimum-viable-product under the "release early, release often" software philosophy. The value of the plugin for the immediate future lies in the access to all themes for $99/year.
---
Releases
4.0.0 - in development

Modern Homepage
Feast Simple Recipe Index

3.8.0 - February 17, 2020
3.7.0 - February 11, 2020

Support tickets added in the admin

3.6.9 - February 3, 2020

Remove WordPress "Smart Quotes"
Added "Jump To" links to settings page

3.6.2 - January 21, 2020

Advanced Jump To Links updates:

IDs more aggressive - removes any existing ID on h2s
Setting added: replace recipe card link with custom text
Added example headings to Emoji list in Feast Plugin
Added list of animals (beef, pork, chicken, duck, mutton, seafood) to emoji list in Feast Plugin

3.6.1 - January 16, 2020

Advanced Jump To Links updates:

Enabled on pages now, not just posts
Setting added: default open or closed
Setting added: specify your own "jump to:" text
Setting added: insert link to comments at end of list

3.6.0 - January 15, 2020
3.5.0 - January 9, 2020
3.4.7 - December 19, 2019

Update to Modern Mobile Menu - toggles on at 1200px

3.4.6 - December 17, 2019

BETA feature for updated Google Fonts - do not use

3.4.3 - December 11, 2019

Disable Mediavine Jump to Recipe if Mediavine 1.5.0 native "Jump to Card" detected
BETA features for testing images - we do not recommend enabling these settings until out of BETA

3.4.0 - December 3, 2019
3.3.0 - November 17, 2019

3.3.1 - November 24, 2019 - fixed issue with Simple Category Index displaying at inconsistent sizes on mobile
3.3.3 - November 25, 2019 - fixed text overflowing, added link to plugin page in admin menu bar
3.3.4 - December 2, 2019 - formatting update + notice of "Jump to Recipe" being removed due to Create's built-in Jump to Recipe feature with ad-enhancements

3.2.6 - November 3rd, 2019

BETA implementation of future release for beta testers
Whitespace fix for Modern Mobile Menu logo

3.2.0 - October 7th, 2019

3.2.1 - October 9, 2019 - Add feature to process shortcodes on Custom HTML widgets
3.2.3 - October 15, 2019 - Added desktop-specific display options for Simple Category Index
3.2.4 - November 1, 2019

Improvement: add vertical scroll handling to Modern Mobile Menu
Fix: whitespace issue with Modern Mobile Menu logos
Added: feast-line-through class for text, feast-image-shadow class for images

3.1.0 - September 27, 2019
3.0.0 - September 24, 2019

Layout fix: block editor overlap in Chrome
Update: block editor content width changed to 720px to match front-end

2.8.0 - September 16, 2019
2.7.0 - September 12, 2019
2.6.1 - September 8, 2019

Fix: corrected comment date to match original
Fix: updated "Edit Post Info" example to include author
Fix: reading time + wordcount now just outputs the numbers, and lets you add your own description (for international/language support)

2.6.0 - September 4, 2019
2.5.0 - August 30, 2019
2.4.1 - August 28, 2019

Hide "Disable Genesis Schema" if on Genesis 3.1.0+

2.4.0 - August 22, 2019

Fix footer error in Genesis 3.1.0+

2.3.0 - August 13, 2019
2.2.0 - August 13, 2019
2.1.0 - August 13, 2019
2.0 - August 13, 2019

Auto-update from the plugin page

1.9 - May 3, 2019
1.8.1 - April 19, 2019
1.8 - April 2, 2019
1.7 - March 15, 2019

Note: this requires further development work, and is in BETA

1.6 - March 8, 2019
1.5 - February 26, 2019

Update March 8, 2019: Disclosures usable in edit post info
Update April 2, 2019: word count + reading time usable in edit post info

1.4 - February 1, 2019

Previous/Next Post Navigation

1.3 - January 15, 2019
1.1 - December 26, 2018