The Feast Plugin completely replaces your theme setup with a rewritten modern standard, built not just around aesthetics, but also making giant leaps in:
SEO
pagespeed
user experience
accessibility
You can think of the plugin as a brand new theme (minus the styling) designed for 2022, but instead of falling behind on updates, your site is continually updated to meet modern best practices.
This lets you spend less time updating and maintaining your site, so that you can spend more time on creating content and giving your readers what they want.
Experienced bloggers will love...
Updates Without reinstalling
The Feast Plugin will make updating your theme simpler, by providing theme-replacement functionality that can be kept up-to-date without having to reinstall your theme.
Save plugin customizations
Customizations made with the plugin settings are saved between theme changes and plugin updates.
Unlock next-gen features
We're building out next-generation features that are compatible with the block editor.
All new features will be built into the plugin moving forward, instead of the themes, so that we can update them as necessary over time.
Access all the themes
The Feast Plugin grants you access to our entire theme library so that you can refresh your site whenever you want, including:
Foodie Pro v.4.4.1
Brunch Pro v.4.4.2
Cook'd Pro v.4.4.1
Seasoned Pro v.4.4.2
Cravings Pro v.4.4.2
Genesis 3.3.5
Here's what you should know
The plugin lives alongside your current theme and enhances it, it does not replace the theme
Theme updates are still required for certain issues, but we've been able to deliver approximately 95% of updates via the plugin, instead of requiring a theme update
We do not support all site configurations or plugins (such as ecommerce), please see the plugin audit
Priced at $249/year, you can cancel the subscription at any time to avoid being re-billed. Your currently installed copy will remain, but you will lose access to updates and support.
$249.00 / yearSign Up Now
Jump to:
Updates
How often do you update your theme and site configuration based on ongoing changes in best practices, and plugin updates? How often are you aware that these are happening? How easily can you decide how and what to change?
Once a year? Once a month?
Since launching the Feast Plugin, we've averaged one update per day based on issues we see in support tickets, news from search engines, core updates in WordPress, and feedback from industry experts.


That's about 1,400 technical fixes, updates and optimizations that didn't stress you out and distract you from focusing on what you love: your recipes. (note: many fixes are often bundled into a single plugin version update)
Themes vs. Plugin
We recommend all sites start with the Feast Plugin from day 1.
However, classic themes setup is fine for new bloggers just starting out on a budget.
Anyone looking to optimize their site for search engines, user experience and accessibility will benefit from:
Having trouble figuring out what the plugin provides? For a breakdown, see the themes vs. Feast Plugin post.
---
$249.00 / yearSign Up Now
Light weight
The Feast Plugin is optimized for pagespeed and performance, removing unnecessary elements that distract users or are simply not useful. We've used feedback from industry experts over the last 7 years to refine every part of the site that the Feast Plugin touches.
This means that we're optimized for: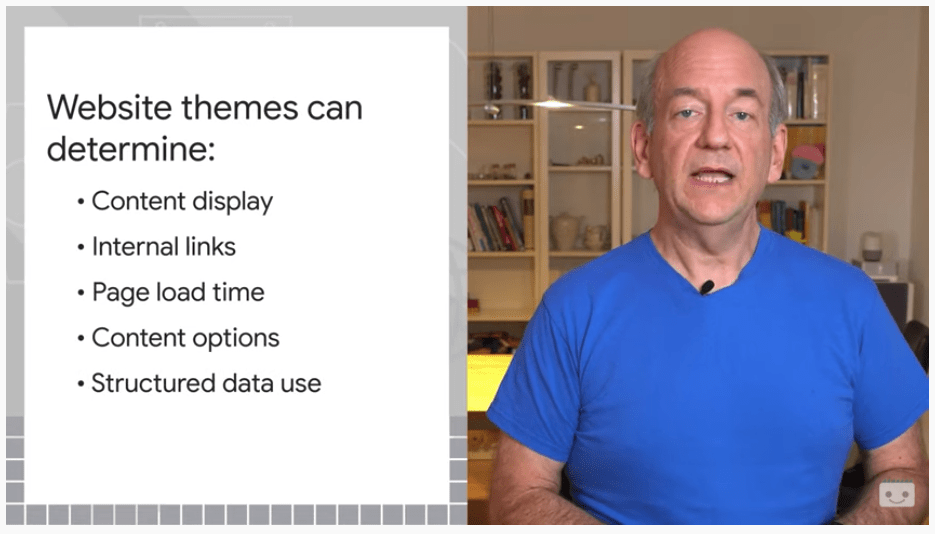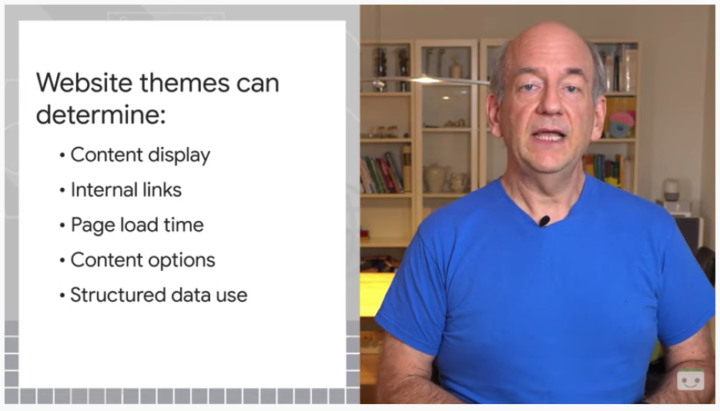 With the exception of structured data, which comes from Yoast.
Non food blogs
Yes, the Feast Plugin and themes works for other niches!
While our recommendations are geared specifically towards food blogs, the overall structure and configuration will work for any type content site.
The layouts and site structure we've developed allows for the creation of multiple indexes to support travel, crafts, knitting, parenting, fashion, DIY and more.
By grouping your categories into a topic-specific index you can help readers better navigate your site, and provide search engines with better context about related topics. See the other indexes section of the Modern Recipe Index.
Additional Styling
You can customize the Modern Homepage in any way you want to match your brand, without needing to change your theme. Check out the Modern Homepage Styling Guide: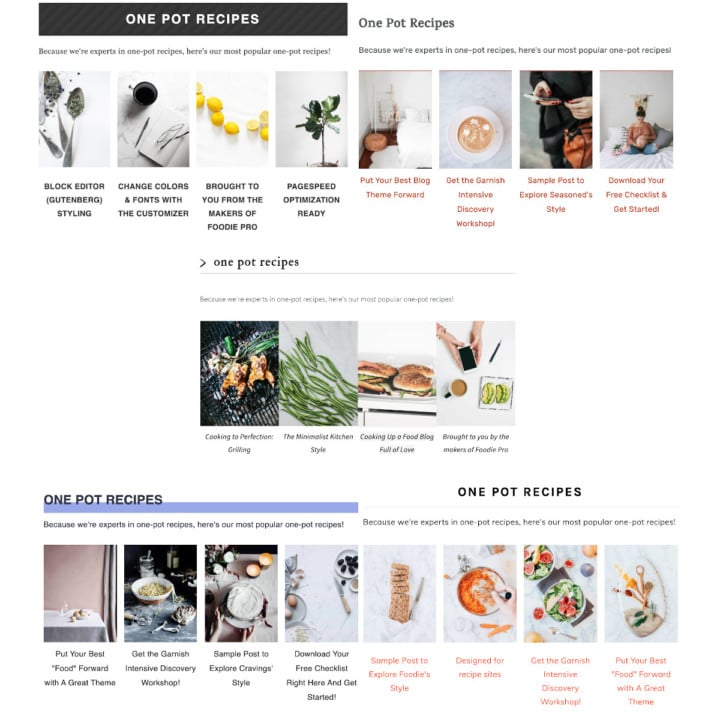 Advanced Jump To
The Advanced Jump to block helps you to write better headings on your page and generates additional links in Google to entice readers to click on:

$249.00 / yearSign Up Now
---
Pricing
The Feast Plugin is a subscription service:
$249/year - the Feast Plugin, plus all 5 Feast Design Co. themes, and switch at your heart's content
There are no refunds (or money back guarantee) due to theme files being non-refundable
You are purchasing a yearly license subscription which grants you access to plugin updates and priority support.
$249.00 / yearSign Up Now
---
Requirements
Genesis Framework + theme from FeastDesignCo (for some of the features, but not all)

The Genesis Framework + Feast theme are included for free with the Feast Plugin

Hosting with:
Not hosted on WordPress.com, and Jetpack not enabled
As of December 2020, the majority of functionality works without Genesis or our themes, including the Modern Homepage, FSRI, Category Featured Images, Modern Mobile Menu and Modern Sidebar.
---
Support
The Feast Plugin is designed to work as-is, with a DIY setup, and does not include anything not explicitly outlined above.
If you'd like to skip the technical part and have us convert your site for you, you can hire us for the Full Site Conversion White Glove service. Please review the migration guide first.
We also provide white glove services for individual components (such as the Modern Homepage).
---
Refunds
This is a digital product, so there are no refunds for any reason.
---
Canceling
You can cancel your subscription at any time and you'll retain access until your year is complete. Canceling the subscription does not initiate a refund.
Canceled subscriptions lose access to the grandfathered subscription price. If you originally sign up at $99/year or $149/year or $199/year price and cancel, you'll need to sign up at the current price of $249/year.
---
FAQ
We'll answer questions as they arise via the Feast Plugin FAQ.
Features and functionality may change as they're developed. Some statements are forward-looking plans, and not guaranteed to be implemented or maintained long-term.
The plugin is developed under the "release early, release often" software philosophy. This enables us to quickly release a new feature, and iterate on it over time based on requests.
---
Releases
7.4.4 - August 11, 2022

Modern Sidebar accessibility fix: force all h2 to be converted to h3 on the front-end
Modern Footer accessibility fix: force all h2 to be converted to h3 on the front-end
Add Holidays reminder to the Recipe Update Checklist
Update posts per page from 24 to 32

7.4.0 - July 25, 2022
7.3.5 - July 16, 2022
7.3.1 - July 11, 2022

Remove hardcoded "Recipes" from Modern Previous + Next heading

7.3.0 - July 10, 2022
7.2.5 - July 7, 2022

Resolve emoji image issue introduced by WP 6.0

7.2.1 - June 22, 2022
7.2.0 - June 18, 2022
7.1.2 - May 26, 2022

Remove prefixes from other archive titles
Bug fix: show proper archive title + description on categories

7.1.1 - May 20, 2022

Bug fix: category page admin warning if archive description isn't set

7.1.0 - May 19, 2022

Add auto-configuration to set category posts per page to 24

this will reduce overall pagination, and improve content indexing

Add setting to auto-redirect all ?cat=-1 URLs to the homepage

this is an intermittent issue that causes errors in Google Search Console

7.0.0 - May 13, 2022

Added support for JPEG extension for featured images

Note: this is the same as JPG but is just a less common file extension - use JPG if possible

Update the FSCI block with nicer defaults when an image hasn't been set
Removed configurations for classic theme setup (retina logo, sticky classic menu) as these are no longer recommended or supported
Past updates can be found on the Feast Plugin changelog page.