Have you ever avoided updating your theme because it was difficult, time consuming, and you were afraid of losing your changes?
Do you know that your blog is being penalized because it's outdated, but updating is a hassle?
We've heard you.
The Feast Plugin introduces features to replace theme configurations, which we can keep up to date through regular plugin updates and built to modern standards.
Features
Themes
Plugin
Designed to look great
✔
✔
Designed to for SEO
½
✔
Designed with accessibility in mind
x
✔
Designed with pagespeed in mind
x
✔
One-click updates
x
✔
x
✔
x
✔
Modern Homepage built with blocks
x
✔
Modern Recipe index built with blocks
x
✔
x
✔
Update Without Reinstalling
The Feast Plugin will make updating your theme simpler, by providing theme-replacement functionality that can be kept up-to-date without having to reinstall your theme.
Save Plugin Customizations
Customizations done with the plugin settings are saved between theme changes and plugin updates.
Unlock Next-Gen Features
We're building out next-generation features that are compatible with the block editor.
All new features will be built into the plugin moving forward, instead of the themes, so that we can update them as necessary over time.
Bonus
For a limited time, subscribing to the Feast Plugin grants you access to all 5 Feast Design Co. themes, including:
Foodie Pro v.4.4.0
Brunch Pro v.4.4.0
Cook'd Pro v.4.4.0
Seasoned Pro v.4.4.0
Cravings Pro v.4.4.0
Here's what you should know
The plugin lives alongside your current theme and enhances it, it does not replace the theme
Theme updates are still required for certain issues, but we've been able to deliver approximately 90% of updates via the plugin, instead of requiring a theme update
We expect to replace 99% of the theme functionality with updated versions by end of 2020
Normally priced at $199/year for the plugin and access to themes, we're offering an early subscriber price of $149/year including the plugin and all themes. You can cancel the subscription at any time to avoid being re-billed.
$149.00 / yearSign Up Now
Jump to:
2020 And Beyond
2019 was the year of user-experience (UX), shifting the focus to making sure your blog is optimized for the user-experience of your visitors.
2020 is the year of focus (20/20), streamlining settings and layouts so that your blog stays hyper-focused on what's important: creating high quality recipes.
The Feast plugin makes complying with these changes simple, with options for:
Toggle: Navigation Before / After Header
Configurations audit (in development)
Disable Social Pug pinning on non-post pages
---
Modern Mobile Menu
The navbar for the modern mobile menu drastically improves above-the-fold content being displayed, improving pagespeed scores.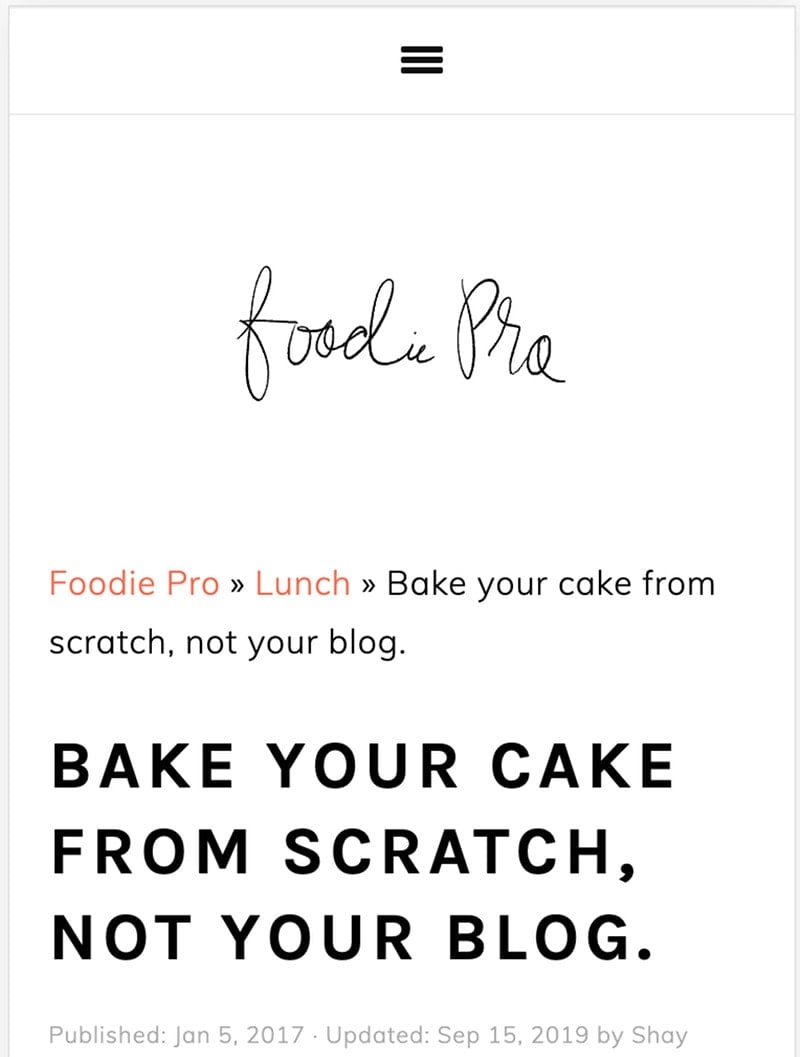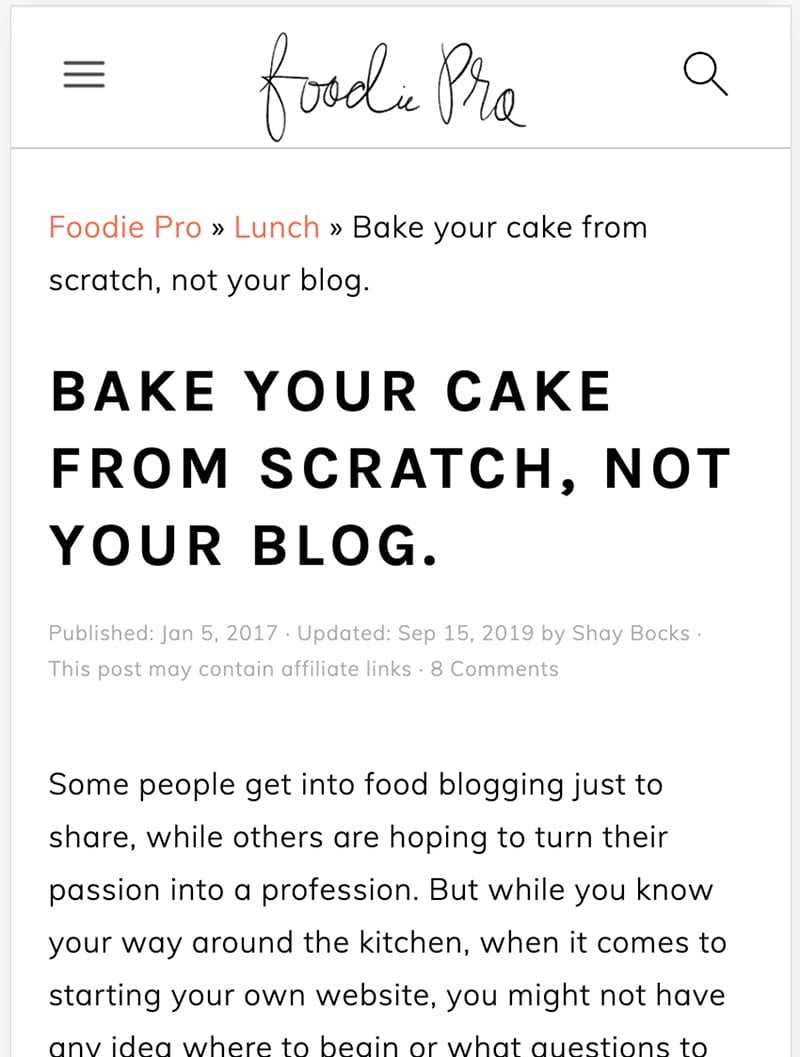 This is a more user-friendly experience.
---
$149.00 / yearSign Up Now
---
Feast Simple Recipe Index Block
The FSRI block allows you to build the Modern Homepage or Modern Recipe Index using the block editor instead of widgets.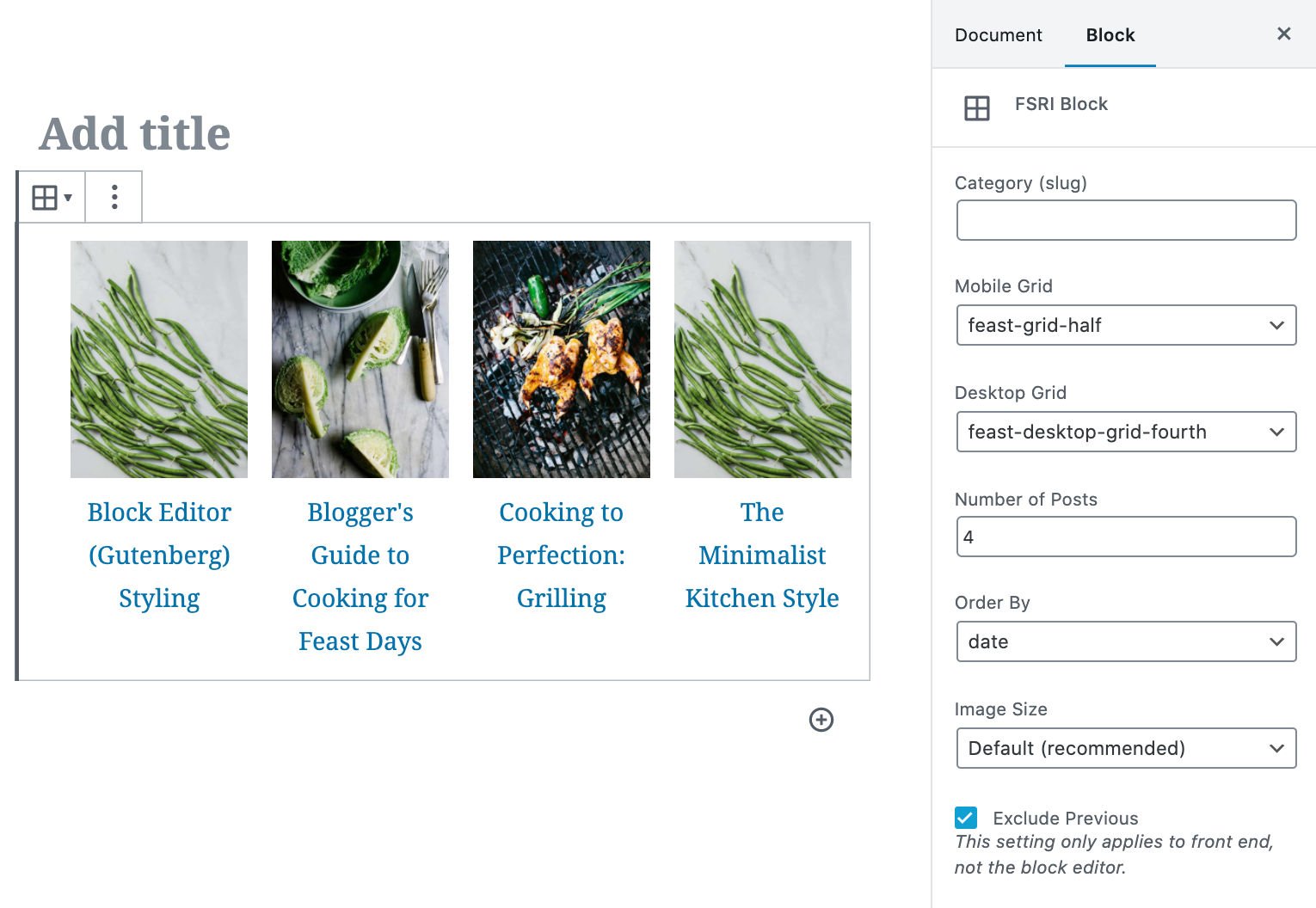 This provides much more flexibility in how to design and layout your key pages, and let's you fill them with more unique content, increasing the quality.
---
Feast Simple Category Index Block
The FSCI block leverages the Simple Category Index to visually display categories.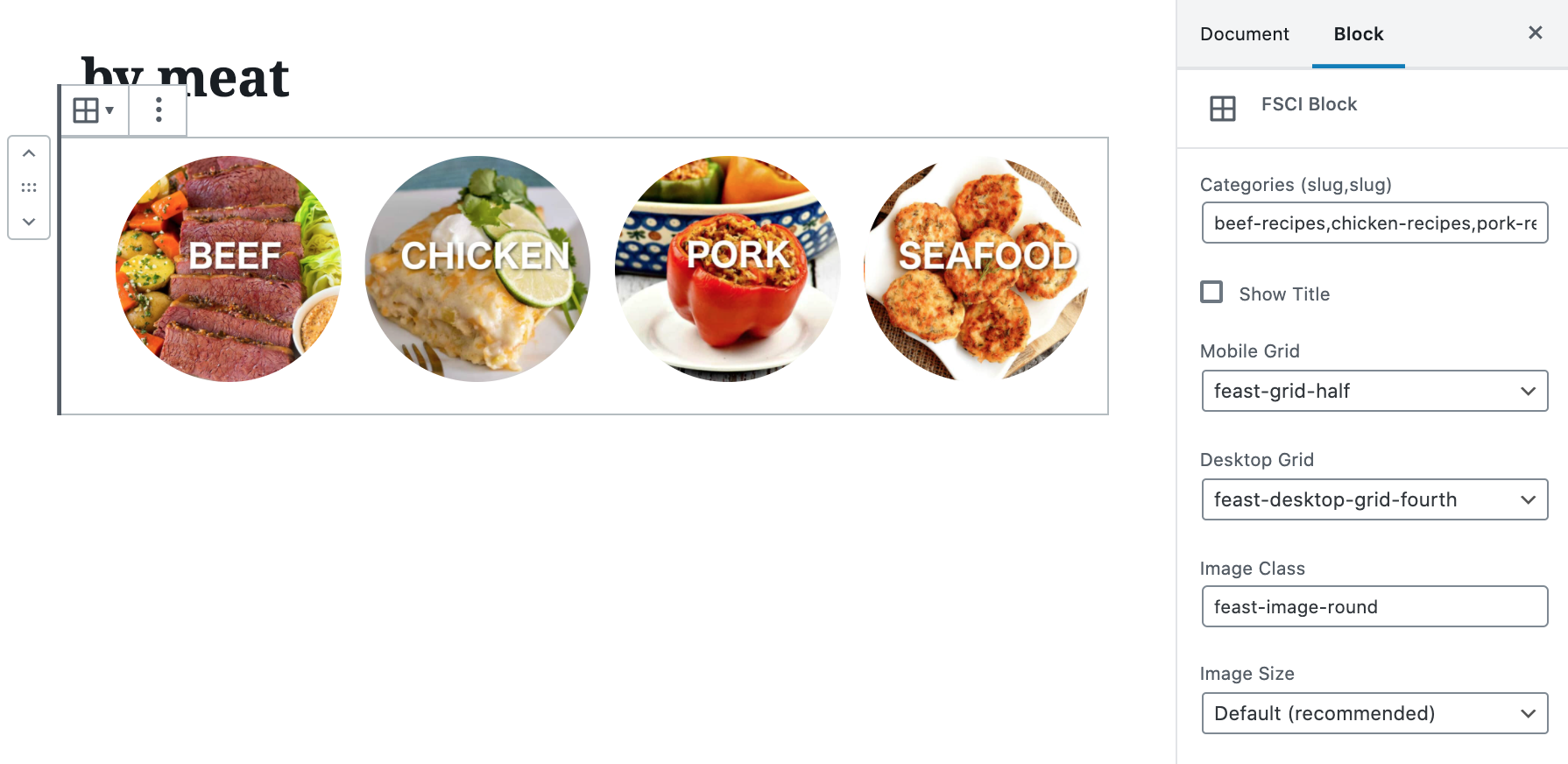 This helps to:
improve site structure and reducing the click depth of categories and posts
visually see how your page looks in the editor as well as the front end
---
Additional Styling
You can customize the Modern Homepage in any way you want to match your brand, without needing to change your theme. Check out the Modern Homepage Styling Guide: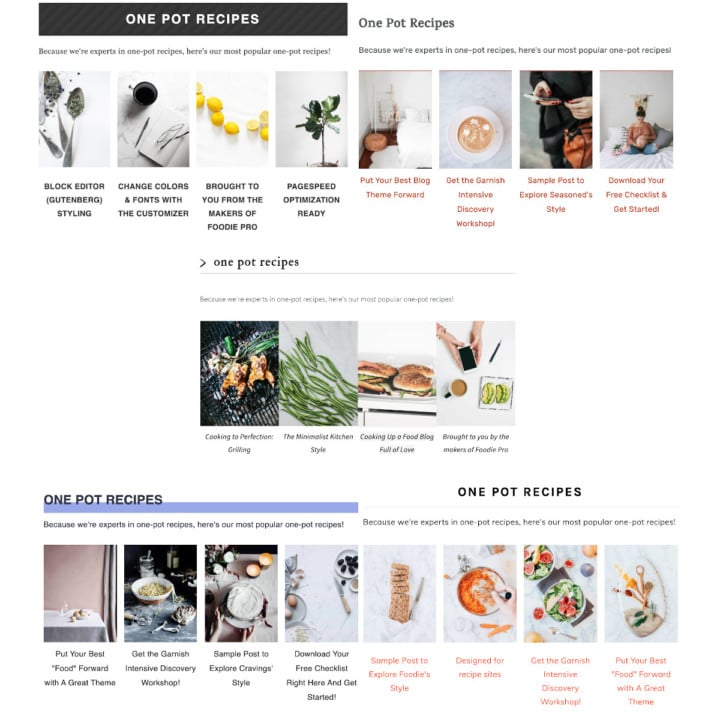 $149.00 / yearSign Up Now
---
Configuration Audit (in development)
Have you followed the hundreds of updates and articles put out by Google, Yoast, WP Rocket, WordPress, Genesis and Feast over the years? If not, your blog settings may be holding you back.
The configuration audit checks your settings against current best practices, which are regularly reviewed and updated here at Feast, and notifies you when your settings should be updated.
---
Support
The Feast Plugin is designed to work as-is, and does not include anything not explicitly outlined above.
---
Pricing
The Feast Plugin is a subscription service:
$99/year - Early bird pricing until May 15, 2020

$149/year - May 15th to around December 2020
$199/year Limited Time: $149/year - Gain access to the Feast Plugin, plus all 5 Feast Design Co. themes, and switch at your heart's content. No refunds (or money back guarantee) due to theme files being non-refundable.
You are purchasing a yearly license subscription which grants you access to plugin updates and priority support.
$149.00 / yearSign Up Now
---
Requirements
Genesis Framework (not included)
Theme from FeastDesignCo (for some of the features, but not all)
Hosting with:
Not hosted on WordPress.com, and Jetpack not enabled
---
Refunds
This is a digital product, so there are no refunds for any reason.
---
Canceling
You can cancel your subscription at any time and you'll retain access until your year is complete. Canceling the subscription does not initiate a refund.
Canceled subscriptions lose access to the grandfathered subscription price. If you originally sign up at $99/year and cancel, you'll need to sign up at the current price ($149/year or $199/year).
---
FAQ
We'll answer questions as they arise via the Feast Plugin FAQ.
Features and functionality may change as they're developed. Some statements are forward-looking plans, and not guaranteed to be implemented or maintained long-term.
The plugin is developed under the "release early, release often" software philosophy. This enables us to quickly release a new feature, and iterate on it over time based on requests.
---
Releases
4.6.0 - in development
4.5.4 - August 5, 2020
4.5.1 - July 31, 2020
4.5.0 - July 29, 2020
4.4.0 - July 28, 2020

Advanced Jump To Block to replace the Advanced Jump To Shortcode

4.3.3 - July 24, 2020

Added inline errors to the FSCI block, visible to logged in admins only

4.3.1 - July 19, 2020

Add support for using page IDs in the "Post IDs" section of the FSRI Block - you can now display pages using the FSRI Block.

4.3.0 - July 18, 2020
4.2.1 - July 6, 2020

Accessibility: reorder Modern Mobile Menu close button

4.2.0 - July 1, 2020

Accessibility: remove aside markup from navigation menu

4.1.7 - June 18, 2020

Add Mobile Menu Navbar rendering optimization
Add item to Recipe Update Checklist
Resolve encoding issue for Jump to Links on some hosts (Thanks Kari!)
Add support for custom wrapper classes to FSRI block
Accessibility updates for Modern Mobile Menu:

move to header
update alt attribute for navbar
add aria-label
resolve :focus issue on logo

4.1.5 - June 9, 2020
4.1.3 - May 27, 2020

Add post ID to admin bar when viewing post for FSRI display specific posts attribute
Initial testing for configurations audit page
Added support for tasty recipe card in the Advanced Jump To Links
Added Yoast Meta Description check to Recipe Update Checklist

4.1.2 - May 20, 2020

Updates to Recipe Update Checklist

4.1.0 - May 10, 2020
4.0.9 - May 5, 2020
4.0.8 - April 24, 2020

Use "medium" thumbnail as fallback if WPRM or Create thumbnails not available (not: they will be irregularly sized if not following the modern featured images guidelines)
Add feast-recipe-index class to replace feast-category-index (not yet removed) class on fsri shortcode
Added feast-image-round styling for WebP (not recommended or supported)
Updated vertical spacing between FSRI rows
Added list_class="feast-grid-full" styling for sidebar usage

4.0.6 - April 13, 2020
4.0.4 - April 9, 2020

Emoji test area for Advanced Jump To troubleshooting, on settings page
Added editor styles for author box (to be announced)
Fixed WordPress 5.4.0 search input styling bug

4.0.3 - April 7, 2020
4.0.2 - April 2, 2020

Added fsci shortcode as alternative to the feast-simple-category-index shortcode
Categories will now display in the order they're specified in the fsci shortcode
fsri shortcode will automatically display in the order they're specified in the fsri shortcode, when using the id="111,222,333,444" attribute
Yoast breadcrumbs automatically removed from homepage

4.0.0 - March 30, 2020
3.9.3 - March 24, 2020

Simple Category Index: add alt tag if no title showing
Simple Category Index: add data-pin-nopin="true"

3.9.2 - March 20, 2020
3.8.8 - March 12, 2020

Advanced Jump to improvements
Reorganized settings page
Added toggle to enable Modern Menu on desktop
Added media selector button to image field in settings

3.8.3 - March 4, 2020

Fixed Advanced Jump To anchors mixed with strong or em (still not a best practice to combine HTML tags)
Fixed: do not insert recipe heading for Advanced Jump To Links if there's a Mediavine Create List
Added option to enable Google Analytics tracking event for Advanced Jump To Links
Fixed over-zealous posts-per-category feature, no longer runs in the admin

3.8.0 - February 17, 2020
3.7.0 - February 11, 2020

Support tickets added in the admin

3.6.9 - February 3, 2020

Remove WordPress "Smart Quotes"
Added "Jump To" links to settings page

3.6.2 - January 21, 2020

Advanced Jump To Links updates:

IDs more aggressive - removes any existing ID on h2s
Setting added: replace recipe card link with custom text
Added example headings to Emoji list in Feast Plugin
Added list of animals (beef, pork, chicken, duck, mutton, seafood) to emoji list in Feast Plugin

3.6.1 - January 16, 2020

Advanced Jump To Links updates:

Enabled on pages now, not just posts
Setting added: default open or closed
Setting added: specify your own "jump to:" text
Setting added: insert link to comments at end of list

3.6.0 - January 15, 2020
3.5.0 - January 9, 2020
3.4.7 - December 19, 2019

Update to Modern Mobile Menu - toggles on at 1200px

3.4.6 - December 17, 2019

BETA feature for updated Google Fonts - do not use

3.4.3 - December 11, 2019

Disable Mediavine Jump to Recipe if Mediavine 1.5.0 native "Jump to Card" detected
BETA features for testing images - we do not recommend enabling these settings until out of BETA

3.4.0 - December 3, 2019
3.3.0 - November 17, 2019

3.3.1 - November 24, 2019 - fixed issue with Simple Category Index displaying at inconsistent sizes on mobile
3.3.3 - November 25, 2019 - fixed text overflowing, added link to plugin page in admin menu bar
3.3.4 - December 2, 2019 - formatting update + notice of "Jump to Recipe" being removed due to Create's built-in Jump to Recipe feature with ad-enhancements

3.2.6 - November 3rd, 2019

BETA implementation of future release for beta testers
Whitespace fix for Modern Mobile Menu logo

3.2.0 - October 7th, 2019

3.2.1 - October 9, 2019 - Add feature to process shortcodes on Custom HTML widgets
3.2.3 - October 15, 2019 - Added desktop-specific display options for Simple Category Index
3.2.4 - November 1, 2019

Improvement: add vertical scroll handling to Modern Mobile Menu
Fix: whitespace issue with Modern Mobile Menu logos
Added: feast-line-through class for text, feast-image-shadow class for images

3.1.0 - September 27, 2019
3.0.0 - September 24, 2019

Layout fix: block editor overlap in Chrome
Update: block editor content width changed to 720px to match front-end

2.8.0 - September 16, 2019
2.7.0 - September 12, 2019
2.6.1 - September 8, 2019

Fix: corrected comment date to match original
Fix: updated "Edit Post Info" example to include author
Fix: reading time + wordcount now just outputs the numbers, and lets you add your own description (for international/language support)

2.6.0 - September 4, 2019
2.5.0 - August 30, 2019
2.4.1 - August 28, 2019

Hide "Disable Genesis Schema" if on Genesis 3.1.0+

2.4.0 - August 22, 2019

Fix footer error in Genesis 3.1.0+

2.3.0 - August 13, 2019
2.2.0 - August 13, 2019
2.1.0 - August 13, 2019
2.0 - August 13, 2019

Auto-update from the plugin page

1.9 - May 3, 2019
1.8.1 - April 19, 2019
1.8 - April 2, 2019
1.7 - March 15, 2019

Note: this requires further development work, and is in BETA

1.6 - March 8, 2019
1.5 - February 26, 2019

Update March 8, 2019: Disclosures usable in edit post info
Update April 2, 2019: word count + reading time usable in edit post info

1.4 - February 1, 2019

Previous/Next Post Navigation

1.3 - January 15, 2019
1.1 - December 26, 2018