The themes were not designed for ADA compliance.
As an off-the-shelf theme designed in 2015 and updated throughout the years, this was never a concern. Much like pagespeed became a hot topic in 2019, accessibility has started receiving scrutiny in 2020.
While the theme updates are bringing us more in-line with ADA requirements, the specifics are too nuanced for a $75 theme. Among updates we've made are: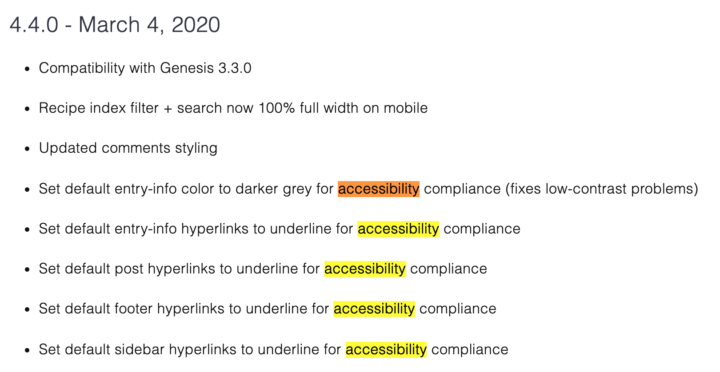 ADA compliance requires custom development from an experienced ADA developer, plus training and guidance. At this time, ADA compatible theme development/customization costs $10,000+.
Part of this has to do with liability. We are not willing to take on responsibility and risk from lawsuits for $100.
For reference, here's the accessiBe service for automated compliance.

Update 2020/05/24: even accessiBe is not a complete solution (thanks Casey)
There are things that we can do on the theme and plugin side to get you closer (eg. the keyboard-based "navigation links"), but there are things that are entirely your responsibility.
Feast Plugin
The Feast Plugin is being developed with accessibility in mind, and does a much better job than the themes. For example, see: Modern Homepage vs. Theme Homepage and Rethinking the Homepage.
But the plugin does not offer an ADA compliance guarantee either.
At the moment, there's no easy-to-follow guide that we're aware of. For example, the WCAG 2.1 checklist is a technical document that reads like molasses and can only be implemented manually by throwing dozens of $100/hr developer man-hours at, after a $x000 dollar audit from an accessibility specialist.
This is not something that's reasonable to expect from a $75 off-the-shelf theme or $99/year plugin. We are working towards it as much as possible so that you have less work to do.
Your responsibility
Common issues food bloggers encounter are:
font size too small

this is especially problematic when using a custom imported Google Font

low contrast (eg. fancy colors that don't offer enough contrast)

also: background colors that reduce the contrast with text

missing alt text on images
using incorrect anchor text on links

do not use "read more" or "see all"

using heading tags incorrectly
See this quick accessibility self-audit tutorial from Andrew @ Nerdpress.net
Testing tools
You can check your site's accessibility compliance using the Wave tool by Webaim.
This tool evaluates compliance on a page-by-page basis - you'll want to check your homepage, categories and posts all separately.
Prioritize your efforts on:
the homepage
your top 10 posts
then work through your categories and the remainder of your posts
Quick fix
The userway.org javascript snippet adds a little icon to your site that allows users to customize some common accessibility issues - font size and contrast for example.
However, this does not automatically fix accessibility issues on your site.
Resources