Optimize your food blog for search engines
The default WordPress setup isn't optimal for search engine crawling and indexing. This leaves a lot of bloggers – especially new ones – unable to compete with sites who have spent the time to properly optimize their site.
Below is a list of changes we recommend making:
Change date-based URLs to post-name in Admin > Settings > Permalinks

Note: for existing blogs with a history, you'll want to do this carefully, and set up 301s – or not at all

Change category base from /categories to /recipes in Admin > Settings > Permalinks

Update 2019/05/05 – we recommend removing the prefix entirely – see below for notes.

Enable Disable breadcrumbs in Genesis > Theme Settings > Breadcrumbs > Single Posts, Pages

Updated 2019/06/07 – Genesis breadcrumbs should be disabled, and you should only use the Yoast breadcrumbs.
See Breadcrumbs section in Yoast SEO Plugin, below

Set up Google Analytics
Set up Google Search Console

Set your preferred domain to non-www
As of July 2019, Google has merged these all together

Enable SSL (via your web hosting company) and enable forceful redirect to HTTPS
Forcefully redirect all pages to non-www for shorter URLs, which help with click-through-rates in Google

This is more important for new bloggers than established bloggers, but existing bloggers should be forcing people from one version or the other to avoid spreading links and content across two subdomains
Yoast SEO Plugin
We recommend using at minimum the free version of Yoast, which handles a lot of the configuration and automatically applies best practices to your site and posts. We recommend making the following settings are enabled:
Yoast > Search Appearance > Taxonomies > Categories > Show Archives in Search > Yes
Yoast > Search Appearance > Taxonomies > Categories > Show Tags in Search > No

Note: Check WMT to make sure tags pages aren't currently driving traffic

Yoast > Search Appearance > Taxonomies > Categories > Format Based Archives > Disabled
Yoast > Search Appearance > Taxonomies > Category URLs > Remove the Categories prefix > Remove

Note: Check WMT to make sure these aren't currently driving a lot of traffic. Yoast will handle the redirects.

Yoast > Search Appearance > Archives > Author Archives > Disabled
Yoast > Search Appearance > Archives > Date Archives > Disabled
Yoast > Search Appearance > Breadcrumbs > Enabled
Yoast > Search Appearance > Breadcrumbs > Taxonomy to show in breadcrumbs for content types > Posts > Category
Note: if your blog has been active for a while, make sure to check in webmaster tools that these pages are not driving significant traffic.
We're also fans of purchasing the premium version of Yoast, which auto-handles 301'ing URLs when they're deleted or changed.
Here are some great articles from Yoast:
WP Rocket Plugin
WP Rocket is another premium plugin that's worth the investment. Pagespeed is one of the top ranking factors for blogs in 2019.
Settings > WP Rocket > Media > Lazy Load > Enable for mages
Settings > WP Rocket > Media > Lazy Load > Enable for iframes and videos
Settings > WP Rocket > Media > Lazy Load > Replace youtube iframe with preview image
Settings > WP Rocket > File Optimization > Optimize CSS delivery
Settings > WP Rocket > File Optimization > Load javascript deferred

Note: this could cause odd behavior, or cause other javascript-heavy plugins to fail, so keep this in mind when using this feature

Settings > WP Rocket > File Optimization > Safe Mode for jquery
Settings > WP Rocket > Cache > Enable caching for mobile devices

Note: only use this if you don't have caching built in to your hosting

Settings > WP Rocket > Preload > Activate Preloading + Activate sitemap-based cache preloading + Yoast SEO XML sitemap

It shouldn't be necessary to specify the Yoast sitemap index in the box, but you can if you'd like

Settings > WP Rocket > Preload > Prefetch DNS Requests > URLs to prefetch
Food-Blog Specific Configurations
"categories" and "tags" are general WordPress functions, which can be co-opted for additional functionality in food blogs.
The category pages should be thought of as a sort of "recipe index", grouping similar recipes together.
Tags are often used as ingredients, and can be used to sort other recipes by major ingredients. Because the quantity of tags tends to blow up (with a dozen+ ingredients per recipe), tags should be noindexed in Yoast per the instructions below. The links should also be nofollowed, so that search engines don't waste time on pages that shouldn't show up in search results.
We advise against putting absolutely every ingredient into tags – keep it limited to the major ingredients (eg. not spices) and ingredients that are highly relevant to your niche. Unless your blog is Indian food – then spices are relevant.
Evaluating Food Blog Recipe Quality
Head over to our Recipe Quality Guidelines for Food Bloggers post to learn about the different facets of your blog that search engines find valuable.
SEO Articles for Food Bloggers
We recommend following the advice in the following resources:
---
Grow Your Blog By Doing These 9 Things for Every Post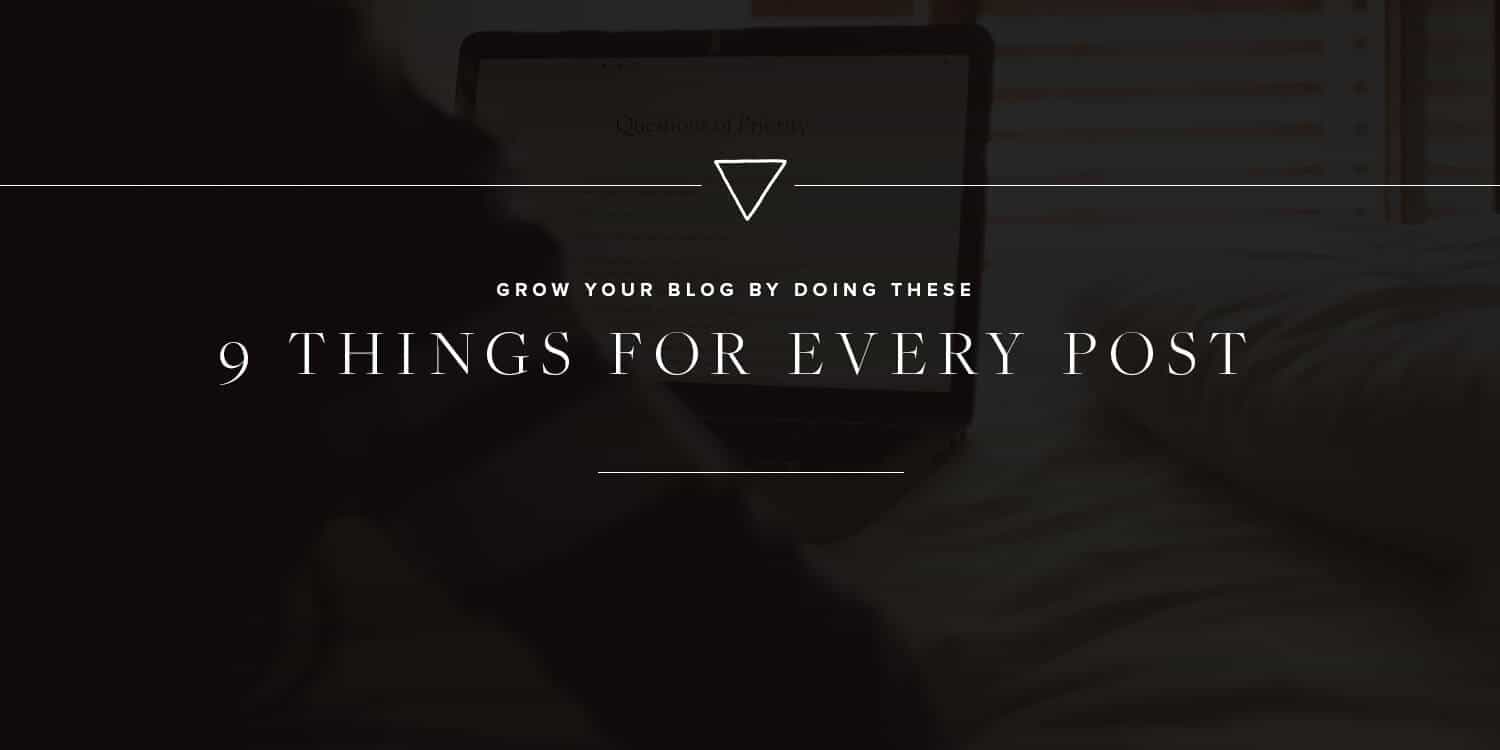 When it comes to food blogging, there are certain obvious things that you need to be successful. You need to have strong content and include high quality photography, for example. However, having a successful blog isn't quite that easy. Hey, if it was, pretty much everybody would be blogging for a living. There are a few other important things you should be doing that aren't quite so obvious.
Yes, thoughtful content and powerful imagery is crucial. But, it's those subtle, behind-the-scenes tweaks and additions that can actually make a world of difference when it comes to the success of your blog.
These subtle tweaks can make a world of difference when it comes to blogging success.
What exactly am I talking about? Well, I've rounded up a few of my favorite tweaks that you should be doing for every single one of your recipe posts (before writing, before publishing, and even after you've published) that will help you take things to the next level. Here are a few tips you can use every step of the way!
Before Writing
It might seem strange to think about how to grow your blog before you've even written anything. But I'm a big believer that successful planning is key to having quality content to spread out into the world. It's like building a house—it all starts with a strong foundation. So, don't skip these first steps and expect to see great results. After all, you need to walk before you can run!
Plan an Editorial Calendar
I've said it before, and I'll say it again: editorial calendars are the secret "ingredient" to having a great mix of thoughtful, valuable content on your blog. Whether you want to plan out a week's worth of recipes, a month, or even three months is up to you. But, taking the time to sit down and get a handle on your blog schedule will not only keep you on top of things, but also help ensure that you're offering a solid mix of information for your readers.
Some people do this by selecting a theme or topic they want to cover – perhaps breakfasts, or gluten-free recipes, or the "Whole30" program – and picking up cookbooks or in-depth books to add more in-depth insights they can write about. Not only is this a process of personal growth, but it's an opportunity to share what you're learning while putting your own personal spin on it.
Others simply look at the upcoming seasons and holidays and decide what recipes they'll be focusing on that they'll be cooking anyway.
Establishing your editorial calendar is a personal process. So, similar to how you can pick the time frame you'd like it to cover, the rest of your calendar is totally customizable too. Perhaps you only want to jot down the simple recipe title of a blog post for any given day. Or maybe you want to be detailed and include notes, images, and links to be used in that specific post. Maybe scribbling down your blog posts in your planner works best for you. Or perhaps you want to use an organization dashboard like Trello. All of the details are up to you. The important part is to find something that keeps you organized.
Once you have the outline of your upcoming recipes, it's time to dive into keyword research so that you can find relevant topics for search engines and your visitors.
Research Your Foodie Community
Yes, your food blog is your creative space where you go to write about the things you're really passionate about. But if you're aiming to transform your blog into a lucrative business, you should also consider what resonates with your audience.
When planning out your editorial calendar, take some time to do some digging about your current community. What sorts of questions are your readers asking? Which of your existing posts have been the most popular? Is there any similar and helpful content from other food bloggers out there that you could link to in one of your upcoming posts? Including links to the work of other bloggers helps create a sense of community, and starts a mutually beneficial relationship with another blogger in your same niche. It's a win-win!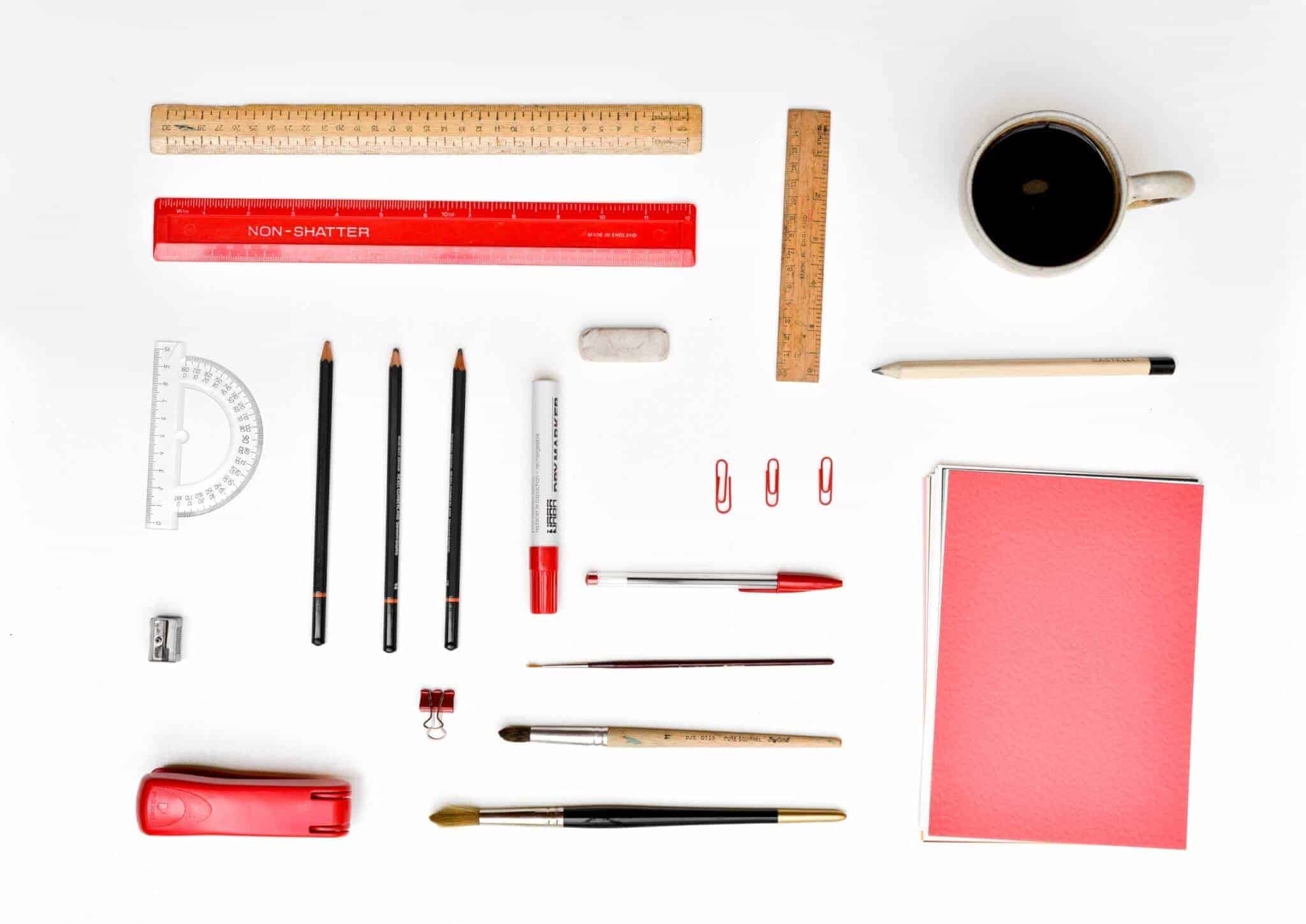 Outline Your Recipe Post
Sometimes jumping right in with writing is a great way to get all of your ideas out on paper. And if that works for you, then great! But I always recommend jotting down a quick outline for your posts before starting to write.
I think outlines are helpful for a few reasons:
They help you structure your post in a way that flows well and makes the most sense for your readers.
If there are any areas of your post that could benefit from further research, this will become evident in your outline.
It forces you to use subheadings, which break up big walls of text and make your post easier to read.
So, if it works for you, take the time to draft an outline for your post! I promise, the extra time will be evident in the quality of your content.
Before Publishing
Let's move away from the writing process and dig into the nitty gritty details, shall we? Once your post is actually drafted, the hardest part is definitely over. But, there are a few other things you should take care of before hitting that much-anticipated "Publish" button.
Insert Links
We've already touched on the benefits of linking to similar content from other bloggers. But deep linking to your own previous posts is also crucial. Why? Well, there are a few reasons why deep linking is helpful to both you and your readers:
If you've previously written a post about a topic you mention in your new post, you're offering your readers an easy way to get even more information
It's a great way to continuously promote and drive traffic to older posts, so that they don't stagnate and become completely forgotten
It keeps readers on your site for longer
Internal links are one metrics that search engines use to determine how important a page is, which factors into how well it gets ranked.
Check Your SEO
The concept of Search Engine Optimization (SEO) can be somewhat intimidating to bloggers – especially if it's not something they're super familiar with. But SEO is crucial for getting your content in front of more eyeballs, and it doesn't need to be overly complicated!
It really comes down to:
Getting links from relevant (topically-related) posts, both from external and internal sources
Writing high quality, relevant content that covers a topic in depth
Finding and writing about the right keywords, which is a balance between competitiveness and reaching as large an audience as possible
What's one of the biggest mistakes I see bloggers make in regards to SEO? Believe it or not, it's their blog post titles. I know it's tempting to come up with this creative, artsy headline for your posts. But, to draw people to your content, think about what makes sense—not necessarily what uses the most elegantly crafted prose. When titling your post, think about your content. Then ask, "What would people type into Google when looking for this information?" That should help you optimize your post title appropriately.
Of course, nothing beats a proper tool for selecting the right keywords.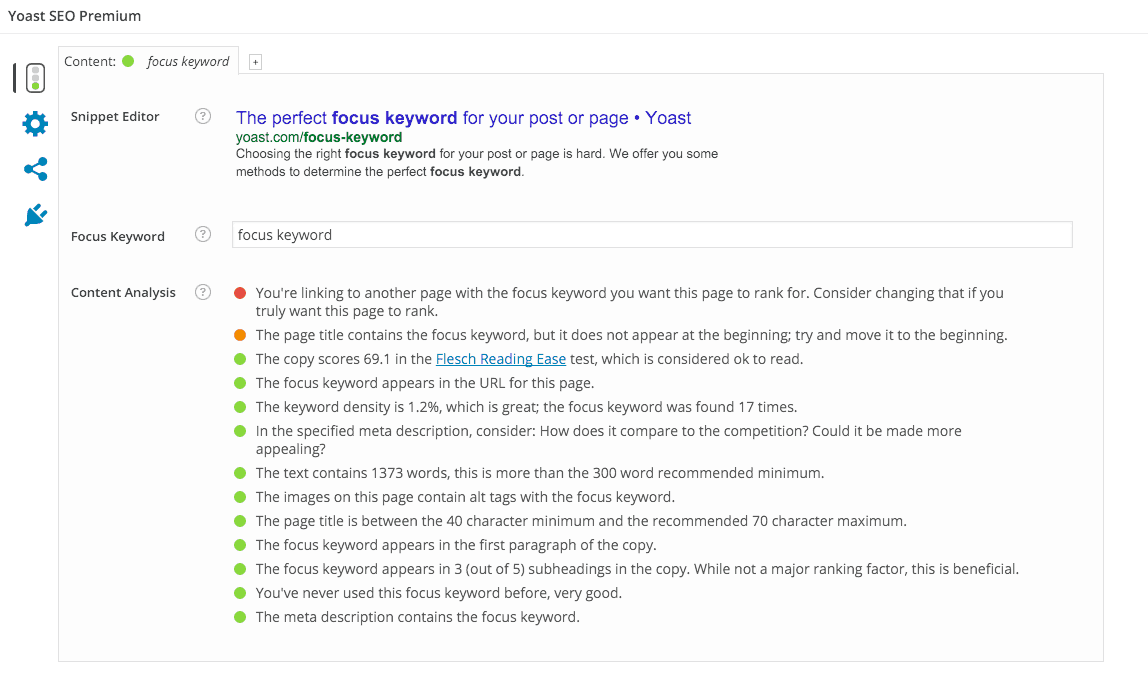 If you're just dipping your toes into the SEO pond, consider installing a plugin like Yoast that can help you along. This plugin makes it easy to ensure that things like your title, meta description, and permalink are all up to par!
Here is Yoast's guide to keyword research.
Proofread
All right, so maybe proofreading isn't necessarily "technical", and you might not think it has much to do with growing your blog. But, I assure you that it's a critically important step to take before hitting "Publish".
Why? Quite simply: posting content that's riddled with typos makes you look sloppy and ruins your credibility. After all, what readers would want to return to an unpolished blogger for valuable content? Thorough proofreading also gives you a chance to check over all of those other necessary elements of your blog posts—such as ensuring that your links work and your images are in the correct place.
After Publishing
Whew, your post is published and you're feeling pretty accomplished! Your post is optimized, your title is perfect, and you caught all of those pesky typos. Time to wipe your hands of it and move on, right? No! A blog post isn't something you just create and leave. Make sure to follow through with these tasks—even after your post is out there in the world.
Promote, Promote, Promote
As you already know, blogging definitely isn't a "build it and they will come" sort of scenario. No, to continue growing and reaching a new audience, you need to effectively promote your content.
Don't feel pressured to blanket every social media outlet that's ever existed with a shout out about your new post. Pick the outlets that work best with your blog and your audience, and focus on quality promotion efforts there. For example, food and lifestyle bloggers tend to see a lot of success posting to Instagram and Pinterest. But if you're blogging about career or self-development topics, you'll probably want to give LinkedIn promotion a try.
Also, don't forget to go back and promote old posts! There's no law stating that since a post was published six months ago it means you can never touch it again. By pushing some of your older posts out on social, you can continue to drive more traffic to your blog—without needing to constantly have something fresh.
Study Your Analytics
As I said before, your blog should definitely remain a creative outlet for you to channel your interests and passions—allowing your genuine voice and excitement to shine through. But, if your goal is to grow your audience or monetize your content, you also need to pay attention to what's resonating with your audience. It doesn't need to become your sole decision maker, but it should help you to appropriately target your posts and develop your content.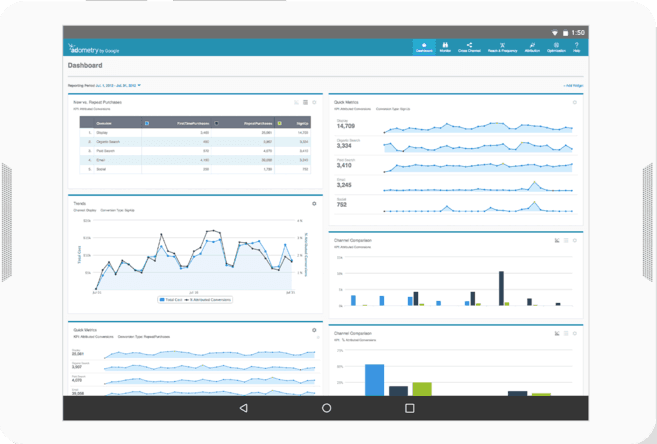 Consider your analytics as a peek inside of your readers' brains. Not only do these statistics show you more basic things such as traffic or how long people are staying on your site, but you'll also learn more about specific demographics and interests of your audience. Giving this intel the attention it deserves will only make for stronger content and engagement.
Basically, you want to avoid slapping content up on your blog and crossing your fingers that your readers like it. You have information at your fingertips to help you determine their level of interest and engagement—so use it to constantly learn, adjust, and improve!
Engage Your Readers
I'm sure you've heard it time and time again, but one of the greatest things about blogging is really the community. So, you don't want to be that blogger that's constantly shouting out messages to your audience, and never really connecting with or engaging them. Blogging is about a conversation.
After your post has been published, take the time to thoughtfully respond to the comments that your readers have left. And, if you're feeling extra ambitious, head over to comment on their own blogs or give them a shoutout on social.
It might seem like a waste of time, but relationships are crucial for your success as a blogger! Showing your readers that you're a real person that wants to connect with them makes you seem more human and personable—and not a faceless robot that hides behind a computer screen.
Finishing Touches
Successful blogging goes way beyond just stringing some words together and throwing in a few images. In order to see constant growth and improvement, you also need to dedicate your time to those little things that can make a world of difference. Give some of these tactics a try, and see what they do for you!
Pitch Your Blog Email Template
Need some help crafting the perfect email to pitch your blog? I'm here to help! Download the template now.