Our themes come pre-designed for SEO as best as they can be, but we cover only a fraction of what it takes to compete in search in rankings. Functionality does not belong in themes.
SEO features belong in specialized plugins like Yoast, and pagespeed optimization from specialized plugins like WP Rocket. These plugins require constant updates to stay compatible with changes.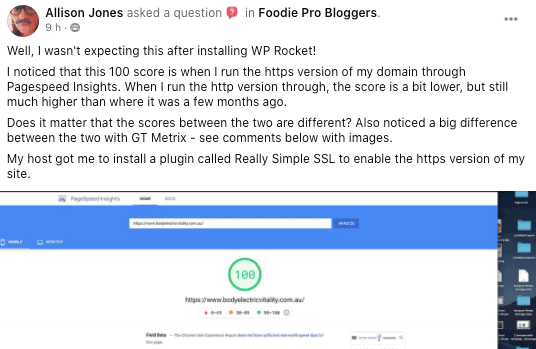 With the settings in place, your job is to do keyword research to find content people are looking for, and write high quality recipe posts with well formatted headings that meet those needs.
Below, you'll find our recommended settings for these plugins.
Jump to:
WordPress + Genesis settings
The default WordPress setup isn't optimal for search engine crawling and indexing. This leaves a lot of bloggers - especially new ones - unable to compete with sites who have spent the time to properly optimize their site.
Below is a list of changes we recommend making:
For new blogs: Change date-based URLs to post-name in Admin > Settings > Permalinks

Note: for existing blogs with a history, you'll want to do this carefully, and set up 301s - or not at all. We recommend hiring an SEO expert to manage this.
If changing to non-date-based URLs, make sure to use this service from iMark Interactive to fix your automatic redirects.
Note: You'll also need to update your manually-written internal links

Enable Disable breadcrumbs in Genesis > Theme Settings > Breadcrumbs > Single Posts, Pages

Updated 2019/06/07 - Genesis breadcrumbs should be disabled, and you should

only use the Yoast breadcrumbs

.
See the Breadcrumbs section in Yoast SEO Plugin, below

Set up Google Analytics
Set up Google Search Console

Set your preferred domain to non-www
As of July 2019, Google has merged these all together

Enable SSL (via your web hosting company) and enable forceful redirect to HTTPS
Forcefully redirect all pages to non-www for shorter URLs, which help with click-through-rates in Google

This is more important for new bloggers than established bloggers, but existing bloggers should be forcing people from one version or the other to avoid spreading links and content across two subdomains

Disable pingbacks in Admin > Settings > Discussion > Attempt to notify any blogs linked to from the article

Pingbacks are nofollow, which provide no value to you

Disable pingbacks in Admin > Settings > Discussion > Allow link notifications from other blogs (pingbacks and trackbacks) on new articles

Pingbacks are nofollow and provide no value to readers, and are mostly spam

Disable avatars in Admin > Settings > Discussion > Show Avatars (unchecked)

Avatars provide no reader value, and slow down pagespeed by loading third-party images (gravatar)
Note: this may break the user-profile widget in the sidebar, replace it with a custom html user profile widget
Feast Plugin
Mediavine + AdThrive
Go into Mediavine and AdThrive settings and enable their lazyloading and CLS optimization settings.
Slickstream
Enable the Slickstream CLS fix.
Yoast SEO Plugin
We recommend using at minimum the free version of Yoast, which handles a lot of the configuration and automatically applies best practices to your site and posts. We recommend making the following settings are enabled:
Yoast > Search Appearance > Taxonomies > Categories > Show Categories in Search > Yes
Yoast > Search Appearance > Taxonomies > Categories > Show Tags in Search > No

Note: Check Google Search Console to make sure tags pages aren't currently driving traffic

Yoast > Search Appearance > Taxonomies > Categories > Format Based Archives > Disabled
Yoast > Search Appearance > Taxonomies > Category URLs > Remove the Categories prefix > Remove

New blogs only
Note: Check Google Search Console to make sure these aren't currently driving a lot of traffic. Yoast will handle the redirects.
Note: Hire an SEO expert when making permalink changes

Yoast > Search Appearance > Archives > Author Archives > Disabled
Yoast > Search Appearance > Archives > Date Archives > Disabled
Yoast > Search Appearance > Breadcrumbs > Enabled
Yoast > Search Appearance > Breadcrumbs > Taxonomy to show in breadcrumbs for content types > Posts > Category
Yoast > Search Appearance > Breadcrumbs > Breadcrumbs settings > Anchor text for the homepage > BLANK

Readers can reach your homepage via the logo, so linking to the homepage in the breadcrumbs is pointless, and makes them unnecessarily long

Yoast > General > Knowledge Graph & Schema.org > Site Represents > Organization
Yoast > General > Knowledge Graph & Schema.org > Organization Name > insert your site name
Yoast > General > Knowledge Graph & Schema.org > Organization Logo > your logo, 1000x1000px
Note: if your blog has been active for a while, make sure to check in Google Search Console that these pages are not driving significant traffic.
We're also fans of purchasing the premium version of Yoast, which auto-handles 301'ing URLs when they're deleted or changed.
Here are some great articles from Yoast:
WP Rocket Plugin
WP Rocket is another premium plugin that's worth the investment. Pagespeed is one of the top ranking factors for blogs in 2021.
Settings > WP Rocket > Media > Lazy Load > Enable for mages
Settings > WP Rocket > Media > Lazy Load > Enable for iframes and videos
Settings > WP Rocket > Media > Lazy Load > Replace youtube iframe with preview image
Settings > WP Rocket > Media > Emoji > Disable Emoji

note: this disables WordPress' poor implementation of Emojis, not the proper text-based emojis

Settings > WP Rocket > Media > Image Dimensions > Add missing image dimensions
Settings > WP Rocket > Media > Embeds > Disable WordPress Embeds
Settings > WP Rocket > Media > WebP compatibility > Enable Webp Caching (DISABLED!)
Settings > WP Rocket > File Optimization > Optimize CSS delivery
Settings > WP Rocket > File Optimization > Load javascript deferred

Note: this could cause odd behavior, or cause other javascript-heavy plugins to fail, so keep this in mind when using this feature

Settings > WP Rocket > File Optimization > Safe Mode for jquery
Settings > WP Rocket > Cache > Enable caching for mobile devices

Note: only use this if you don't have caching built in to your hosting

Settings > WP Rocket > Preload > Activate Preloading + Activate sitemap-based cache preloading + Yoast SEO XML sitemap

It shouldn't be necessary to specify the Yoast sitemap index in the box, but you can if you'd like

Settings > WP Rocket > Preload > Prefetch DNS Requests > URLs to prefetch
Settings > WP Rocket > Add-Ons > Google Tracking
Settings > WP Rocket > Add-Ons > Facebook Pixel
Settings > WP Rocket > File Optimization > Load Javascript deferred
Settings > WP Rocket > File Optimization > Delay Javascript execution

Note: WP Rocket 3.9.0+ is not compatible with the classic theme menu, you must upgrade to the Modern Menu in the Feast Plugin
See the full Delay Javascript tutorial from WP Rocket for other potential issues
IMPORTANT:

add

the following to the exemption list:
analytics
gtag
gtm
ga
adthrive
mediavine
See: why we don't recommend or support minification.
Autoptimize
Remove this - it does nothing if WP Rocket is properly configured.
ShortPixel
Admin > Settings > Shortpixel > General > Resize large images > DISABLED
Admin > Settings > Shortpixel > General > Compression type > Lossy

This should work for most people, but you may need to tweak your process (make sure images look good on

mobile

)

Admin > Settings > Shortpixel > Advanced > WebP Images > Also create WebP images for free > DISABLED
See the image optimization post for additional settings and details about images.
Pagespeed targets

Use the Google Pagespeed Insights tool to benchmark your pagespeed - check both your homepage and posts.
You want to achieve:
First Contentful Paint (FCP) = 2.0 secs or faster
Speed Index (SI) = 3 secs or faster
Time To Interactive (TTI) = 5 secs or faster
With ads:
FCP = 2.2 secs or faster
SI = 4.3 secs or faster
TTI = 9 secs or faster (minimum) -- usually, we can get 7-8 with optimizations
Your server response time should be under 400ms. If it's not, contact your host. If they're unable to fix this, change your host.
You want to be hitting 70+ on the overall Pagespeed Insights tool - anything above this provides no SEO benefit.
Feast Plugin
The Feast Plugin has a number of user-first and SEO-centric optimizations built in:
Modern Homepage fixes a number of SEO and accessibility issues
Modern Mobile Menu to display more content above-the-fold

Enabled, with mobile-specific logo and retina logo specified
feast-modern-mobile-menu menu, built with mobile traffic in mind

Comments - Enable:
Edit Post Info

Include "Last Modified" info
Include post_author_link

Simple Category Index to improve internal linking to your category pages
Add the Advanced Jump To Links to your posts
Implement the System Font stack
Accessibility
Use the WP External Links plugin to mark external links as "opens in new window"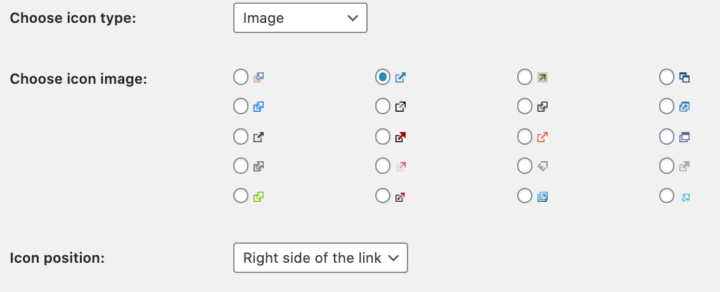 Internal links should not open in new windows.
Posts
We've released the Recipe Update Checklist as well as the Recipe Post Template in the Feast Plugin, which contains all of these and dozens more.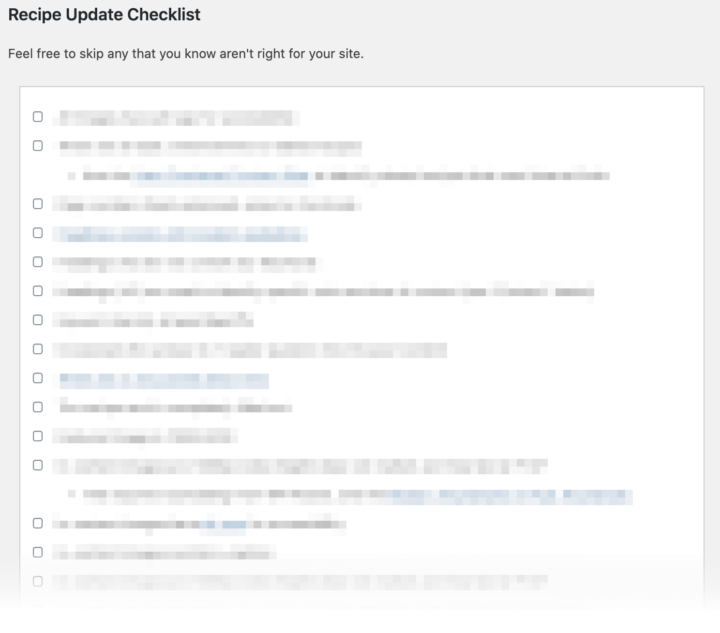 Use alt text to describe the image for screen readers on every image

Describe what's in the image + provide context

Use headings as headings - not as text

We generally recommend restricting your tags to h2 - use h3 if absolutely necessary, but never h4, h5, h6 unless it's a technical document
Headings are used by Google and screen readers

Avoid abbreviations and industry-specific jargon
Use an 8th-grade reading level for your content
Use correct anchor text - concise and description

Do not use "Read More" or "Click Here"
Link to the page title or text you want to draw attention to
Review the Google SEO Starter Guide.
Food-Blog Specific Configurations
"categories" and "tags" are general WordPress functions, which can be co-opted for additional functionality in food blogs.
The category pages should be thought of as a sort of "recipe index", grouping similar recipes together.
Tags are often used as ingredients, and can be used to sort other recipes by major ingredients. Because the quantity of tags tends to blow up (with a dozen+ ingredients per recipe), tags should be noindexed in Yoast per the instructions below.
As of 2021, we actually recommend just deleting tags altogether.
Evaluating Food Blog Recipe Quality
Head over to our Recipe Quality Guidelines for Food Bloggers post to learn about the different facets of your blog that search engines find valuable.
SEO Articles for Food Bloggers
We recommend following the advice in the following resources:
---
Pitch Your Blog Email Template
Need some help crafting the perfect email to pitch your blog? I'm here to help! Download the template now.
Advanced: deferring script loading
This is an advanced technique that we don't offer support for, but have tested and found to be very effective at improving pagespeed.
When putting scripts that are known to cause loading penalties in Google Pagespeed Insights (eg. the Facebook pixel), the code can be wrapped in a function that defers the script until after the page loads. See this solution for deferring the Facebook pixel.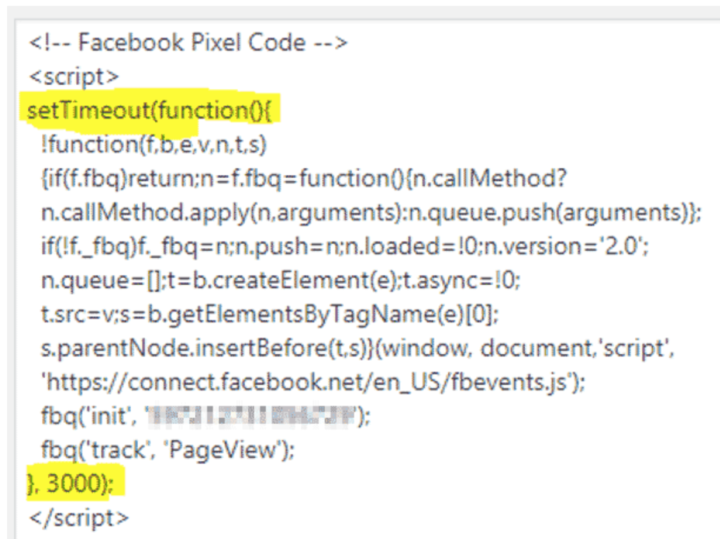 There may be unknown consequences to this, including minification issues and scripts loading out of sequence. A high degree of technical competence is necessary for implementing and testing this.