This tutorial features the Feast Plugin, which enhances and extends your theme to improve SEO, pagespeed, accessibility and user experience.
The Modern Recipe Index is a replacement for the theme's recipe index, by using the Simple Category Index (FSCI) Block.
is more customizable to suit your style
improves user experience by making navigation simpler
improves SEO by supporting good site structure
improves SEO by removing drop-down menus
improves accessibility by removing javascript
improves accessibility by fixing heading structure
improves accessibility by removing the outdated "featured posts" widget
improves accessibility by removing drop-down menus
The goal of the Modern Homepage was to convert the most "important" page on your site to a better version of the traditional recipe index. Doing this helps:
show more useful content content than just "recently published", such as trending posts, categories, posts by category and recently updated
reduce click depth to key categories and posts
add unique content (important for SEO!)
With that done, the theme's recipe index becomes obsolete because it's just a thin-content duplicate of the homepage.
However, some people do get traffic to it, have incoming backlinks, and didn't want to let it go. So we recommend converting the theme's recipe index to the Modern Recipe Index, which features categories, not recipes.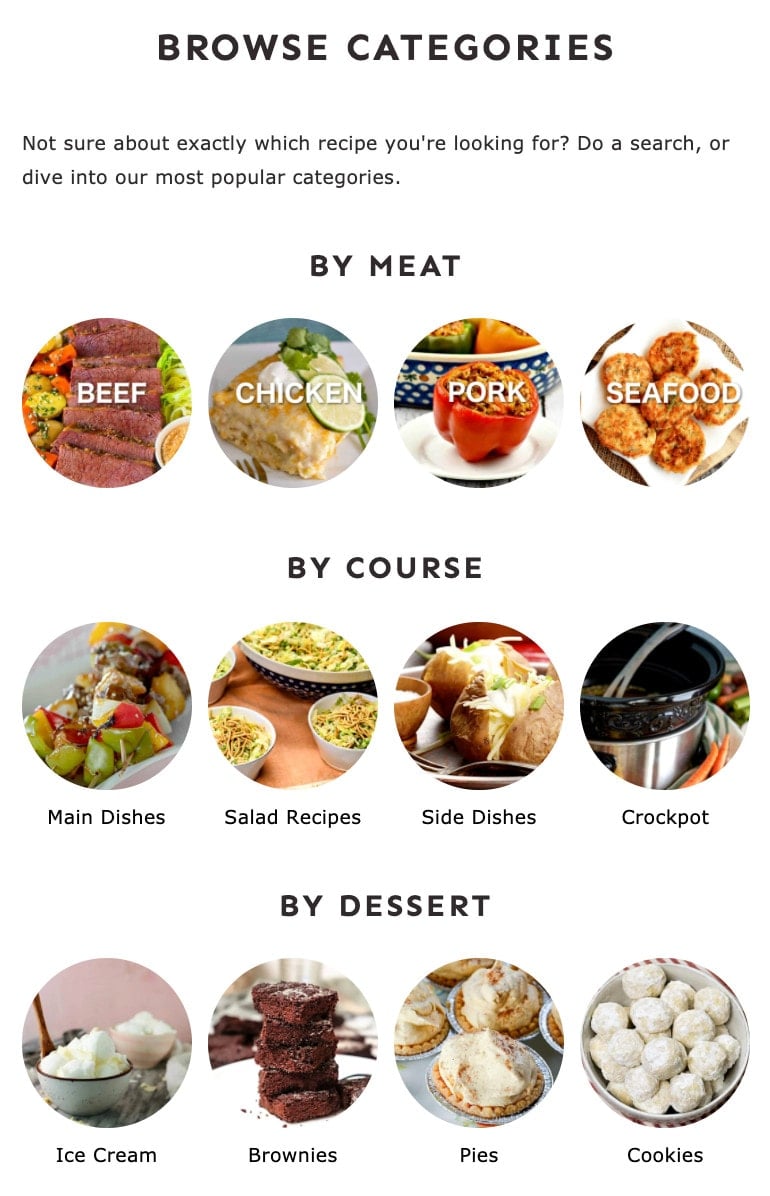 Jump to:
Simple category index block
Review the FSCI Block (Feast Simple Category Index) tutorial to learn what you need to know and how to use it.
If you haven't set it up yet, the FSCI requires brand new images to be created and assigned to the category before the block will function properly.
We do not recommend using the FSCI block to display all categories and you'll get a warning when doing this. You should use the "Categories (slug, slug)" field to specify specific categories, and group related categories.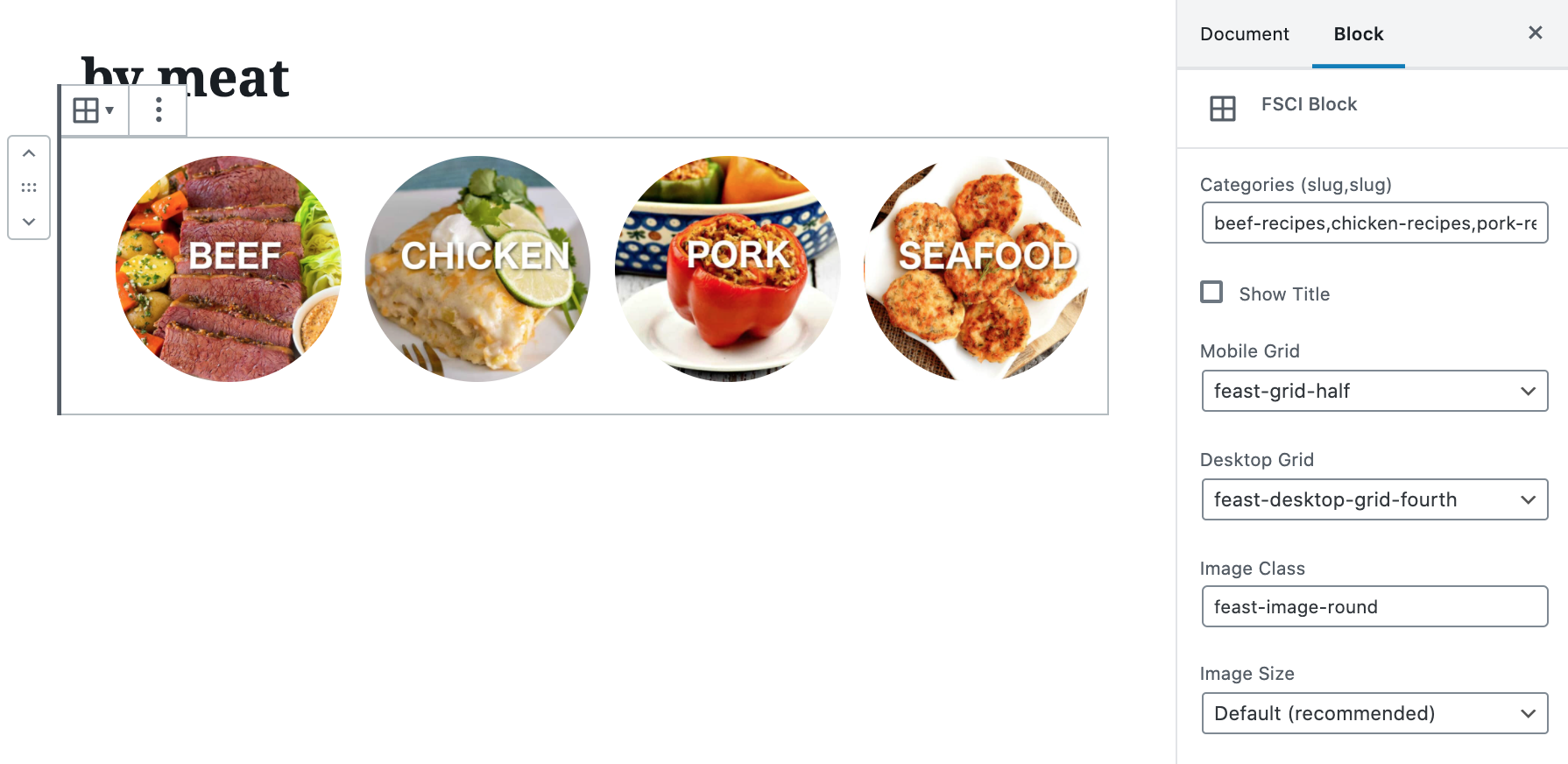 If you have a low number of categories (eg. 10) then you can simply display them all, until the site gets more complex.
Hint: as a general rule we see a minimum about 1 category per 10 posts on most sites, which means you should have over 100 posts for 10 categories. In our opinion, using categories when you have less than 100 posts is a waste of time.

A better benchmark is roughly 1 category for every 20 posts on a site.

Each category must have a unique description.
Note about staging sites: The FSCI block doesn't work well on staging sites - in this specific instance, we recommend making this change on your live site.
Convert the recipe index
Instead of deleting the recipe index, we can actually use it for something the homepage shouldn't do: display all your categories with the simple category index block.
Make sure to open the page using the block editor, not the classic editor. To do this, open the recipe index page and change the "Template" from "Recipe Index" to "Default Template" and update the page: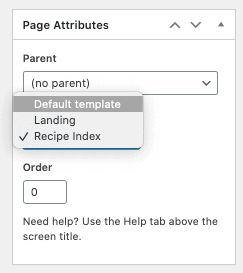 Then switch to the block editor:

For themes that used the "Secondary Sidebar" layout, you'll need to change the Genesis Layout to "Default Layout" in the Genesis sidebar.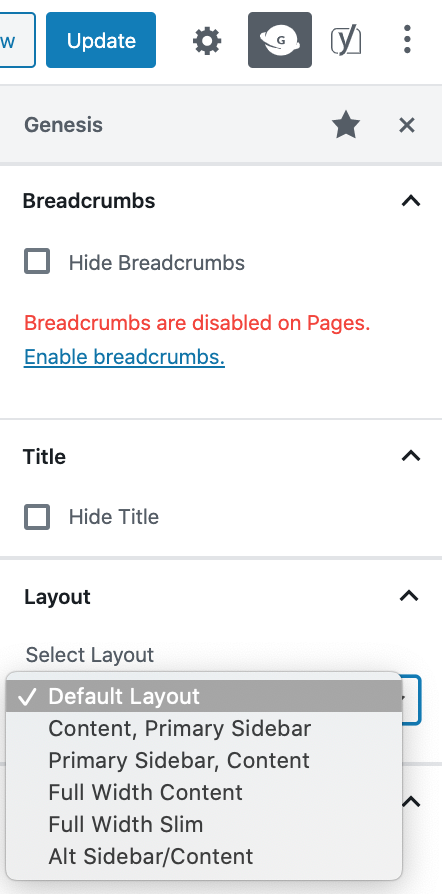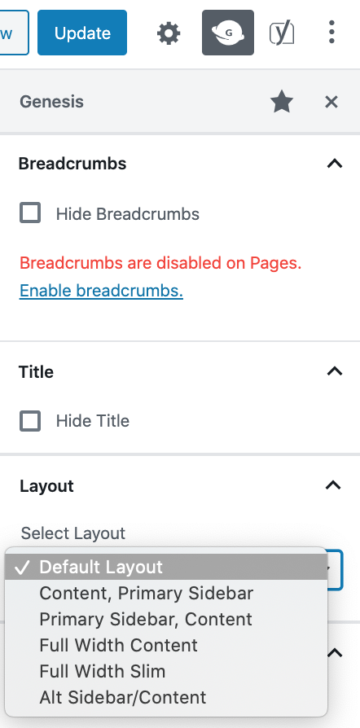 Add a search bar
No matter how well you categorize your posts, or visually organize you categories, the search bar is always going to be the easiest way for readers to find the content they want.
Add a "search" block to the Modern Recipe Index wherever it makes the most sense for you.
Also make sure to add placeholder text to the search block.
Organizing
We don't recommend nested categories, however, you can use regular H2 heading tags to visually "group" related categories without actually nesting them.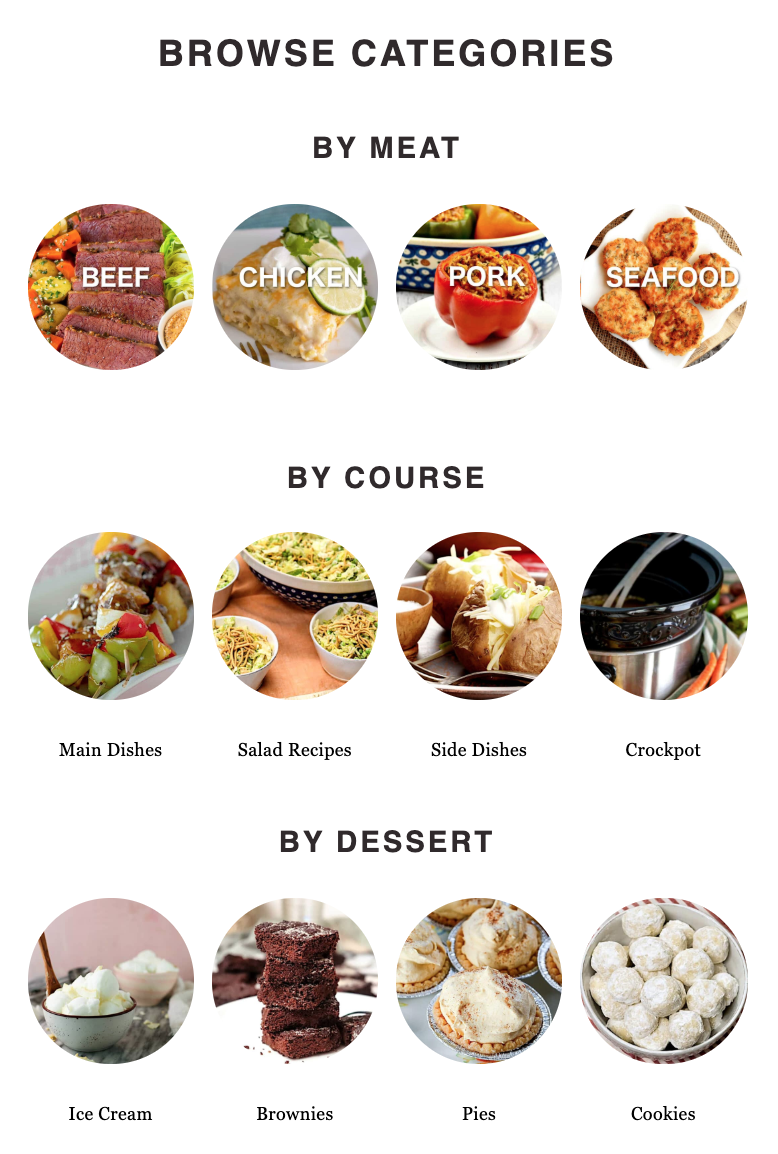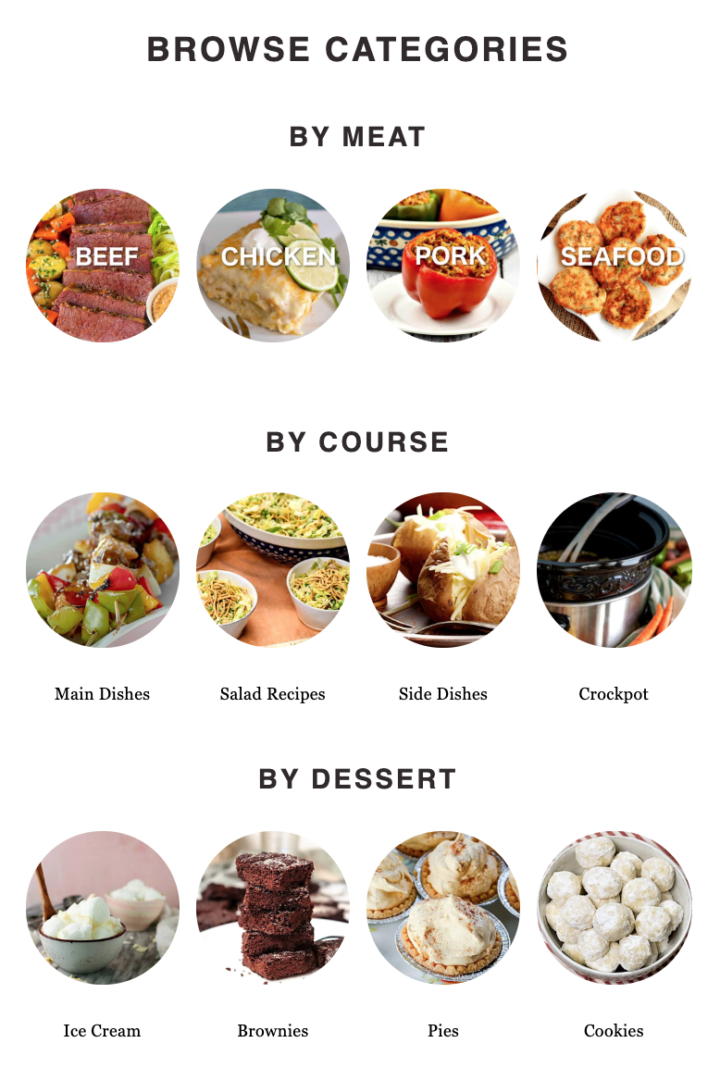 Using H2s helps Google to understand that there are "subsections" of the page, as well as helping users of screen readers to more easily navigate the page.
Customizing
Building this with the block editor as opposed to categories introduces opportunity to add unique content, and build the Modern Recipe Index in a way that's more useful for your readers.
You can enhance the Modern Recipe Index with:
reviews or comments from posts in that category
"as seen in"
newsletter subscription
URL
You can rename the page title, but don't change the URL.
Indexable vs. no-index
The Modern Recipe Index should be indexable by search engines (not-no-indexed).
Note that the same word is being used here in two entirely different contexts - a "recipe index" is an imitation of a recipe book's index. Search engine indexing is the practice of search engines crawling your site and storing a copy of it to possibly rank.
Generally, recipe indexes don't rank and this is not a goal for the Modern Recipe Index.
Other indexes
Now that the recipe index is built using the block editor, you can create other "indexes" for non-recipe content.
For example, you can create a separate
travel index
crafts index
knitting index
parenting index
cooking tips index
Note: Sites that focus exclusively on recipes will outperform mixed-content sites in the long run. We recommend that food blogs be exclusively recipe content.
Paginating the recipe index
We do not recommend paginating the recipe index.
This is because in all situations, it's better to have fewer high quality pages for Google to crawl and index and rank, than more larger quantities of low/thin-content pages.
A single recipe index page can comfortable fit 100 categories, with each category containing 20+ posts, which means that a single recipe index page is good for up to 2000 posts.
Once you have over 500 posts, you should hire an SEO expert such as Mediawyse or TopHatRank for a site-specific audit as well as site-specific categorization advice.
Problems with the old theme recipe index
The old recipe indexes that came with the themes have a number of issues:
they use the "featured posts" widgets, which are not SEO or accessibility compliant

duplicate links - one on the image, one on the title
uses h2 for post headings, despite titles not being headings, which breaks screen readers navigate by headings
uses semantic HTML article tag, against its intended purpose

they sometimes incorporate third-party javascript-based plugins that are not accessibility friendly, and do not provide adequate internal linking
they rely on a mobile-user-unfriendly drop-down form plus javascript
the category-drop-down menu doesn't provide any internal linking, which is bad for click depth (SEO)
Instead, the recipe index should be built using HTML output (using the FSCI block) that can be crawled by search engines, doesn't rely on javascript that can slow down pagespeed, and supports proper internal linking for site structure.