This tutorial features the Feast Plugin, which contains theme enhancements.
The FSRI block (Feast Simple Recipe Index) is a block-editor component for building the Modern Homepage. It's intended to be used as a replacement for the FSRI shortcode.
It contains many of the same configuration/setting options as the shortcode, but in an easier-to-use, visual way.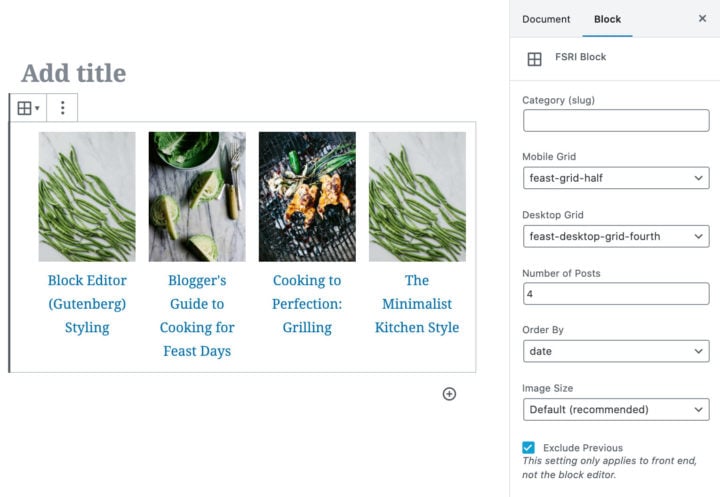 It's currently in BETA and scheduled for public use around the end of June. If you're technically inclined and want to play with it, it's available in version 4.1.5 of the Feast Plugin.
Jump to:
Conversion video
Adding the block
You can add the block either by using the (+) symbol in the top-left of the editor: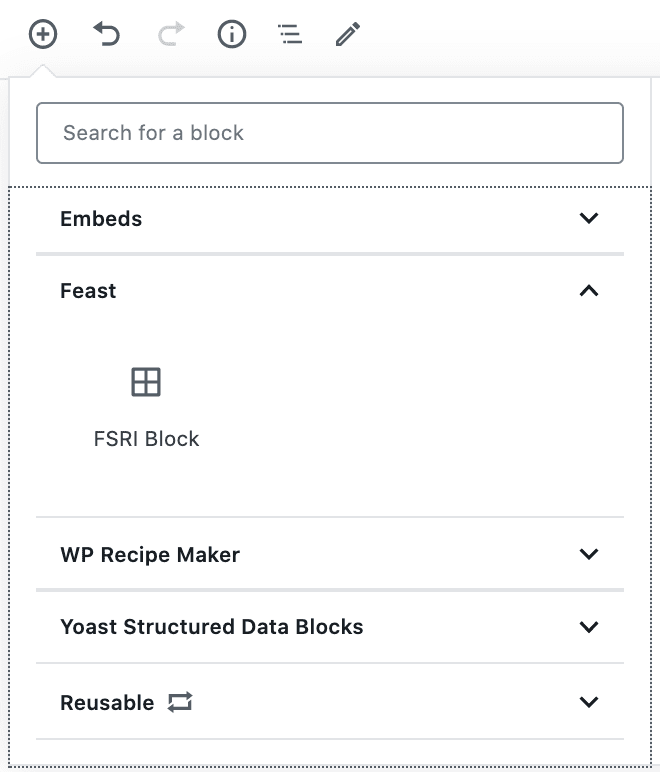 Or by going to a new line and typing /fsri

Known issues
the block editor post display may be slightly different than the front end - exclude_previous does not excluded posts in the block editor

resolving this would involve updating every FSRI block whenever one of them is updated, which currently seems like a bad idea
this is not an issue - use the block to evaluate page layout, not specify exact posts
this is likely to be left as-is, since it functions as intended on the front (ie. provides a variety of internal links for site structure)

setting exclude_previous to false doesn't work on the front-end (being worked on and should be resolved by end of June)
styling is not an exact-match to the front
styling added to "additional CSS" and in the block editor (in the "CSS" section of the post) is not loaded in the block editor itself
do not mix the FSRI block and FSRI shortcode on the same page - the block is loaded prior to the shortcode, so mixing these two on one page will have very inconsistent results (it will not crash your site though)
setting a custom class under "Advanced" will cause the block to fail - this will be addressed