An often overlooked part of creating a food blog is the category pages, which double as recipe indexes, grouping recipes that share certain characteristics.
Actually, this is a mistake that almost every food blogger makes, aside from the most thorough.
The problem? These pages usually have no unique content on them. Web pages with little-or-no unique content are known as "thin content pages" and are a negative signal for search engines. Not only that, but filling out your category pages helps Google to understand what the rest of the blog is about.
And your visitors could benefit on some background information.
So we've added this to our best practices for food bloggers.
Some bloggers include post excerpts or a few sentences of post content on the category pages, but we don't recommend this.
The featured image and recipe title should convey everything the visitor needs to know when deciding whether to dive into that recipe.
Note: When we say these are "pages", what we mean is that they're a discoverable webpage on your website, not specifically a WordPress admin "post" or "page".
Jump to:
How do you add content to category pages?
Great news: all our themes have a built-in editor for category content. Simply navigate to any of your category pages while logged into the admin, and you'll find this handy little "edit category" link in your admin bar.

Or you can navigate to Admin > Posts > Categories and edit them just like posts, using the Archive Intro Text field

Then hit "Update" at the bottom and voila!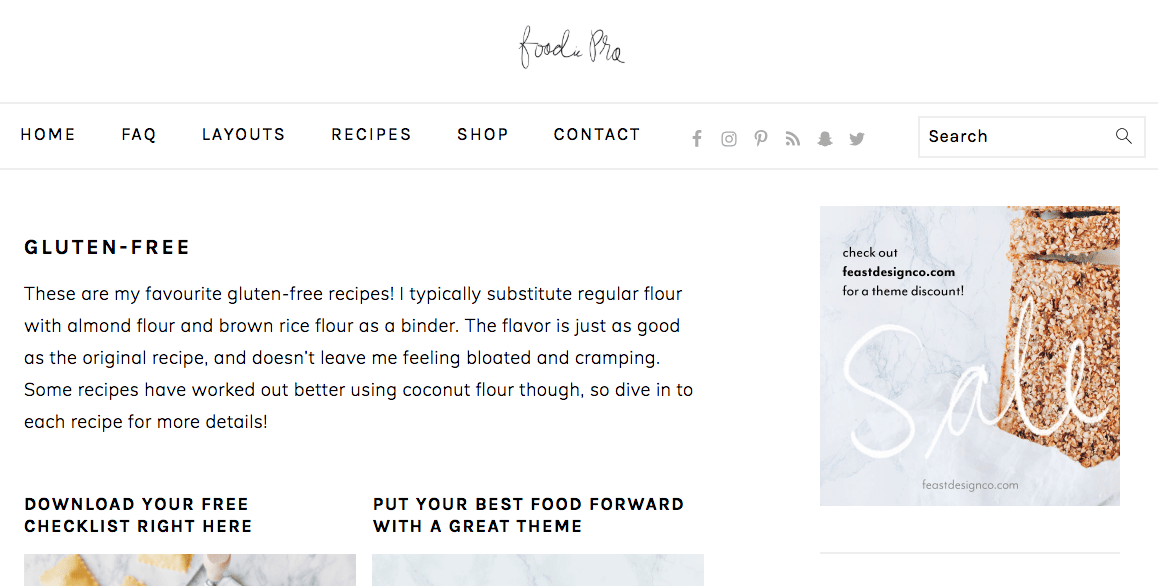 How long should the content be?
We recommend aiming for a paragraph: 3-4 sentences. Simply describe which recipes will be found on this category, and why you have it as a category on your website. Keep it:
If you can't come up with enough content for 3 sentences, it's probably not an important enough category to have on your website and should be removed.
We'd also recommend linking to a piece of cornerstone content from the paragraph, using the rich text editor built into the Archive Intro Text field.
How many category pages should I have?
As many as you need, but don't go overboard. Your important pages are your posts, so keep your effort focused on those.
Aim for a minimum 6 posts that you can fill the page with before creating a category for that specific ingredient or topic.
Your categories also shouldn't compete with your posts. For example, don't have an "gluten free pancakes" category and "gluten free pancakes" post. Categories should be broad and vague-ish relative to the posts they contain, and ideally single keywords. Posts should be more targeted and specific.
How many posts should I have per category?
We recommend splitting categories into more specific categories when they exceed roughly 20 posts. This helps keep the category pages focused, and helps the visitor navigate your site. You can set the number of posts to display per category by going to Admin > Settings > Reading > Blogs Pages Show At Most > 20
This provides a good balance between having a a good number of posts for your reader to choose from, and keeping the page a reasonable size for pagespeed purposes.
For example, if you have 30 "burger" posts, you may consider splitting them into "chicken burgers" and "hamburgers".
Note: Make sure to re-use the existing category by renaming it, or 301'ing it to the most relevant new category.
Keywords
This is a good opportunity to make sure you're targeting the best keywords for your blog, and adding it to the Archive Headline field in the "edit category" page.
While "Gluten Free" is an accurate title for this page, "Gluten Free Recipes" is even better. The more specific and relevant you can be, the better. Your blog may have a /gluten-free category whose title is any of:
Healthy Gluten Free Recipes
Best Gluten Free Recipes
Vegan Gluten Free Recipes
Easy Gluten Free Recipes
Gluten Free Dessert Recipes
Choosing the right keyword is a balance of relevance, search volume, and competition levels for your blog level.
A bad choice for the recipe title would be: "You Can't Find Any Better Gluten Free Recipes Than These Because They Are So Good You'll Want to Slap Your Mother".
Other Uses for Category Pages
Listicles are a popular way to group related recipes together. You might want to consider editing the category title as a list, for example:
Top 7 Gluten Free Breakfast Recipes
12 Best Avocado Sandwich Recipes
Lucy's 10 Favorite Fajita Recipes
Categories vs. Tags
Categories and tags serve essentially the same purpose, and shouldn't be indexed at the same time.
Ideally, use categories, and don't use tags. Make sure that tag pages are noindexed per our SEO for food bloggers post. Note: Make sure your tag pages aren't currently driving traffic in your Google Webmaster Tools.
If you're using some plugin that filters by tags, make sure the tags pages are noindexed and links to those pages are nofollowed.
How to Prioritize Updating
It's going to take some work to add about 100 words to every category. The best thing to do is just to start knocking them out, and refine it later. In priority sequence:
Pages that get traffic from search engines and already rank - use Google Webmaster Tools to sort by traffic descending, and filter pages with the "category" keyword
Pages that get visits but aren't landing pages - use Google Analytics and sort by pageviews, then filter pages with the "category" keyword
Fallback: If the above is too much work or too complicated for you, just do it alphabetically
How do you prioritize it relative to your other work as a food blogger? If this is missing and you have a blog with a couple thousand monthly pageviews, I'd say it's more important than doing your social media, adding a new recipe or answering your emails. Do it right now.
Initial Setup
If you've just started out, we recommend removing the "categories" portion of the categories URL altogether. You'll find instructions under the "Yoast" section of the SEO for food bloggers post.
Categories to Remove
Remove categories that:
Aren't relevant to your blog
Have no visits in Google Analytics
Compete with recipe pages (ie. category name is too specific)
Yoast Not Counting Text
If you have the premium version of Yoast, you'll find that it won't pick up the content in the Archive Intro Text to give you a rating. This is fine.
Other "Description" Field
The other "Description" field is actually the <meta> description field: https://yoast.com/meta-descriptions/
These were abused long ago, and are generally ignored by search engines. They have no impact on search engine ranking. If you leave it blank (and sometimes even if you fill it in), search engines will simply pull content from the page - in this case, probably the "Archive Intro Text" field.
In a perfect world, you would fill this in with catchy text to help boost your click-through-rates in search engines. However, category pages rarely get high enough rankings or impressions to justify the time investment.
Our recommendation is to leave it alone.