This tutorial covers how to configure the category pages (formerly known as the "content archives") for all themes:
Foodie Pro
Brunch Pro
Cook'd Pro
Cravings Pro
Seasoned Pro
Jump to: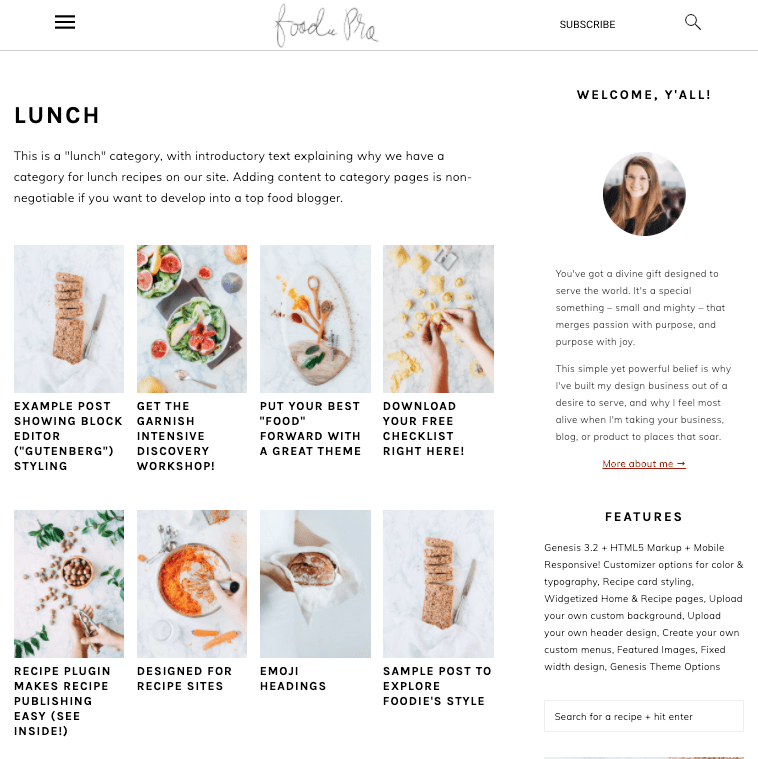 Navigate to Appearance > Customize > Theme Settings > Content Archives and find the content archives selection.
Note: in Cravings Pro & Cook'd Pro, this is found in Appearance > Customize > Archive Grid
Deciding what post info to display
Configure your Customize > Theme Settings > Content Archives as follows to get the content archives to display like the demo:

Update: we recommend using one-fourth for desktop instead of one-third, as this will break the title the same on mobile (360px) as desktop (720px) and provides a consistent display across mobile and desktop. This ends up displaying like:
Mobile half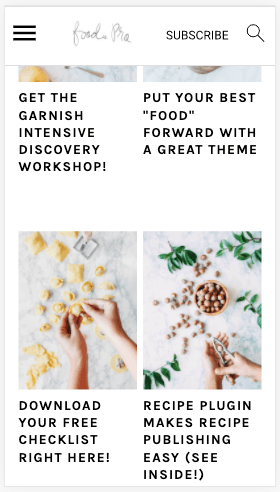 Desktop fourth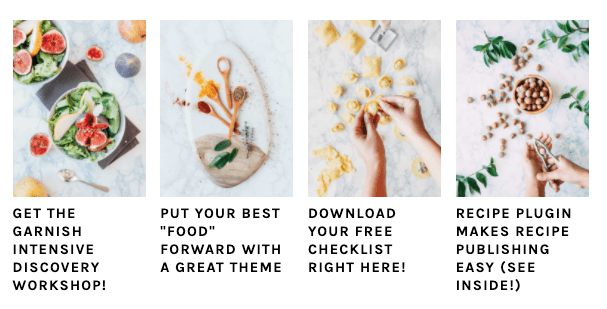 Note: if using the Modern Thumbnails (recommended), we recommend selecting the feast-portrait-3x4-360x480 thumbnail. If you haven't already done so, run the Regenerate Thumbnails Plugin after enabling the Modern Thumbnails.
For search engine purposes, we recommend that you don't display post excerpts or post content. This is because having the full content on both the category page and the post itself can be seen as a "duplicate content" issue.
We also recommend you don't display the "entry info" portion, which is the date and author information, on your category pages. Recipes are evergreen (meaning dates aren't relevant) and the author information should be pulled from the post itself.
This format is a better user experience, and makes scanning categories quick and easy for your readers - who should be able to determine relevance to what they're looking for by the featured image + title alone.
How many posts should I have per category?
We recommend splitting categories into more specific categories when they exceed roughly 20 posts. This helps keep the category pages focused, and helps the visitor navigate your site.
You can set the number of posts to display per category by going to Admin > Settings > Reading > Blogs Pages Show At Most > 20
Setting the category fields
When optimizing the category pages, there's a number of fields that are used in different parts of the theme. You can find this in Admin > Posts > Categories, or by going to a category page while logging in and clicking "Edit Category" in the admin bar.
Here's how we recommend using each field: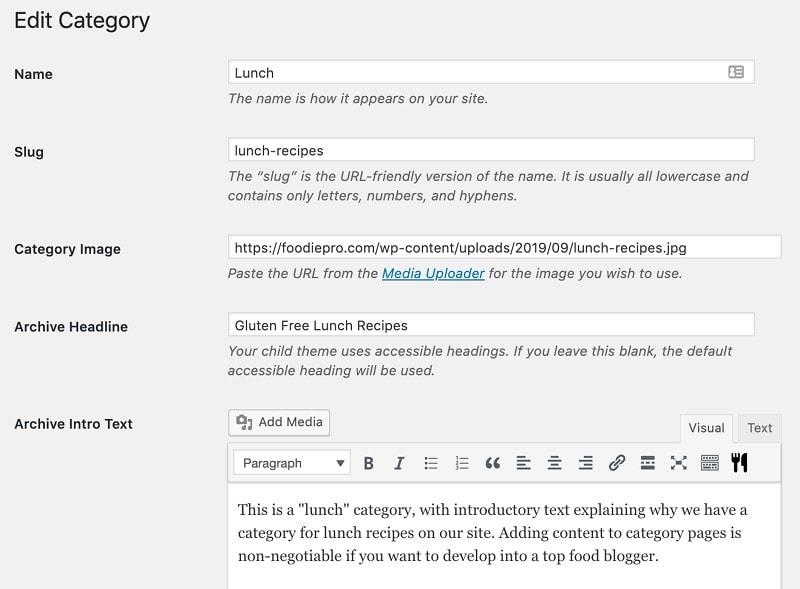 Name - gets used to generate the breadcrumbs, as well as the Simple Category Index - keep this short and don't use the word "Recipes" in it
Slug - this defines the URL of the category page, and we recommend including the word "recipes" here

eg. "breakfast-recipes"
note: do not change the slug for existing categories, because this alters the URL and can negatively affect SEO - the word "recipe" in the URL is a very minor optimization

Category image - this is a feature exclusive to the Feast Plugin, see: Feast Plugin Simple Category Index - the image file name for the category should be SEO-optimized
Archive Headline - this defines the title that appears at the top of the page, and should be keyword optimized with the word "Recipes" as well as anything special that might apply - "gluten free", "paleo", "sugar free"
Archive Intro Text - defines the body of text that appears before the category listing - full recommendations in Category Pages Need Content
Yoast - the Yoast box is found at the bottom of the page and enables you to define a unique meta title tag, as well as a unique meta description tag

meta title tag should match the primary keyword(s) sending traffic to your category page, to enhance click-through-rate
meta description tag should be a short pitch as to why the visitor should come to your site
If this category is for organizational purposes only (a "Featured Posts" category for the sidebar) and not to get search engine traffic, make sure to noindex it in Advanced > Allow search engines to show this Category in search results? > No
Note that it's not critical to have the slug be perfect:
The SEO effect of keywords in the URL is minimal once the content is indexed. Make URLs that work for your users, not for SEO. Also, changing URLs on an existing site is a site-migration & it will take time/fluctuations to be reprocessed, so I'd avoid that unless it's critical.

John Mueller, Google
Yoast
Yoast provides fields to edit the META tag title and description, and filling this out with unique, high quality content will only help you.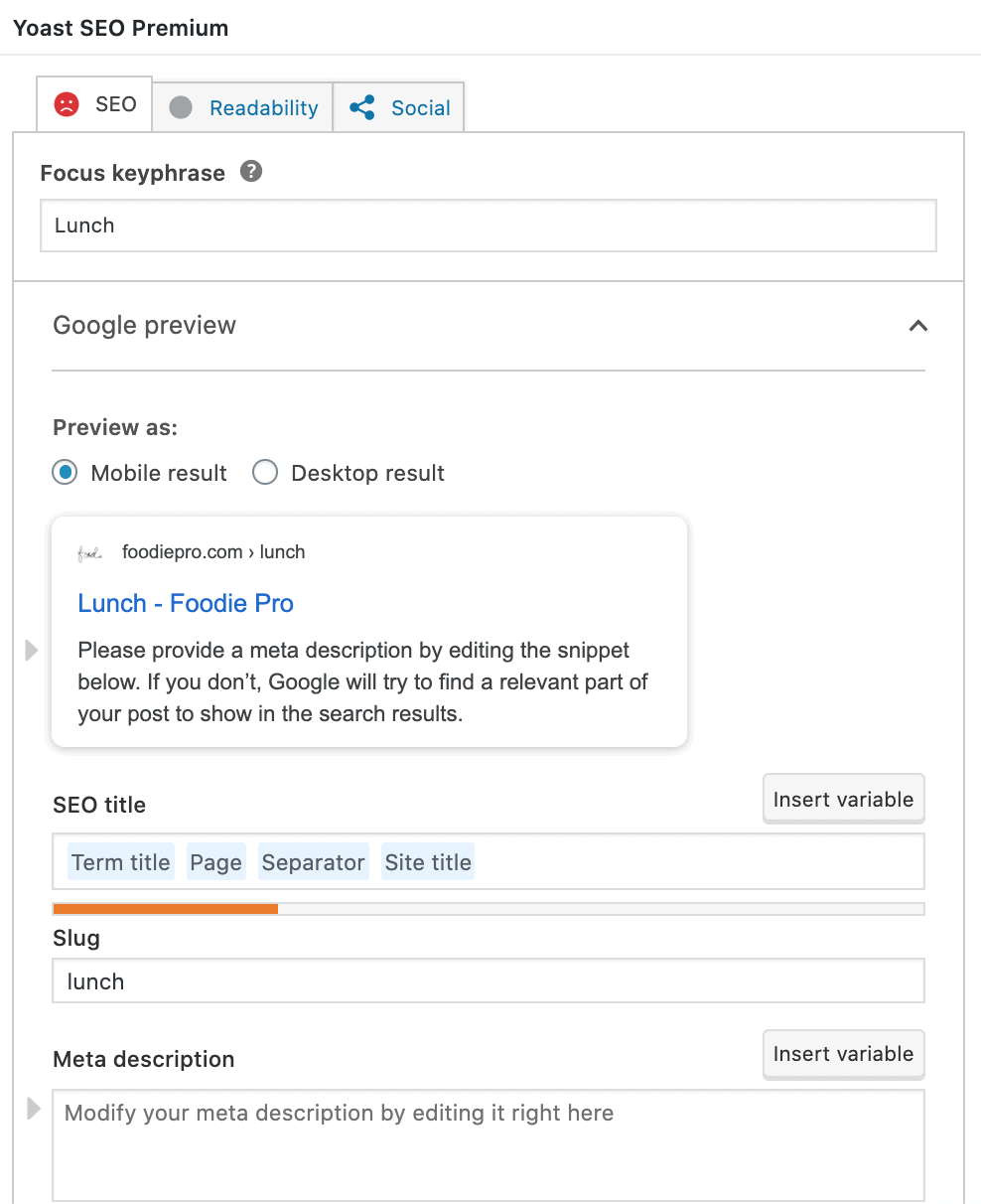 Adding content
Your category pages are just like any other post on your website - they need content. See the following resources for more detailed information on completing your category pages: