Wouldn't it be nice if you knew exactly how your food blog was evaluated for quality, and what you might be doing wrong (or right)? Well, you actually can know.
[Update 2019/03/31: you can find a deep dive into this with the SEMRush webinar with Casey Markee at: https://www.youtube.com/watch?v=ChBRsRpT1kc]
The online world is constantly changing, and what was "kosher" a year or two ago (nevermind 5 years ago) doesn't fly quite as well in 2018 and moving forward. We've taken a fresh look at what best practices are for food blogs with a new set of eyes and broken it down for you here.
The mysterious Google algorithm is constantly evolving to eliminate spam and identify the best fit for searchers, and now runs at least partly autonomously through an AI. But did you know there are humans still involved, known as quality raters?
Jump to:
What are Quality Raters?
Google employs teams of real humans that manually review webpages based on a set of guidelines known as the "Search Quality Evaluator Guidelines", and assign it a page quality (PQ) score. These guidelines are actually a 160-page manual that is publicly available here.
While not explicitly stated, the purpose of these human quality raters is likely to provide data for the AI to learn from (known as the "training set" in machine learning). These quality ratings then teach it for example, that websites with large ad banners in the header typically receive a low or medium page quality score, and when it encounters a new website with a large banner in the header, it knows to assign it a low page quality score.
And that boys and grills, is what we're here for.
Aside from ensuring the web page being evaluated fulfills it's promise (title + content) and isn't spammy, a big component seems to be what has been labeled E-A-T.
Expertise, Authority, Trustworthiness (E-A-T)

There are some acronyms used throughout the document:
MC: Main Content (your recipe post)
SC: Supplemental Content (header, sidebar, ads, footer)
LP: Landing Page (made of the MC + SC)
Needs Met: does the page content match the user's search intent?
See this video on how to improve your website's E-A-T.
Experience + E-A-T
In December 2022 Google added "Experience" to their E-A-T guidelines. This is now something factored in by the human quality raters at Google and while it doesn't directly affect ranking, complying with is key.
Examples
There are specific examples of high quality and low quality content for food blogs: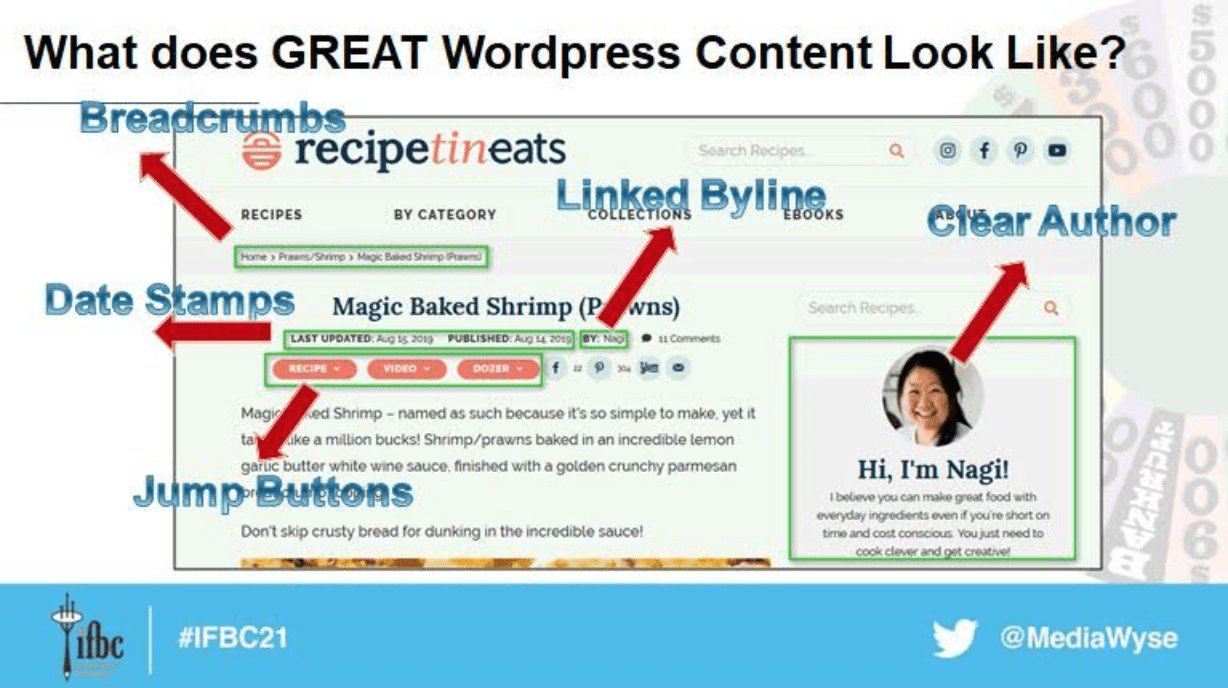 Great content shows the reader not only what they're looking for, but supporting content such as breadcrumbs, author bylines, date stamps, jump button, an author bio, as well as above-the-fold teaser text.
High Authority example (celebrity chef)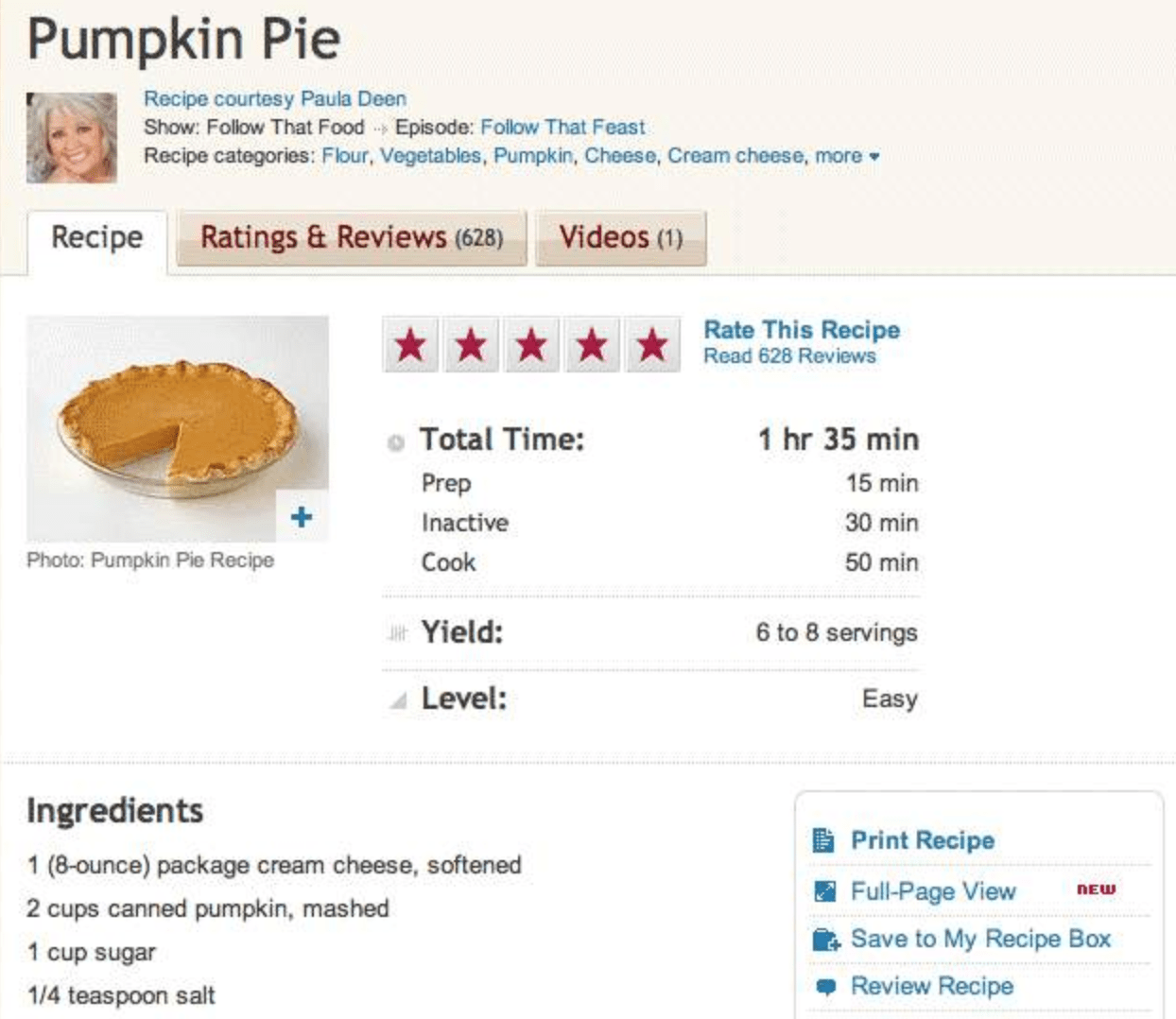 The website is one of the most popular recipe websites and the author of the recipe is a well-known celebrity chef who specializes in southern cooking.
This page has a large number of user reviews of the recipe, detailed preparation time information, a "recipe box" feature, etc.
It's not surprising that being a well-known chef earns you some credit. What is interesting is that they specifically identify the user-engagement (reviews) as a signal of a quality blog.
High Expertise example (thorough coverage of topic)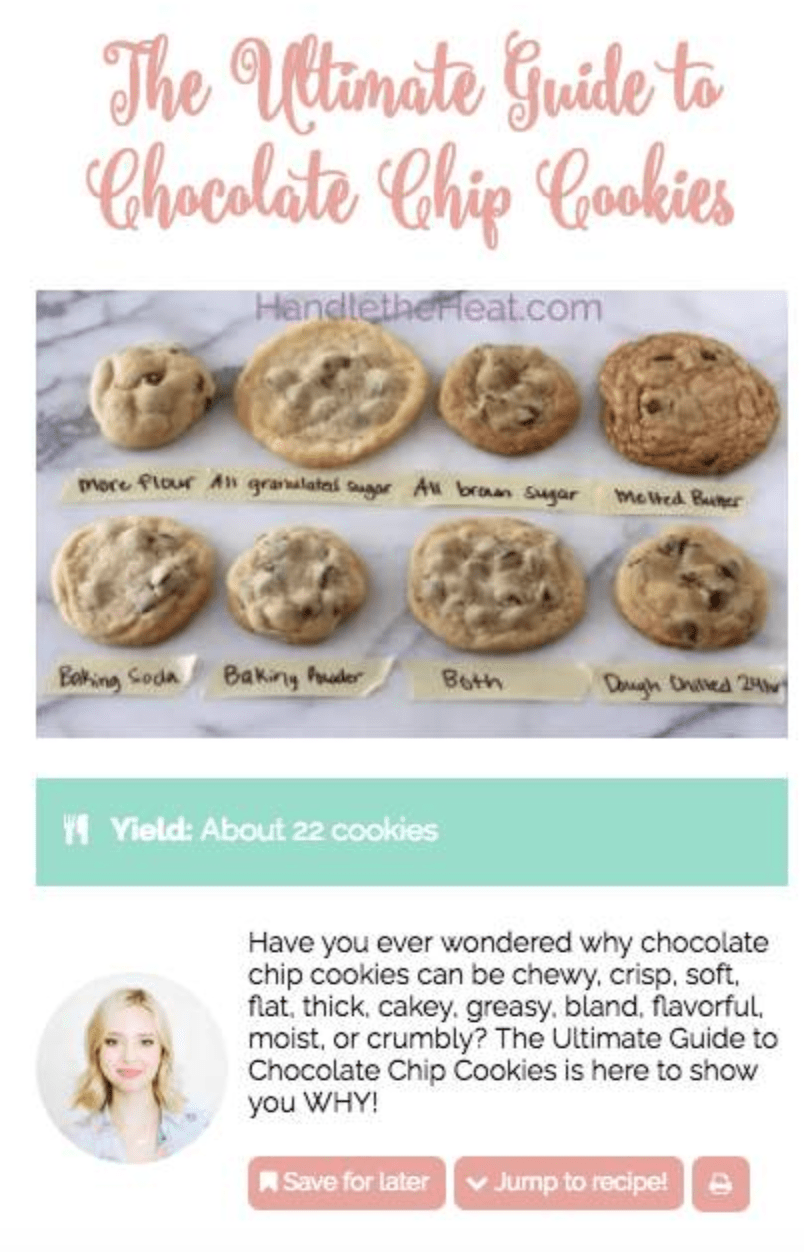 Even though this user does not seem to be a well-known professional chef, recipes are an example of everyday expertise. The author of this blog has documented her extensive experimentation with a chocolate chip cookie recipe, and her expertise is demonstrated in the large quantity of high or highest quality MC (main content)
What can we glean from this? You don't need to be a celebrity chef to be taken seriously, but you do need to show your work.
Low quality example (thin content, not engaging)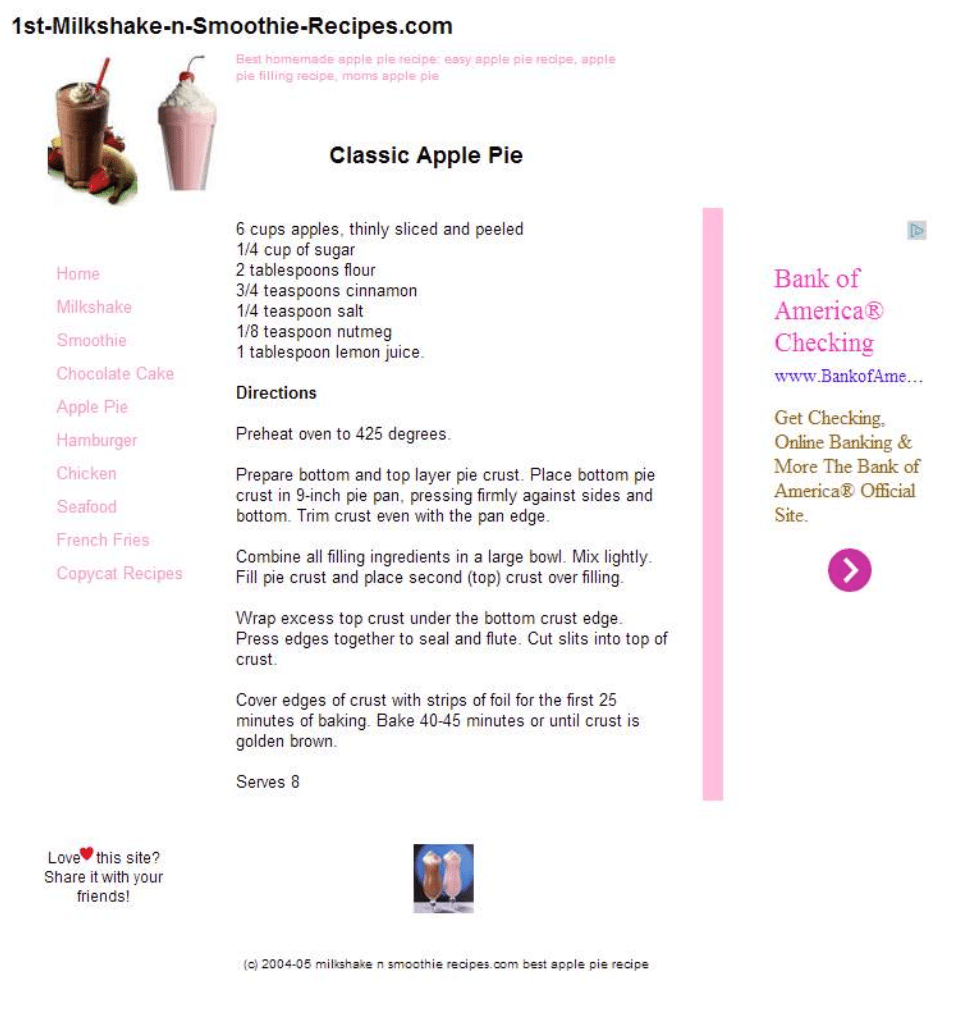 This page and website have many of characteristics of Low quality pages. The MC (main content) is low quality and lacks important information.
For example, it gives no indication of how to make a crust and doesn't list premade crust as an ingredient. It would be very difficult to actually make an apple pie using this recipe.
This page is lacking the kind of helpful content we expect in recipe pages, such as user reviews or comments. Without such information, it's hard to tell if the recipe is any good. The small pink text at the top is not helpful for users.
Here, they've called out thin-content, and noted that you wouldn't actually be able to fulfill the promise of the webpage (baking an apple pie with the recipe) because it lacks critical content. Another interesting note is that user reviews and comments are missing, which is common with food blogs.
Low quality example (stuffed ads, poor UI)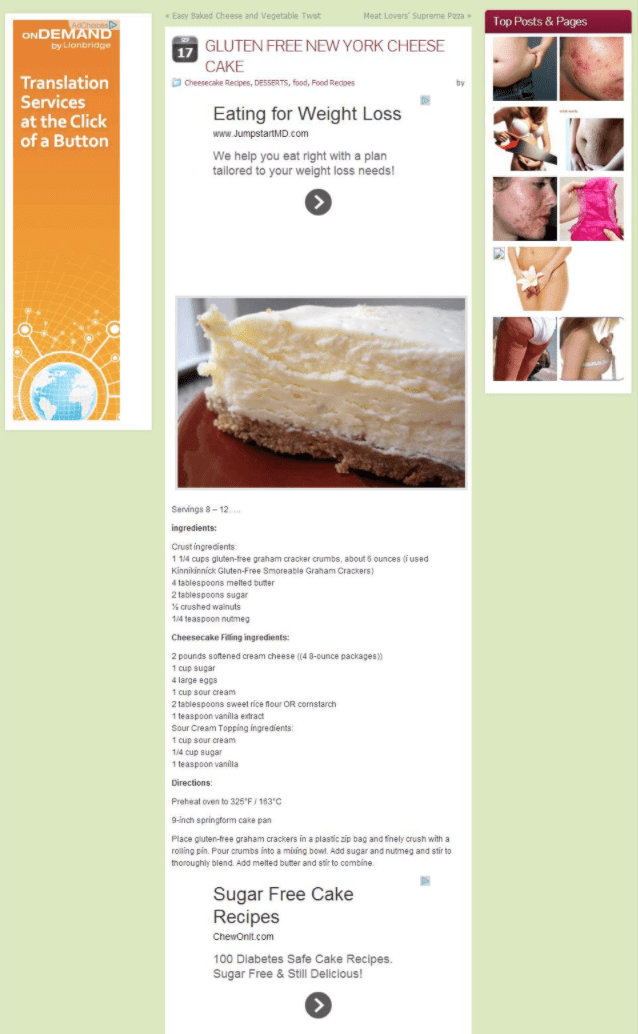 This is an example of distracting and disruptive
Ads/SC (supplemental content): there are large Ads in the main column
pushing down the MC (main content) as well as highly
distracting content on the right that are labeled
"Top Posts & Pages." It is unclear whether
these are SC (supplemental content) or Ads.
This one is neat because it specifically calls out ads and what might be sponsored content. Both ads and sponsored content should be clearly marked and use rel="nofollow".
Here's a full overview with multiple examples: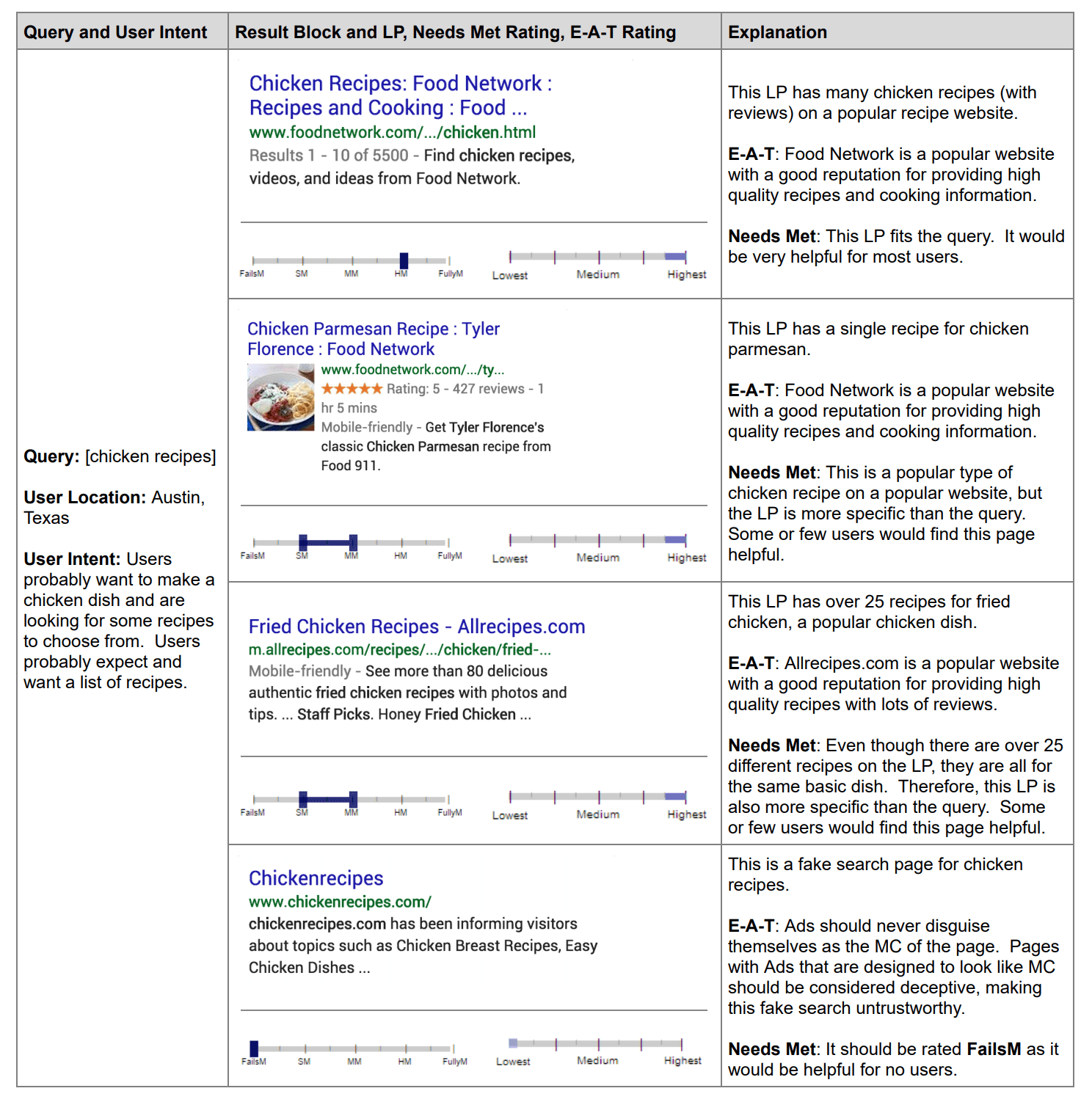 What can we learn from this?
The take-away is:
each individual recipe page is more important than your website (your food blog) as a whole
user engagement (reviews, ratings, comments) are closely correlated to high quality food blogs, but probably don't cause better rankings
you need to sell yourself as the an authority on the recipe you're writing
ad-stuffing can hurt you
your supplemental content should be related to, and enhance, your main content

Your post content is your blog's main content - everything else is supplemental. When a user lands on your blog looking for something specific (your recipe), the main content should be front-and-center, with ads and supplemental content there in a supporting role only. What is supplemental content (SC)?
Supplementary Content contributes to a good user experience on the page, but does not directly help the page achieve its purpose. SC is controlled by webmasters and is an important part of the user experience. One common type of SC is navigation links that allow users to visit other parts of the website. Note that in some cases, content behind tabs may be considered part of the SC of the page.

Sometimes the easiest way to identify SC is to look for the parts of the page that are not MC or Ads.
This guide from the SEM Post has good additional information on main content: http://www.thesempost.com/supplementary-content-google-quality-raters-guidelines/
Comments
Comments are considered part of your main content! This means that you want to lightly curate the comments - keep low-value spammy comments out, and encourage readers to leave detailed, thoughtful questions and remarks.
We've actually seen sites ranking for keywords that are only found in their comments sections - not in the actual post itself.
Author Information
It's clear that search engines (like Google) are moving towards a real-world author ranking system. Far from just celebrating and promoting professional expertise or celebrity authority, the average blogger can build trustworthiness through the quality of their content and transparency.
It's critical that food bloggers have an "about me" page, as well as proper disclosures about where their income is coming from. The Feast Plugin's Edit Post Info feature allows you to link to this author page, as well as create and display disclosures that are required by law.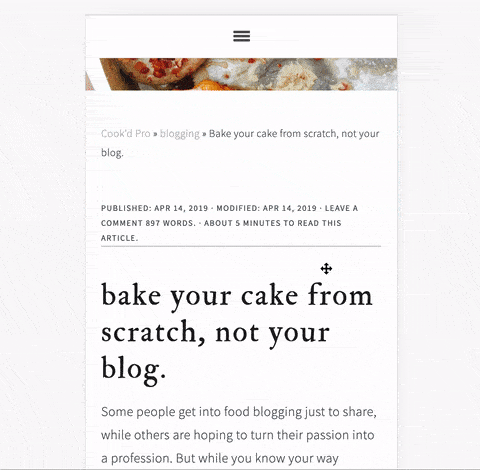 For more details, see this SEMRush Webinar with Casey Markee.
[Update 2019/06/06: additional guidelines and updates can be found at https://www.mariehaynes.com/google-updated-qrg-quality-2019/]
Food Blog Theme Development Roadmap
As of August 2018, most food bloggers fall short in helping bloggers fulfilling the E-A-T portion of the quality guidelines. This is all the more evident when looking at the current mobile version of our themes.
Notably, we've enabled too much non-MC (main content) above-the-fold, such as headers, navigation, banners ads and newsletter signups. All of these things are perfectly legitimate parts of a food blog, but should have a proper place in the post itself rather than stuffed into the top.
Coupled with the fact that most food blogs now see 75% - 80% of their traffic from mobile sources, we'll be aggressively eliminating parts of the theme that don't support these new guidelines, such as the before-header content section that we previously recommended adding the newsletter signup to.
These changes actually reflect very closely what we've been pushing this year about shrinking blogger's logos, and the recent change we made: rethinking the header.
It's also why generally recommend food bloggers avoid making too many customizations to their themes, and always ask why am I making this change?
Some of these changes will be drastic for food bloggers who've held off updating for years, but are necessary to stay compliant with modern-day best practices going forward. Make sure to sign up for the newsletter to stay in the loop for future releases.
Example of High Quality Content
Buzzfeed's (Tasty.co) article on chocolate chip cookies is a prime example of premium, A+ quality content that food bloggers should strive for. It's comprehensive, and demonstrates a high expertise despite low authority.
https://tasty.co/article/marietelling/brown-butter-chocolate-chip-cookies
Video: https://www.facebook.com/buzzfeedtasty/videos/279479586086196/
It could be improved with better post navigation - a "jump to recipe" button and a content outline for easier navigation - but overall, it earns it's ranking.
The video that ties in with the article has over 43,000,000 views, 4,300 comments and 31,000 shares on Facebook alone in one month, as of January 28, 2019.
Q: How do I know what my PQ score is?
You don't. This information isn't publicly released. If you do it right, you should generally see your search traffic rise over time. If you don't do it right, you'll gradually be pushed lower by others who are doing it right.