This is available exclusively through the Feast Plugin.
Creating high quality content that demonstrates E-A-T, follows modern guidelines for headings is difficult, and can be very time consuming. Most recipes take a full day to shoot, edit and publish, with the writing taking up about 1/4 of that time on average.
Use the Recipe Update Checklist for guidance on updating existing posts.
Instead of relying on the recipe update checklist to update and improve posts after they've been written, how much time would you save from using a pre-formatted recipe template?
Introducing the Recipe Post Template, which creates a new post with key headings and sections all ready for you to fill out.

You'll find this on the Feast Plugin settings page, and the Recipe Update Checklist page.
Rather than coming up with the headings and formatting yourself each time from scratch, use the default template and add and remove content as needed to fit your recipe.
Jump to:
What's included
The actual content and format of the template will change over time, depending on best practices and feedback we get.
In general, it's formatted in "sections" that begin with a heading, followed by paragraphs and images.

This follows our guidelines for creating quality content, such as:
SEO
The post is formatted in a way that's optimized for search engines, with headings breaking up the different sections of content.
Imagine you're writing an outline

Similar to writing an outline for a large paper, put some thought into what the main points and sub-points of the content on the page will be and decide where to use heading tags appropriately.

Google Webmaster Guidelines for Heading Tags
This makes it simpler for search engines to understand the different sections of content and rank them appropriately.
It also encourages the use of lists where appropriate, and answers common questions that readers will run into when buying ingredients, preparing them, creating the recipe and storing them. This create more comprehensive topic coverage.
The Advanced Jump To is included by default, which can encourage in additional links in the search engines for high quality content.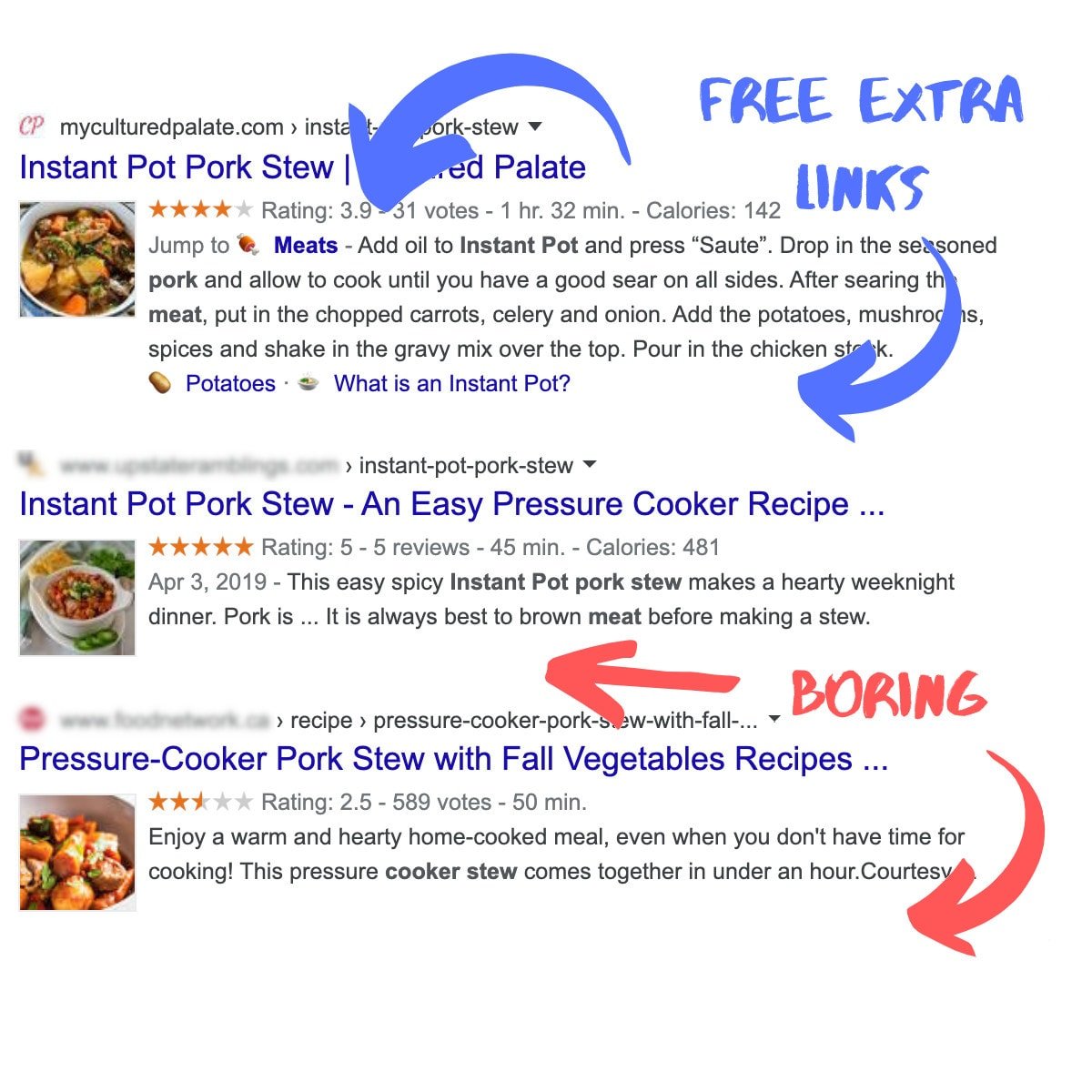 Modify it
This template is not comprehensive, and not the absolute best layout for all recipes.
You should add and remove sections as you think is necessary for your recipe.
FAQ
Do I have to use every section/heading?
No! Remove anything that doesn't belong, like cooking time for a salad, or storage instructions for one-mug brownies.
Can I add to the content?
Yep! As soon as you create "Create a recipe post from template", you're taken to the normal post editor where anything can be edited, just like a regular post.