The Feast Plugin's Advanced Jump To Links is a powerful tool in the hands of the right person, but can also make your recipe pages ugly and worse for visitors if misused.
Here are some modern guidelines for making great page headings.
"Page" here refers to all pages on your site - posts, pages, category pages and the home page.
Jump to:
Do not over optimize
Do not use your primary keyword in your (h2 and below) headings. This is unnatural to readers and is a sign of low quality content.
Search engines have moved to a topical understanding of pages. They know what the page is about based on your title, images, and the content on your page relating to that topic. This means that you do not need to repeat your keywords in the headings.
Any SEO still advocating this hasn't been paying attention to the last 5 years.
Accessibility and screen readers
Screen readers rely on headings, which means headings should be written to sound natural.
Try to avoid acronyms, as fully capitalized words are sometimes read letter-by-letter by screen readers.
Do not overuse headings. In most cases, content editors will not need more than <h2> rank headings and the occasional <h3> rank.

Yale web accessibility guidelines on headings
Reference: Yale: headings and accessibility
Do not capitalize each word
This comes directly from Google's guidelines on headings:
In document titles and page headings, use sentence case. That is, capitalize only the first word.

For proper nouns, trademarks, keywords, and other terms that are always capitalized a certain way, use the standard capitalization for the term, regardless of where it appears in the title or heading.

Even though you're using sentence case, don't put a period at the end of a heading.

Google capitalization guidelines
Use normal grammar and sentence casing: the first letter of the sentence as well as any acronyms and proper nouns.
Do not use too many headings
This again comes directly from Google's guidelines on headings:
Use heading tags where it makes sense. Too many heading tags on a page can make it hard for users to scan the content and determine where one topic ends and another begins.

Google Webmaster Guidelines for Heading Tags
This is why the Feast Plugin's Advanced Jump To Links uses only h2 headings, rather than h3 and lower. Having too many headings makes the page navigation menu too long, making the user experience worse, rather than better.
You can absolutely use h3s if it makes sense for your page, but these have been specifically exempt from the jump to link menu.
We've never seen a good use case for h4, h5 and h6 tags on recipe sites and simply don't recommend using them. If you're one of the 1% of 1% of people who are writing insanely long and technical documents about food or recipes (not a great user experience in 99% of cases), then feel free to ignore this.
Use short, concise headings
Preliminary testing with the Advanced Jump To Links has shown that using shorter headings leads to more jump to links in the search results.
Using emojis related to the heading makes these headings stand out even more, increasing the likelihood you catch the visitors attention and they visit your recipe. This means more pageviews.
It also makes the headings more readable for your visitors, improving the user experience: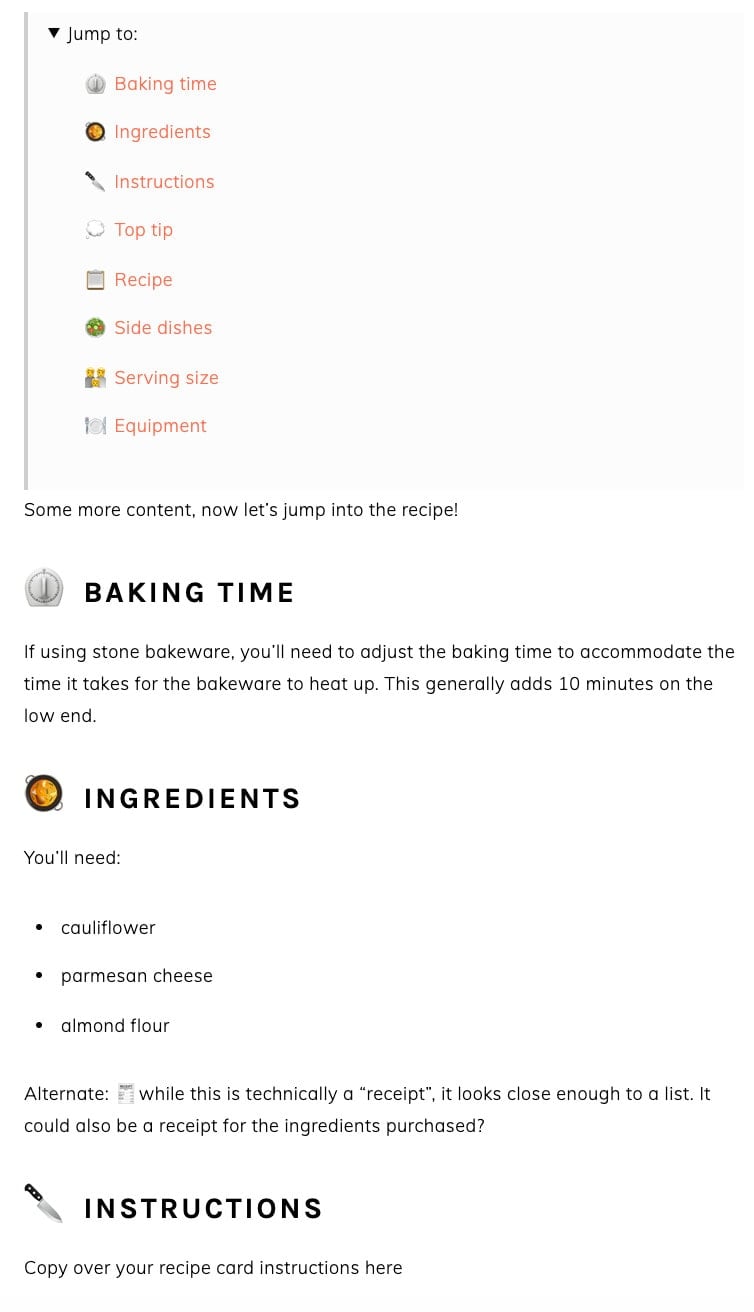 Do not use h1s for headings
Your page should have a single h1: the post title.
The rest of the headings should be h2s, relating to aspects of the recipe that readers would find useful. For heading ideas, see the Advanced Jump To page.
Do not combine with other tags
Headings should not be combined with other HTML tags like <strong> or <em>. Any visual styling you want to apply to headings should be applied via CSS.
Rethinking your post structure
Headings define "sections" of your post, relating to specific aspects of the overall page topic.
Imagine you're writing an outline

Similar to writing an outline for a large paper, put some thought into what the main points and sub-points of the content on the page will be and decide where to use heading tags appropriately.

Google Webmaster Guidelines for Heading Tags
Rather than having a long post that's not broken up by headings, think of the post as components centered around a specific topic.
Voice assistants
Much like screen readers, voice assistants may rely on headings to help the visitor navigate a document.