FAQ relating to the Feast Plugin.
Access your Feast Plugin Subscription here.
The plugin is an entirely setup than themes - you must download and install the themes separately. See the theme tutorials for the theme you'd like to install.
Jump to:
How do I install the Feast Plugin?
Always back up your website before installing or updating themes and plugins. Your hosting company should be doing daily backups for you. We recommend installing new plugins (and updating old ones) on a staging site.
IMPORTANT: you must be running a support PHP version - 7.4 or later. Installing this on an outdated server (PHP under 7.4) will cause the site to crash. If your host still has you on a PHP version under 7.4, change hosts immediately. This is a huge security and pagespeed problem.
Download the latest feast-plugin.zip version in your account: https://feastdesignco.com/shop/account/downloads/

If the zip file is showing as a folder on your computer, you have a misconfigured operating system or browser, use Google to troubleshoot and resolve the issue

Navigate to Plugins > Add New > Upload Plugin
Choose File > feast-plugin.zip > Install Now > Activate > Settings
You can also access the plugin settings page by navigating to your theme menu in the left-side of the admin, and selecting the "Feast Settings" page.
How do I set up the Feast Plugin?
See the Feast Plugin Setup tutorial.
How do I update the Feast Plugin? (pre-v.2.0)
Always back up your website before installing or updating themes and plugins. Your hosting company should be doing daily backups for you.
If you're on a version before 2.0, you'll need to manually upload the new version:
Download the latest feast-plugin.zip version in your account: https://feastdesignco.com/shop/account/downloads/
Deactivate AND delete the existing version (your settings will be saved)
Follow the installation instructions above to install the plugin again
With the release of version 2.0, we now offer managed plugin updates through the WordPress Admin's "plugin" page.
How do I update the Feast Plugin?
In the Feast Plugin 2.0 and later, simply click the "update" button on the plugins page to update.
Note that the version downloaded from feastdesignco.com still requires an update sometimes. If you're not seeing the latest version available in WordPress (find it in the changelog) then you'll need to contact your hosting company for troubleshooting.
Are my current settings preserved if I update my theme?
Settings that you configure in the Feast Plugin are saved between theme changes and updates.
Settings that you have configured within your theme are not saved when updating or changing themes.
How do I enabled / disable each feature?
By default, features are set in the "default" or "blank" state, and are not loaded. In this configuration, the feature does not load and does not affect the website. This is to prevent unexpected changes and conflicts when the plugin is initially installed.
However, when:
a checkbox is checked
input field is given content
drop-down is set anything aside from "default"
Then the plugin is then instructed to load the features on your blog.
Why is this a separate service from the themes?
Themes are designed to affect the styling, visual aspect of a WordPress blog, which is not supposed to change or receive updates. This means we could invest a flat amount into designing and developing the visual aspect of a theme as long as we expected it to pay for itself eventually. The $75-$125 price for themes does not include ongoing updates.
Plugins are designed to affect the functional part of a WordPress blog, which requires on-going maintenance and development to stay up to date with best practices. This ongoing development costs money, which is not covered by one-time theme purchases.
For more information, see this post.
Over the years our customers have asked repeatedly about making changes to features that were built into the themes with good intentions. However, as best practices changed, the functionality became outdated and our customers fell behind other blogs that had the budget to stay up to date. Without the funding to re-develop these features, updates were few and far between.
In order to continue funding updates and development for the functionality, it has to be moved into a paid plugin with on-going revenue to pay developers, designers and consultants. That's what the Feast Plugin was born for.
But there's more. One of the most frequent issues our customers encounter, has been that updating themes is tedious and difficult and time consuming.
By building the site functionality into the Feast Plugin, this introduces a whole new way to allow customers to preserve their customizations. Now that the functionality lives in the plugin, the themes can be more easily updated for bug fixes (and new design elements for the block editor) without undoing some of the major customizations.
With the way that plugins are integrated into WordPress, we can release new features and updates to the plugin, and all you will need to do is click the "Update" button on the plugins page.
Do I still need to install a theme?
Yes, a base theme is still required at this time. The theme only provides base styling, with all functionality built through the Feast Plugin.
This may change over the next few years, depending on how WordPress handles the Full Site Editor implementation. We'll provide plenty of notice via the newsletter and via updates to the Feast Plugin as this evolves.
How do I change the theme?
We recommend performing all updates and tests on a staging site before performing on a live site.
To change the theme, first download the zipped theme file from the downloads section of your account. Make sure it remains zipped (you can not upload folders).
Then go to Admin > Appearances > Themes > Add New > Upload Theme > Upload > Activate
Note that you'll sometimes get an error screen, but the theme has been activated.
Changing the theme only changes the base styling of your site if you've completed the Feast Plugin Setup. If you're running any theme-based functionality, you'll need to perform additional configuration. Note that we no longer offer any support for the theme-based setup.
Will the individually purchased themes continue to get updates?
Yes, the themes will continue receiving styling-related fixes.
For example, version 4.0.0 of all themes received a big visual update in December 2018 with the font sizes being increased to the now web-standard 16px. This styling-related update makes posts easier to read (providing a better visitor experience) and resolves the "font size too small" warning in Google Webmaster Tools.
The mobile version of the navigation menu also received a styling update, to resolve the "touch elements too close" warning in Google Webmaster Tools.
Newly developed and updated functionality is being moved to the plugin, as premium features for food bloggers that want to stay ahead of their competition.
Why would I want all 5 themes?
We provide a handy theme comparison chart for new food bloggers to use when deciding which theme they want. We've had feedback that it's still difficult (and comes with some anxiety because there are no refunds).
To make it easier, we now provide access to all themes when you purchase the plugin (+theme access), so that bloggers can try them all and decide which works best for their blog.
Some established food bloggers also enjoy visually refreshing their website, keeping the site from getting stale with their readers. Others decide they want things styled a certain way, after becoming more experienced with their blog and audience, and realized a different theme was closer to their ideal.
This is most easily done by installing one of the other themes.
Previously, "updating" a theme (eg. from Foodie Pro 2.1.4 to Foodie Pro 4.4.1) meant re-installing a fresh copy, which is the same as installing a new theme from scratch. This means it's just as easy to switch themes as it is to re-install an existing theme.
Is it lightweight?
Yes! Everything in the Feast Plugin is designed to remove unnecessary elements (such as comment date links) and reduce the number of DOM nodes required to display posts (such as the FSRI block).
We also completely avoid javascript, removing "main thread work" calculations and "javascript execution time", and reducing potential javascript errors and conflicts.
How many websites can I install the plugin and themes on?
At this time, we only require that you use the themes on your own personal sites. If you have 2, or 5, or 10 personal sites, you can install the themes and plugin on all of them.
If you're developing a site for anyone else - client, employer, colleague, friend - they should purchase their own subscription.
We'll be introducing licenses down the road, along the same lines as WP Recipe Maker.
Where do I find my license key?
You can find your Feast Plugin license key here.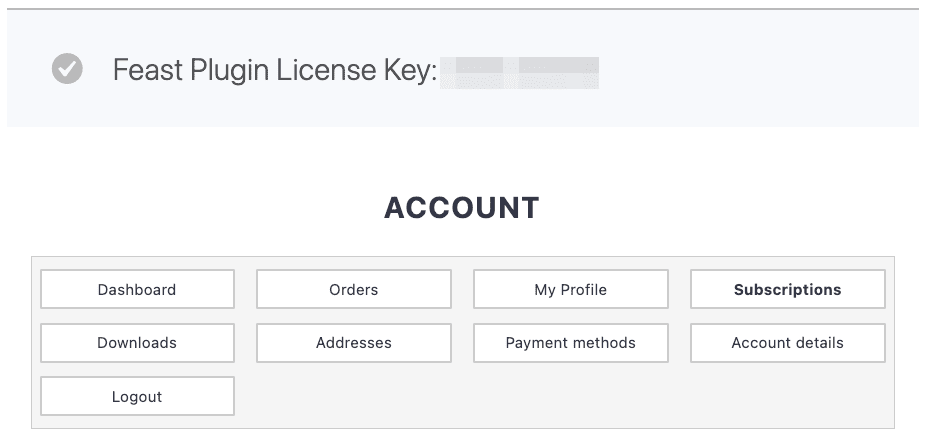 Note: it will only show up if you have an active subscription. If it doesn't show, please renew your subscription.
Does the Feast Plugin work with Non-Feast themes?
We only tested Feast themes with the Feast plugin.
Features like the FSRI block and FSCI block are built on WordPress core and will work with any theme. Others require removing theme elements (such as the footer or header) and replacing them with the plugin version, and may or may not work with other themes.
Since access to all 5 themes are granted with the Feast Plugin, we believe there's no reason not to continue using a pre-existing theme, which may have pagespeed, mobile, accessibility, SEO, or user experience issues.
Why are there two transactions in my account?
When a subscription is created:
the first $199 payment is recorded as one transaction
the actual subscription is created, without being billed, until 365 days later
This enables you to cancel the subscription at any time, so that you're not re-billed next year, without affecting the initial payment. The subscription bills at the rate you signed up at.
Why don't I see any downloads?
If you've cancelled your subscription and it's been more than 1 year since the original purchase, you'll lose access to the downloads.
You'll need to re-subscribe to get access to updates.
Is my subscription active?
You can check for your subscription here.
How do I change my payment method?
To change the payment method used for a subscription:
Go to My Account > Subscription page
Click View on your active subscription
Click the Change Payment button
Enter the new payment details on the Checkout page.
(Optional): Click the Update the payment method used for all of my current subscriptions checkbox to update all subscriptions.
Submit the Checkout form and return to the My Account > View Subscription page.
Can I transfer my subscription?
No, the Feast Plugin subscription can not be transferred.
If you sell (or transfer) your site, the buyer will need to sign up for their own subscription.
What happens when I cancel the subscription?
When you cancel the subscription, you'll lose access to updates and support, but you'll keep your currently installed copy.
This is in contrast to the "lifetime" updates in the theme, which no longer receive functionality-related updates - all of these are being done in the plugin.
The subscription revenue is what pays for continued updates.
How do I cancel the subscription?
Just log into your account and head to the subscriptions page to cancel the subscription: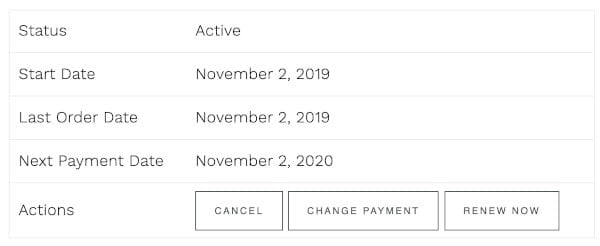 Note that once you've cancelled a subscription, you'll lose access to the grandfathered price and will have to repurchase at the current price.
Note that industry standard practices are that the cancellation method must match the sign up method, and as we only offer a self-service sign up, we only offer a self-service cancellation.
Note that canceling the subscription does not issue a refund. See the refund policy.
How do I re-activate my subscription?
Head to your subscriptions page, view the cancelled subscription:

Then click resubscribe: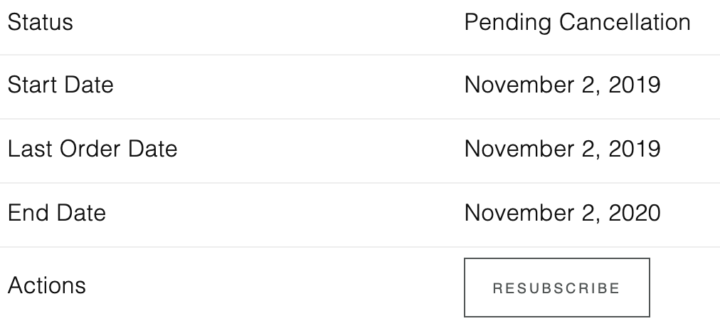 You should not be charged again until your end date (renewal date).
Note: If you've cancelled (or failed to pay, resulting in a cancellation) a grandfathered subscription, you'll have to repurchase at the current price. You can find the current price on the Feast Plugin page.
Upgrade from starter to full
If you're on the Feast Plugin Starter and are ready to upgrade to the full Feast Plugin, follow these steps:
cancel your Feast Plugin Starter subscription here
sign up for the Feast Plugin and download it to your computer
deactivate and delete the Feast Plugin Starter from your plugins
install the Feast Plugin and activate it
Invoice
You can find your invoice in the Orders section of your account.