Hey! I'm Skylar.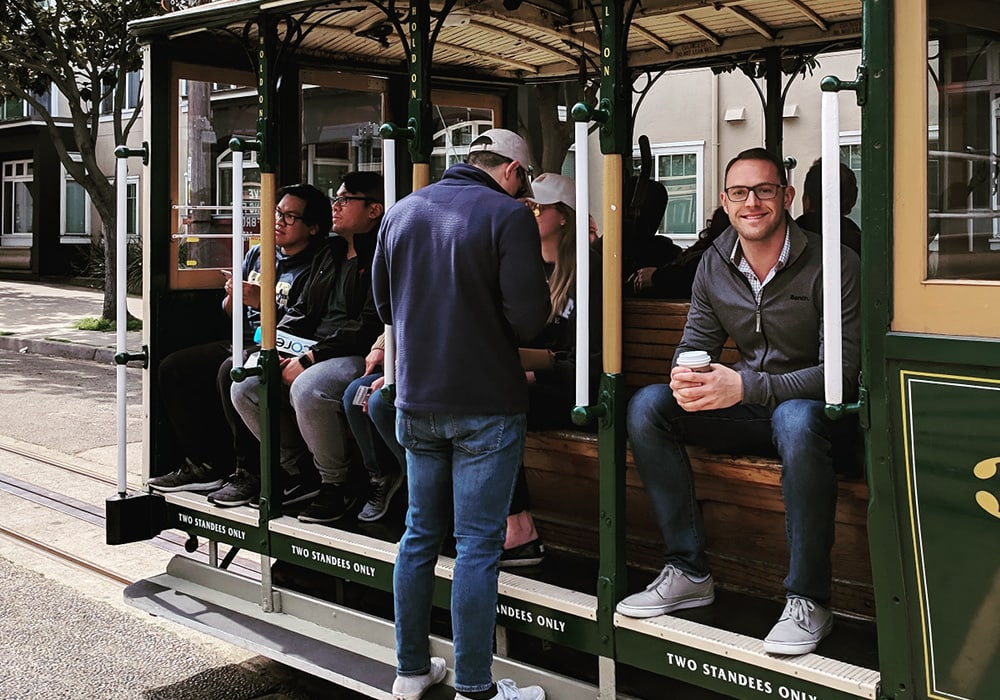 tl;dr;
I got my first paid web development gig when I was 16. Since then, I've been mostly self-employed, focusing on e-commerce and marketing for food brands. It's allowed me to work where, when, and how much I want (too much usually), while earning a living.
I've spent an unimaginable amount of time customizing sites in PHP+CSS for traffic and conversion optimization, most of it wasted on things that ultimately provided no value to users. Hard lessons to learn, which is why I always recommend asking: why am I making this change?
It paid off in the end, and I successfully sold the business in 2017, hitting a milestone I'd been aiming for my entire adult life. That's when I found Feast.
In west Philadelphia born and raised...
Kidding. I'm from Toronto, in the great white North that is Canada. But don't hold that against me.
I built and ran an e-commerce business for 7 years in the food industry, and sold it in 2017 to look for a new challenge that can have a larger impact. While building a website into a 7-figure business from scratch was rewarding, I realized that everything I had learned over a decade could have an impact on thousands of sites, rather than just my own.
I took over Feast Design Co. later in 2017. Through the e-commerce business, we had worked with food bloggers for sponsored content from the brand-side, learning to appreciate the creativity and unique insights that you all have to offer.
It was a perfect fit, with Shay's design strengths compensating for my lack of. This gives me the opportunity to focus on what I love: automating, technical junk, long-term planning.
I've been self-employed almost my entire adult life. I learned early that I can't stand showing up for 8 hours of work and being told to work on pointless tasks. I believe automation and the spread of best practices will eliminate most duplicate effort, allowing entrepreneurs (like food bloggers!) run businesses at scales that were previously unthinkable, at a fraction of the cost it used to.
This is what gets me up in the morning - more productivity, at lower costs. This concept is neatly encapsulated in a single Japanese word: Kaizen.
We always overestimate the change that will occur in the next two years and underestimate the change that will occur in the next ten. Don't let yourself be lulled into inaction.

Bill Gates
Future of Food Blogging
Food blogging in 2030 will be a legitimate professional career path, and not the fragmented fly-by-the-seat-of-your-pants industry it is today. We're here to help smooth that transition.
Long Term Goals
Food bloggers are some of the hardest working, humble, and creative people I've ever met. The self-starting initiative, drive to achieve a goal, and willingness to learn and adapt over time is something that resonates with me on a deep level. As does the frustration of spending (*ahem* wasting) time on administrative and technical issues that are distractions to your core competency.
My long-term goal at Feast is to let our customers forget about the technical side of blogging, so that they can focus all their efforts on content. Food bloggers earn revenue from their content, whether through ads, sponsored posts, cookbooks, or services like food photography, meal planning and meal prep (personal chef). Everything not content related is wasted time and effort.
Specialization and automation
I love automation. I love doing analysis, looking for patterns, and creating programs and scripts that leverage those patterns to make repetitive tasks easier, or obsolete.
It boggles my mind that there are over 10,000 food bloggers who all worry about the same technical issues that they don't (and shouldn't) understand anything about. The technical trade-offs for a single setting can have dozens of factors that require deep expertise to understand, and there are hundreds of individual settings to consider.
Do you really care which plugin handles lazyloading? Do you even care about lazyloading? Or do you just care that your site visitors get what they're looking for, and you stay compliant with search engine requirements?
Rather than have 10,000 people spend 100 hours per year (1,000,000 hours) trying to play "me too", my goal is to have Feast specialize in a few key areas, having just 4-5 people spend 2,000 hours (10,000 hours) hours achieving the same results.
Transitioning
This will involve moving from a shallow one-off transaction with food bloggers, to managing the technical side with best practices, along with a more serious business relationship (read: recurring subscriptions).
To get there, we're bringing in a team of advisors and consultants who specialize in their respective area. We can then begin to establish best practices, and measure and manage different metrics, so that our bloggers know where they stand relative to their goals, and have a roadmap to get to where they're going. Finally, we'll establish standards and defaults, which if left alone, allows us to monitor and establish fixes for without concerning the bloggers.
The biggest obstacle? Getting some people to give up control of the old way of doing things. From speaking with the more established bloggers, this is actually an easy sell - they don't want to handle the things we will. It's the newer ones who want to control every aspect.
There's a lot of questions to answer, and how this is set up will require constant review and input from key stakeholders.
Skate to where the puck is going, not where it has been.

Walter Gretzky

Looking back at what has had the biggest impact in my past, it's been the ability to anticipate where the market is moving, and getting there first. I've never been afraid of change, and each incremental change brings an opportunity to move a little bit ahead of competition. Do this hundreds of times over years, and you rise to the top.
This is true of food blogging as well. The current state of food blogging is... not great.
Unrelated content in recipe posts
Outdated practices (eg. link roundup schemes)
Unwillingness to invest in the future
Emotional-driven decisions, rather than data-driven decisions
Lack of analysis of how top-performing content gets there
Lack of A/B testing of existing setups to establish what's working and what isn't
Food blogs are behind most other industries. Far behind anything that's run like an actual business. The web as at least is 5-10 years ahead of food blogging, which is a lifetime on the internet.
We'll be working on fixing this as we move forward with Feast.