Have you ever avoided updating your theme because it was difficult, time consuming, and you were afraid of losing your changes?
Do you know that your blog is being penalized because it's outdated, but updating is a hassle?
We've heard you.
The Feast Plugin introduces replacements to outdated theme configurations, which we can keep up to date through regular plugin updates and built to modern standards. These replacements are identified through the presence of the Modern preface, such as the Modern Homepage, Modern Sidebar, Modern Footer, Modern Menu and Modern Recipe Index.
Having trouble figuring out what the plugin provides? For a breakdown, see the themes vs. Feast Plugin post.
Update Without reinstalling
The Feast Plugin will make updating your theme simpler, by providing theme-replacement functionality that can be kept up-to-date without having to reinstall your theme.
Save plugin customizations
Customizations done with the plugin settings are saved between theme changes and plugin updates.
Unlock next-gen features
We're building out next-generation features that are compatible with the block editor.
All new features will be built into the plugin moving forward, instead of the themes, so that we can update them as necessary over time.
Access all the themes
Subscribing to the Feast Plugin grants you access to all 5 Feast Design Co. themes, including:
Foodie Pro v.4.4.1
Brunch Pro v.4.4.2
Cook'd Pro v.4.4.1
Seasoned Pro v.4.4.0
Cravings Pro v.4.4.0
Genesis 3.3.3
Here's what you should know
The plugin lives alongside your current theme and enhances it, it does not replace the theme
Theme updates are still required for certain issues, but we've been able to deliver approximately 95% of updates via the plugin, instead of requiring a theme update
We expect to replace 99% of the theme functionality with updated versions by mid 2021
Priced at $199/year, you can cancel the subscription at any time to avoid being re-billed. Your currently installed copy will remain, but you will lose access to updates and support.
$199.00 / yearSign Up Now
Jump to:
2021 And Beyond
2019 was the year of user-experience (UX), shifting the focus to making sure your blog is optimized for the user-experience of your visitors.
2020 is the year of focus (20/20), streamlining settings and layouts so that your blog stays hyper-focused on what's important: creating high quality recipes.
The Feast plugin makes complying with these changes simple, with options for:
Toggle: Navigation Before / After Header
Configurations audit (in development)
Modern Homepage also see:
---
$199.00 / yearSign Up Now
Additional Styling
You can customize the Modern Homepage in any way you want to match your brand, without needing to change your theme. Check out the Modern Homepage Styling Guide: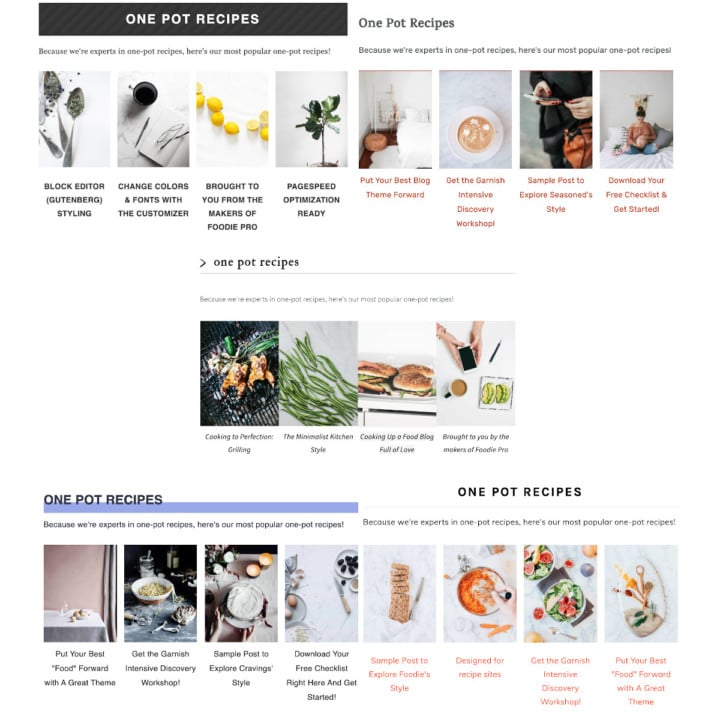 Advanced Jump To
The Advanced Jump to block helps you to write better headings on your page and generates additional links in Google to entice readers to click on:

Recipe Update Checklist
Ever wish you had a guide for updating a post according to modern best practices for SEO and accessibility? Use our 56-point checklist to ensure you're covering off all your bases and writing recipe content that can actually bring traffic.
$199.00 / yearSign Up Now
---
Pricing
The Feast Plugin is a subscription service:
$199/year - Gain access to the

Feast Plugin

, plus

all 5 Feast Design Co. themes

, and switch at your heart's content. No refunds (or money back guarantee) due to theme files being non-refundable.
You are purchasing a yearly license subscription which grants you access to plugin updates and priority support.
$199.00 / yearSign Up Now
---
Requirements
Genesis Framework (included with plugin purchase) for the themes
Theme from FeastDesignCo (for some of the features, but not all)
Hosting with:
Not hosted on WordPress.com, and Jetpack not enabled
As of December 2020, the majority of functionality works without Genesis or our themes, including the Modern Homepage, FSRI, Category Featured Images, Modern Mobile Menu and Modern Sidebar.
---
Support
The Feast Plugin is designed to work as-is, with a DIY setup, and does not include anything not explicitly outlined above.
---
Refunds
This is a digital product, so there are no refunds for any reason.
---
Canceling
You can cancel your subscription at any time and you'll retain access until your year is complete. Canceling the subscription does not initiate a refund.
Canceled subscriptions lose access to the grandfathered subscription price. If you originally sign up at $99/year or $149/year and cancel, you'll need to sign up at the current price of $199/year.
---
FAQ
We'll answer questions as they arise via the Feast Plugin FAQ.
Features and functionality may change as they're developed. Some statements are forward-looking plans, and not guaranteed to be implemented or maintained long-term.
The plugin is developed under the "release early, release often" software philosophy. This enables us to quickly release a new feature, and iterate on it over time based on requests.
---
Releases
5.7.0 - in development
5.6.5 - June 9, 2021

Add feast-checklist class to create checkmark-styled lists

Update prev+next formatting

Note: this will help with multi-lang sites by removing unnecessary characters from titles, but may require some rewriting of current setups

5.6.2 - May 19, 2021

Add the ability to translate the subscribe button image in the Modern Menu for translation
Update Modern Menu breakpoints for mobile vs. desktop
Add clarification for category featured image size
Add clarification for disabling WordPress automatic theme+plugin updates

5.6.0 - May 2, 2021

Add link to make edit post info easier to access
Add system font stack option to improve pagespeed and CLS

5.5.5 - April 22, 2021

Fix mobile screen width issue from WordPress' core search block
Update feast button ("back to top") styling, necessary due to WordPress update
Visual tweak to better display the Modern Menu when logged in
Deprecated: Mobile browser color setting due to low adoption, see the tutorial for replacement details
Deprecated: disclosure shortcodes due to low adoption and changing best practices, see the tutorial for replacement details
Update Modern Menu close button animation per Andrew at NerdPress

5.5.4 - April 15, 2021
5.5.3 - April 8, 2021

Add further accessibility support for Modern Menu icons
Allow category images to be used on non Genesis themes

5.5.2 - March 31, 2021

Prevent Advanced Jump To from displaying if there's no h2s on the page
Resolve Modern Menu logo spacing (we don't know why this suddenly become an issue

5.5.1 - March 25, 2021

Resolve mobile issue with headings making links directly above them unclickable
Further styling tweaks to menu icons

5.5.0 - March 22, 2021

Update menu icons so that they can be styled via CSS

5.4.9 - March 11, 2021

Modified FSCI block to correct http:// to https:// if SSL is active, rather than throw a warning (you should still always use https links but this is a hosting issue, not theme issue)
Added content suggestions to the Recipe Update Checklist

5.4.8 - March 2, 2021

Enable removing Google fonts in Cook'd Pro
Accessibility enhancement: tag FSRI images with aria-hidden="true" as a further hint for accessibility compliance
Add styling to allow printing the recipe update checklist
Bug fix: correctly disable previous+next navigation on posts for Foodie Pro, if the setting isn't enabled (hint: we recommend enabling it)
Support ticket enhancement to better tailor support replies

5.4.6 - February 22, 2021

Minor optimization: update URL subscribe from /subscribe to /subscribe/ to avoid unnecessary redirect
Support ticket enhancement to better tailor support replies
FSCI block enhancement: use placeholder image when one hasn't been set
Minor tweak: remove "nofollow" from "back to top" link in Modern Footer template

5.4.2 - February 12, 2021
5.4.0 - February 9, 2021

Minor CSS fix for Modern Menu on screen sizes under 360px

5.3.0 - January 30, 2021

Pagespeed optimization: specify image dimensions for the Modern Menu navbar

5.2.2 - January 26, 2021

Remove web stories from search has been moved to a (recommended) setting in the plugin
Removed styling for web stories archives (users should never visit this page), see web stories archives

5.2.0 - January 20, 2021
Past updates can be found on the Feast Plugin changelog page.