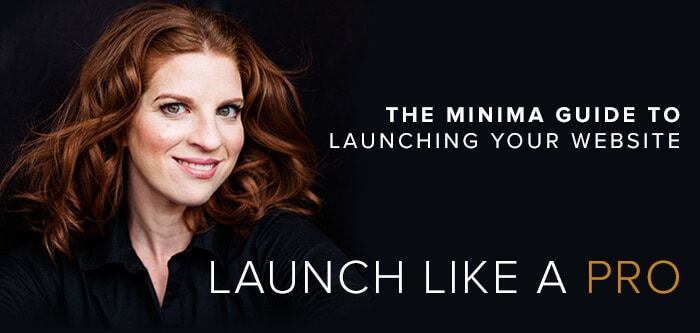 I won't lie, I've had a bit of a designer crush on Michelle Martello since we first connected on Facebook. (Yes, Facebook.) Her work is impeccable and she is as business savvy as she is stunningly creative. When she released her e-book, The Minima Guide to Launching Your Website, reading it was at the top of my professional development list. I am always looking for ways to improve my processes by simplifying them, so I jumped at the opportunity to learn from my smart friend. Whether you are a designer, developer, business owner or have any involvement with running a website, this guide provides a fresh perspective on wringing the last drop of ROI from your website. Her recently published 2.0 version is updated for current technology and contains ideas specific to both WordPress and SquareSpace, but the ideas work for any web development platform.
As a mama who squeezed out three boys, I know what I'm talking about when I say that launching a website is a lot like birthing a child. The work is intense, there's a lot of sweat, pain, and tears. After a seemingly endless incubation period, you finally get to enjoy what you've been creating all this time. But the job isn't over—there's more work to do. From the get-go, Michelle makes it clear that our websites are not "set it and forget it" tools for our businesses. Functional websites are dynamic, growing expressions of what we have to offer. We have to have a plan to keep them fresh—and Michelle breaks the planning down to a simple, manageable set of steps.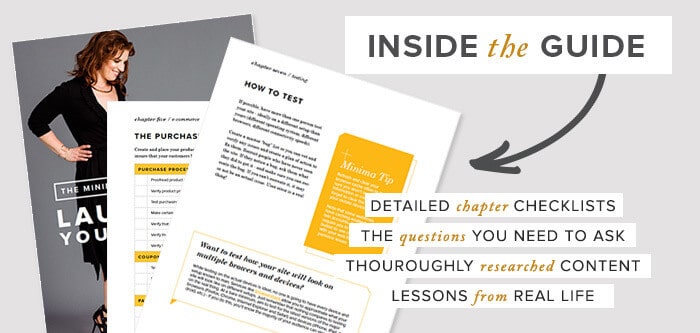 The Guide is easy to navigate and addresses everything from security to design to testing, and all that in between. Michelle offers checklists with each subject, which makes improving your workflow a cinch. Her Minima advice is the superfood of web launching instructions—packed with substantial content in a concise presentation. As a designer, I found the checklists especially helpful so our every launch is thorough; we can hit the finish line with confidence that every detail is curated. I want my clients to be educated about the steps involved before and after launch, so they can make excellent choices about their initial design and long term maintenance of their website. The Minima Guide provides vital, easy-to-reach information for me and you.
I truly wish this guide had been available at the beginning of my design journey. So many of my lessons were learned through trial and error--reading this would have saved many days (and all-nighters) of frustration. Even now, I can see tools to improve our workflow; my team plans to implement several new strategies in order to bulletproof our process. Upon establishing a relationship my clients, I want to educate them into informed and web-savvy entrepreneurs so sometimes I give a homework reading list. The Minima Guide to Launching Your Website is now at the top of that list.
Michelle is offering a special discount for readers of this blog! Order the Minima Guide to Launching Your Website today and enter code LOVESHAY for this special 20% off deal!