We recommend using TastyPins to manage your Pinterest pins.
Jump to:
Pinterest functionality
WordPress themes are designed for aesthetics - visual styling that should be timeless. Formatting content for Pinterest is functional, and belongs in a paid plugin that is regularly update. For more information, see this post.
Anything we built into the themes would be outdated long before most food bloggers updated their theme, which means it would be irresponsible for us to integrate any Pinterest functionality directly into the theme.

Pinterest changes their "preferred" format multiple times per year, with each update causing some bloggers to gain traffic, and others to lose traffic.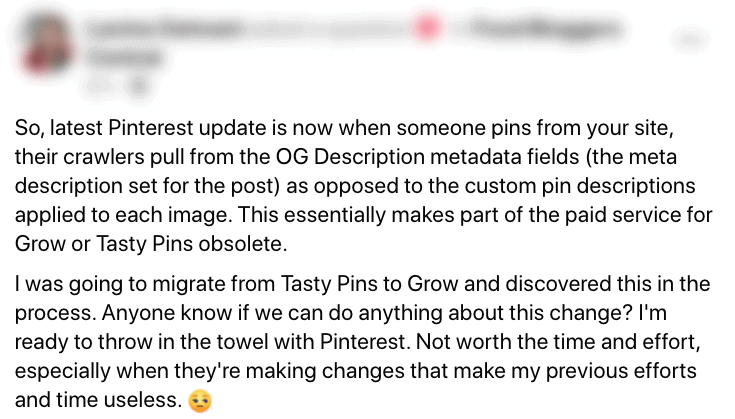 Over the past year alone we've seen bloggers comment on:
Increased traffic when switching to rich pins
Decreased traffic when switching to rich pins
Increased traffic from long pins
Decreased traffic from long pins
Increased traffic from increased pinning frequency
Accounts banned from increased pinning frequency
These changes fluctuate more than a teenager's voice going through puberty, and we simply don't have the time or the incentive to stay on top of this.
As a general principle, we believe that your efforts should have a long term payoff, which just isn't possible with social media. Companies like Pinterest and Facebook benefit from constantly shifting their algorithm to increase pageviews on THEIR site, not yours.
Because of this, anything you do on social media websites is likely going to disappear within 2-3 years. This is not an acceptable return on time to us.
Our belief is that you should be focused on creating content FOR YOUR BLOG, which you have control over for life.
When SHOULD you use Pinterest?
Pinterest is a legit source of traffic, and for blogs that monetize via display ads, there's a direct correlation between traffic (pageviews on your blog) and income. In cases where you stand to make a return on your time by investing in Pinterest, we recommend investing in TastyPins.
Pinterest course
Kylie from MidwestFoodieBlog.com has a Pinterest ebook outlining the strategies she uses for Pinterest.