Ever wonder what a good click-through-rate is for your posts?
Keep wondering.
Google Search Console provides the ability to view CTR on a page level, and query level, and page-by-query level.
The problem is that none of this is particularly useful.
Note: SERP stands for "search engine result pages"
Jump to:
Page level data
You can't look at posts on a CTR basis - they're an aggregate of all the individual search terms.
If you have a "cinnamon apple pie" recipe, your CTR for the keyword "cinnamon apple pie" will be fairly high.
However, if that same post shows up for the term "cinnamon chai apple pie", the post will have a very low CTR.
Looking at the page level search console data doesn't make sense for CTR, because you'll get 40% for one term and 20% for another, and see 30% as a result.
You need to look at the individual search terms.
Search term data
When looking at the search term, the CTR is highly related to the SERP position. What you need to do is compare your CTR to the benchmark for that SERP position: https://cxl.com/guides/click-through-rate/seo/
I don't know how accurate those numbers are - you'll need to Google around to find averages.
This gets more complicated because the SERP aren't just a 1-10 listing anymore. They contain ads. And maps. And images. And recipe carousels. And rich snippets.
The #1 results may get an average of 20% CTR or 45% CTR depending on how many other elements are on the page.
Personalization
You also need to realize that the "average position" of your individual keywords is that - an average.
SERPs are 100% individualized and tailored to the searcher based on previous search terms, previous sites visited, geography, etc. It's rare for two users/crawlers to see the same page.
Why is this important? Because you may end up in position #1 or position #10 or be non-existent depending on how personalized the result is.
It's well known that Google personalizes SERPs to show sites that you've previously visited, or frequently visit. So when you search for a term you rank for as a logged-in (to Chrome, or Gmail) user, you're more likely to see your own site ranked higher, and are more likely to click on it.
This is why you need to check your search results from a non-logged in, private/incognito browsing window. This minimizes the amount of personalization done - but doesn't eliminate it.
That's why you need third party rank tracking tools to get a more accurate picture.
Return rate
AHREFS has a metric known as "return rate", and is actually pretty interesting. (note: other tools possibly have something similar)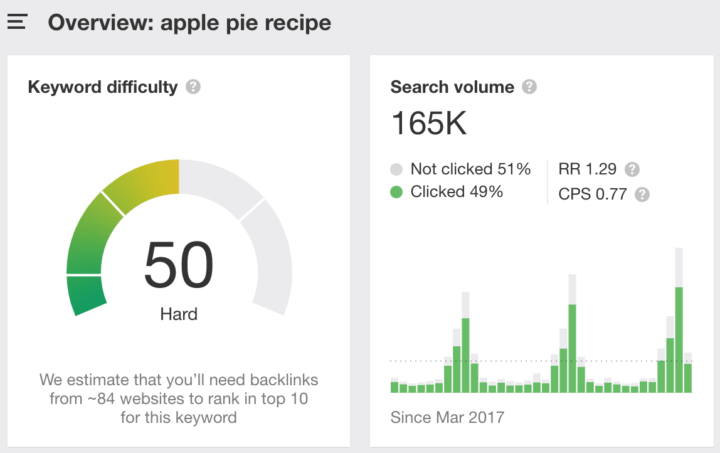 Return Rate is a relative value that indicates how often the same person searches for a given keyword over a 30-day period. Since it's a relative value, it doesn't show the exact number of repeated searches and should be used when comparing keywords against each other.

Return Rate from AHREFS
Since search results are highly personalized, someone going back to the search results and looking for the same term is more likely to see the results they clicked on the first time around.
Logically, this makes sense. Most of the time, you're trying to find that site/recipe you found the last time but forgot to save.
I personally do this constantly when looking for a news article or information pieces that I read months and even years ago.
Query level variations
Confused, bordering on angry yet? It keeps going.
The November 2019 update that caused so much ranking fluctuations (and ranking drops for many food blogs) had a large "variety of results" component.
Search terms that used to show exclusively recipes were altered to show:
local restaurants
delivery apps
brands closely related to search terms
recipes
definitions
books
stories
videos
This is because when Google doesn't know what the intent of the user is, they want to give them a variety of results to choose from.
Someone searching for "hamburger" may be looking for a recipe, or they may be looking for a restaurant, or they may be looking for takeout, or they may be looking for pictures.
As a result, the overall volume of clicks going to recipe sites fell.
"hamburger recipe" shows a much clearer search intent for recipes.
Go ahead and open a new private/incognito browsing window right now and search for both "hamburger" and "hamburger recipe" to see what this looks like.
Seasonality
The click through rates for a search term will also vary depending on time of year, and holidays. The AHREFS keyword research tool is again, another great source of information for this: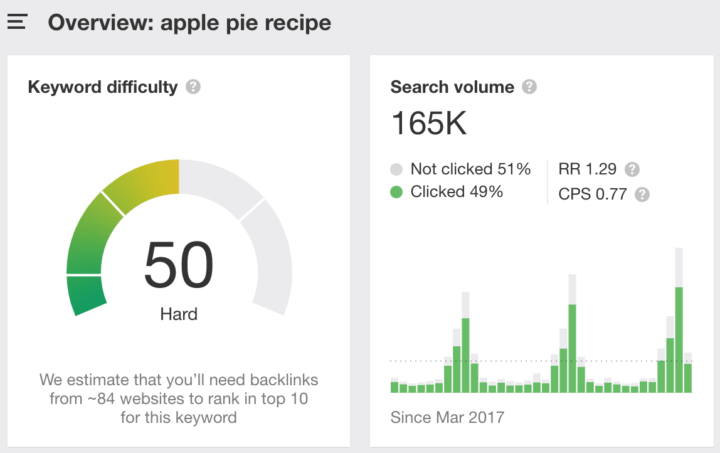 Do you see those spikes? Can you guess what time of year people search for "apple pie recipe"?
It's November - thanksgiving.
You'll also notice that the color coding shows the click-vs-not-click rates, with the ratio of "not clicked" growing around the spike. This means that click-through-rates as a percentage are actually lower in November, despite the higher search volumes.
There's still WAY more people clicking through to recipe sites, but the search intent is different, and that results in lower click through rates.
What is a good click through rate
Ultimately, I don't think anyone has the data right now on what's "good" vs "bad" CTRs.
What you CAN do is look at your search console data to see what Google is sending you the most traffic for.
If you're getting most of your traffic for "cinnamon chai apple pie", you may want to tweak your post to target that keyword better (even if you don't think it's accurate, Google obviously does).
Optimization
The CXL post covers two ways to help boost your CTR - optimizing the title tag and meta description (in the Yoast box on your edit post screen).
"Selling the click" is an art form known as copywriting, and is a massive subject, outside the scope of what we can cover here.
Ty Kilgore has very in depth techniques for boosting click through rates in his EverythingDigitalMarketing.com course.
Additional reading
The AHREFS SEO Metrics article is a highly informative post, that's also biased towards their own metrics and is probably written in a way to convince you to sign up.
It's still a great source of information from a specific viewpoint, and I'd highly recommend reading it.