This is a feature of the Feast Plugin
The original headers and menus for the themes were designed for a world that no longer exists. They're desktop-first, with compromises made for mobile pageviews.
But today's food blogs see around 80% of their pageviews from mobile devices, which deserves a mobile-first solution.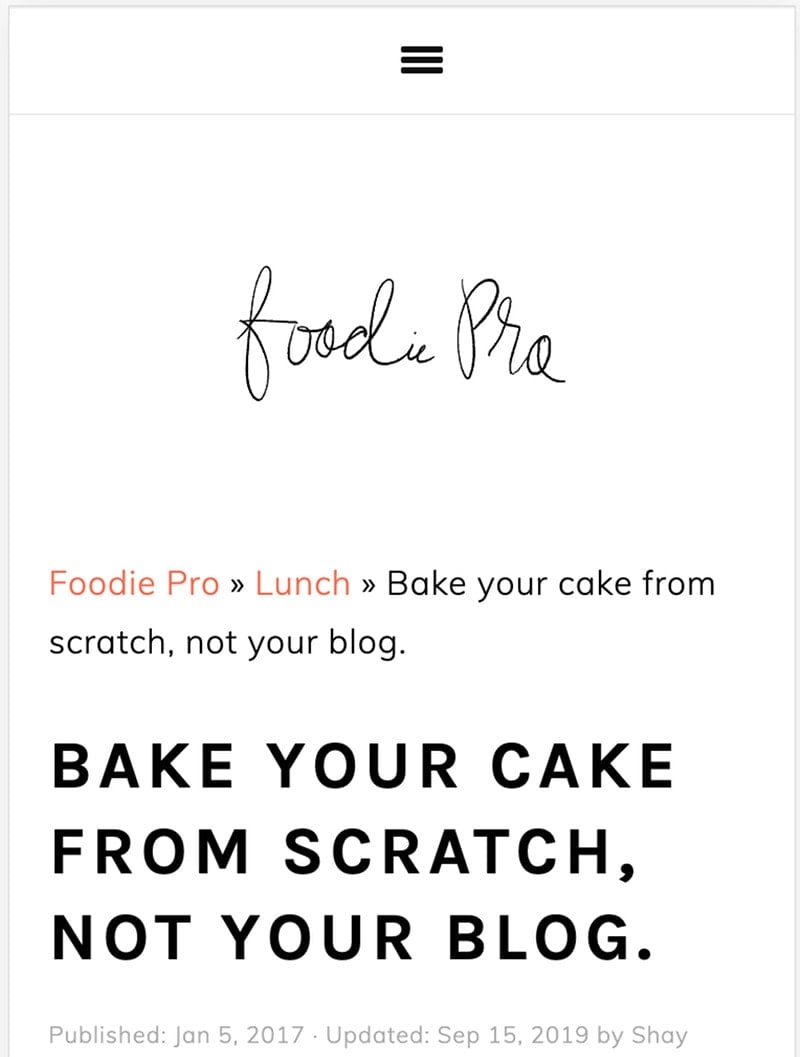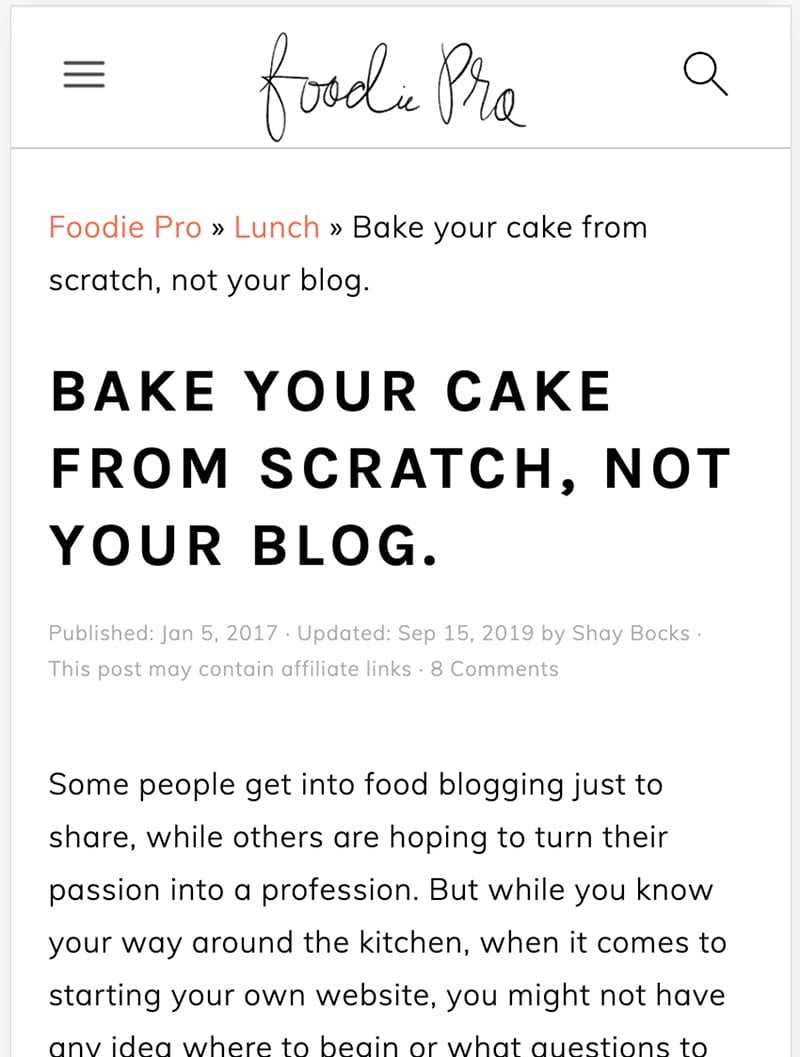 The navbar for the modern mobile menu drastically improves above-the-fold content being displayed. This is a more user-friendly experience.
We've also added the magnifying-glass search icon as a visual indicator that the site has search capabilities. Spoiler alert: it opens the same menu as the menu icon, which has the search bar.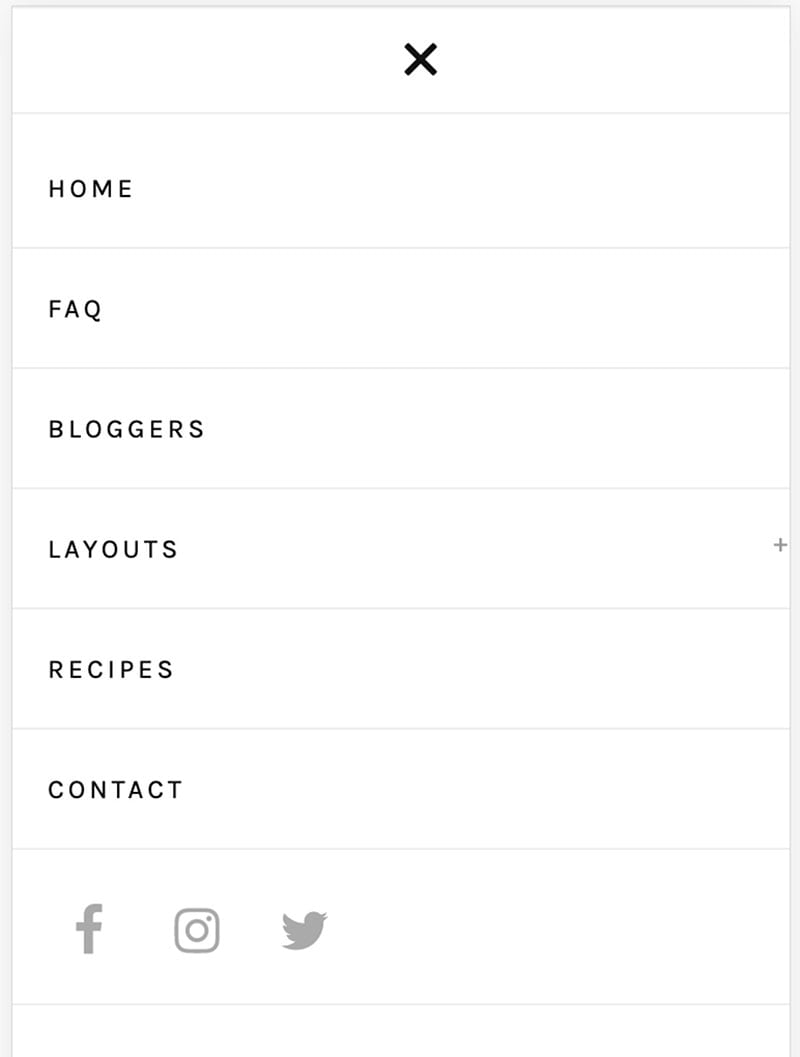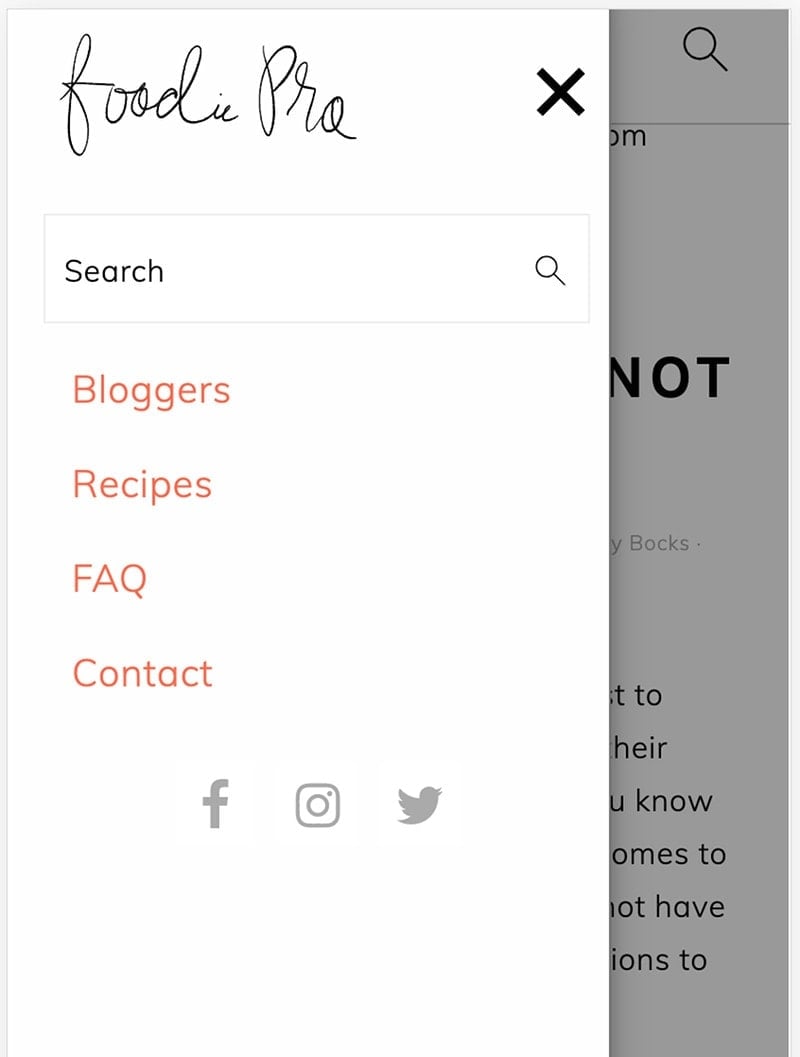 A not-uncommon piece of feedback that we got was that the theme's mobile menu sometimes didn't behave properly - the hamburger menu (the 3 horizontal lines) and the "x" were difficult to click. We've corrected this by beefing it up and getting rid of the javascript used to animate it.
Setup
Setting up the Modern Mobile Menu requires:
Enable the menu with the checkbox
Upload and set mobile-only logo
Upload and set a mobile-only retina logo
Create a new menu named feast-modern-mobile-menu
Add the Simple Social Icons widget to the new Modern Mobile Menu widget area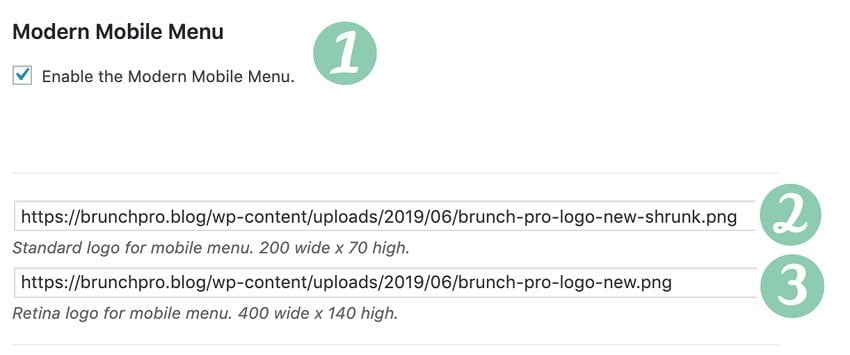 #4 - create a new menu named feast-modern-mobile-menu in Admin > Appearances > Menus: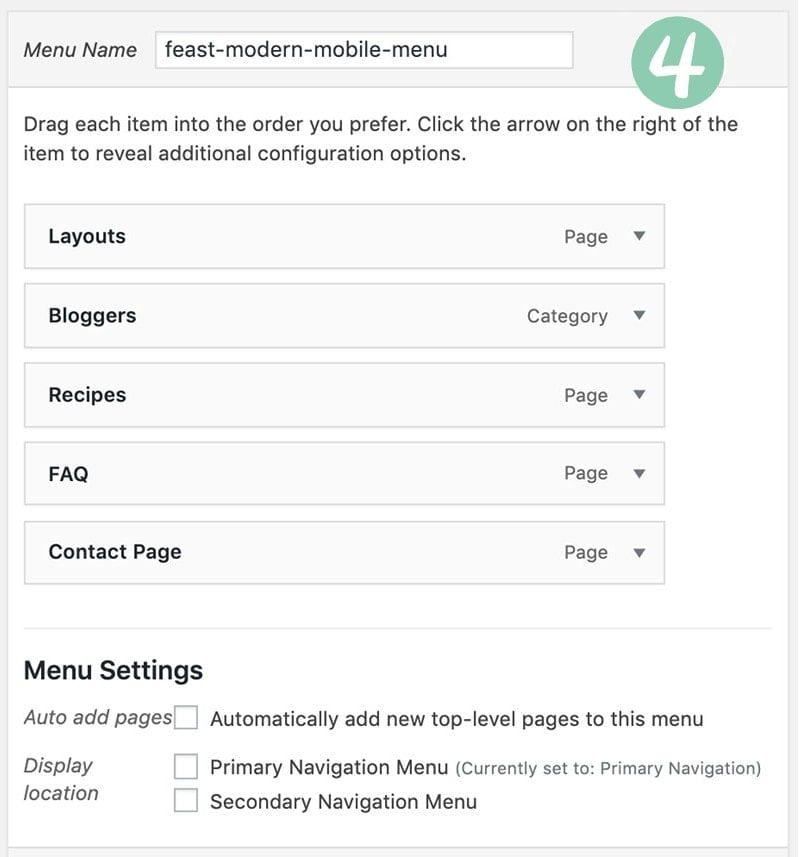 #5 - add the Simple Social Icons widget to the new Modern Mobile Menu Search Icons widget area in Admin > Appearances > Widgets:

Works on all themes
This works on all 5 themes:
Foodie Pro
Brunch Pro
Cook'd Pro
Seasoned Pro
Cravings Pro
One of the reasons the Feast Plugin's Sticky Mobile Menu never worked on Seasoned Pro + Cravings Pro was because they were set up different. We knew we'd be moving to a more modern setup that entirely replaced them. This is it.

Separate mobile and desktop logos
When someone lands on a specific recipe post on your website, they're there to see the recipe, not your header. That's why we've been advocating to shrink the logo for over a year now.
But ya'll loooove your oversized, stylized logos.
And honestly? It works fine on desktop.
So why not have a separate, simplified logo just for mobile?
With the modern mobile menu, you can now set a separate logo (200px wide by 70px tall) to be rendered in-line with the menu bar.
Best of both worlds!
Separate mobile and desktop menus
A problem we kept running up against was having to style and maintain the desktop-style dropdown menus, which just don't translate well to mobile.
While the desktop menu is easy and quick to navigate up-and-down the sub-menu trees, this process is cumbersome and slow on mobile. Your mobile menu should be tight and focused.
So we took a step back and thought: do they even need to be the same menu?
Nope.
Simply create a separate mobile menu named feast-modern-mobile-menu, that links out to your key pages. Do not use sub-menus. Be picky about what goes in here.
Separate social icons
You'll have a new widget area to add the Simple Social Icons to. Once the Simple Social Icons widget is added to the Modern Mobile Menu Social Icons widget area.
This was necessary to add social icons to Brunch Pro and Cook'd Pro.
While Foodie Pro, Seasoned Pro and Cravings Pro all had an existing navigation menu social widget area, a plugin-specific widget area was needed to add future support for saving customizations during theme updates, and swapping between themes.
Javascript
The themes' old mobile menus use javascript to display the menu, and was written circa 2014 when this was a good practice.
But now it's 2019, and javascript is overkill for what menus are designed to do.
Unfortunately, there was nothing out there that accomplished what we wanted to do, without using javascript. We've been looking for a solution for over a year.
So we had to invent some new ways of doing things, combining some clever new CSS properties to create a CSS-only menu.
We think this works even better than the original menu, but please let us know if you have any feedback.
Pagespeed
With the modern mobile menu being entirely CSS, we can now remove javascript entirely from the theme. This improves pagespeed by:
not requiring additional file downloads (fewer resource requests)
eliminating render-blocking javascript on sites without WP Rocket defer js (which all sites should have anyway)
not requiring the browser to process and render the javascript
This won't prevent other plugins from loading and using javascript, but it keeps the theme pagespeed-friendly.
Shortcomings
There are some limitations to this.
The first is flexibility. The modern mobile menu is not designed to be heavily customized, though you can alter the CSS by making customizations in your "Additional CSS" screen. Note that this menu is still very early and will change over time, so your customizations may need tweaking (or stop working) in future updates.
The second issue is accessibility (for screen readers + keyboard navigation). We've done almost no accessibility testing as of the initial release. This kind of development is an entirely separate skillset that is simply outside our realm of expertise. The goal is to add accessibility to it through future updates, as time permits. As it stands, there's other work to do that has a much higher impact to a much larger number of people, and therefore higher priority.
If you're a designer with accessibility expertise, reach out to us.
Disable Sticky
The Modern Mobile Menu sticks to the top of the screen as the reader scrolls, so that it remains easily accessible. This is a good user experience.
Some people have requested the ability to disable this, and while we don't recommend this, and won't build support into the plugin for it, this can be achieved by adding the following to the "Additional CSS" screen:
.feastmobilenavbar { position: absolute !important; }