What makes a food blog great?
Loads fast
Great design that highlights content
Recipes that are focused around a theme or topic
Pictures of the food for reference (and to drool over)
Our themes get the design out of the way and highlights your content and images, so that you can focus on cooking and writing. We'll feature some of the food bloggers using our themes to build their own food blogging empire.
… Foodie Pro theme, one that has continually been the best-selling theme…
Best Vegan Food Blog
There's a huge number of reasons to go vegan – from environmental sustainability, to animal cruelty, community, better health and delicious flavors. The switch from an omnivore diet to purely plant-based often comes with re-learning how to cook and season meals, figuring out which flavors naturally enhance and compliment certain foods. Get meal ideas that will blow your mind from these top food bloggers.
Best Food Blog Designs
As a designer of the #1 selling food blog theme Foodie Pro, we've iterated on the best design for food blogs since 2011. Customers love the simple, minimalist designs, which put your recipes front-and-center.
Carefully laid out customizable widget sections means that your images pop, and text flows easily for your readers, enticing them print out the recipes, comment, share and come back time and again. All our themes are responsive, and continually updated to keep pace with best practices.
Demand for alternative designs led to the creation of Brunch Pro and Cook'd Pro, and our two newest themes released in 2018: Cravings Pro and Seasoned Pro.
Not sure which is right for you? Check out our our food blog theme comparison chart.
Best Food Blogs to Follow for Motivation
Staring at your blog for dayyzz isn't getting you anywhere. You'll hit writer's block, your inspiration will go stale, and you'll experience marketing burnout.
It's time to step outside your comfort zone! Move from the couch to your KITCHEN table. Go crazy — change into a different pair of pants even! You know, maybe dark jeans instead of light.
Either way, check out some other food bloggers and get motivated.
So, yeah. Here are the best food blogs to follow If you want inspiration on how to…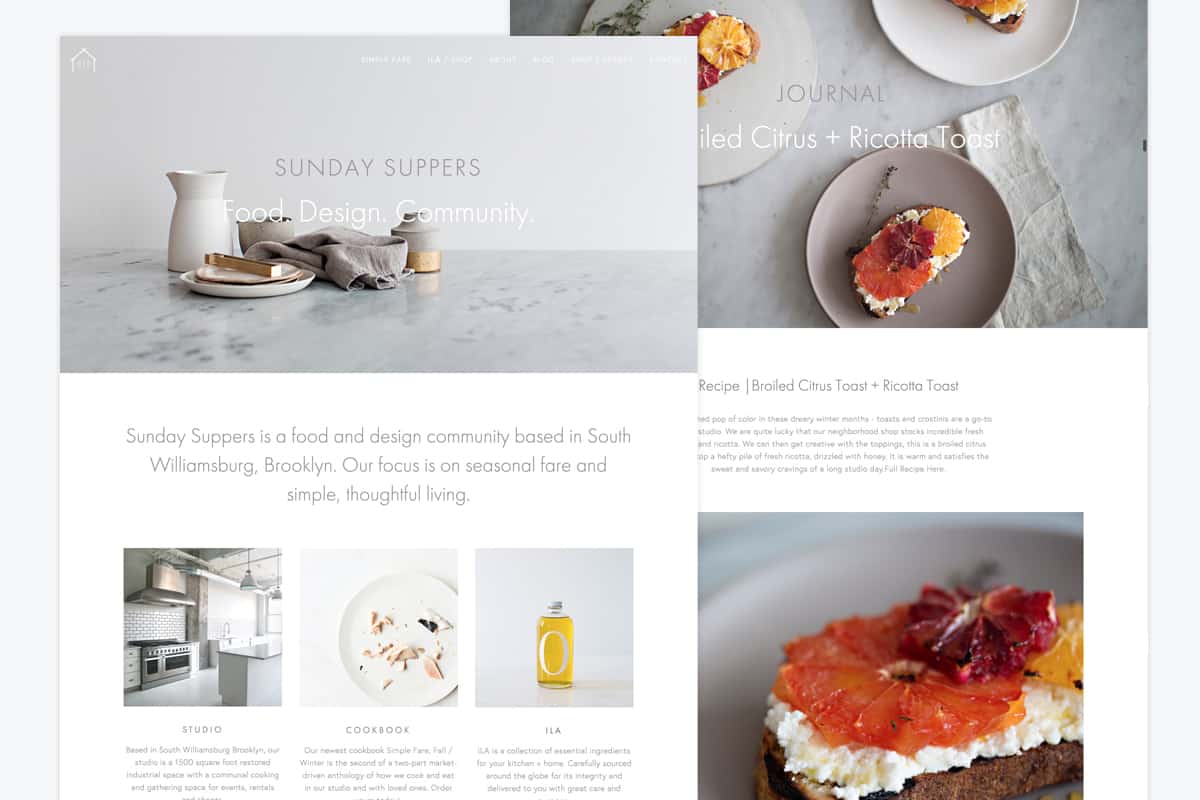 Cook with intention and thought | Sunday Suppers
Six years ago, photographer Karen Mordechai gathered a few friends in her apartment for dinner, socializing, and toasting. Since then, her Sunday Supper concept has evolved into a 1500 square foot studio for communal cooking and private events.
As soon as you hit her gorgeous, minimalist homepage that showcases the allure of using a simple wordpress theme, you feel an instant rush of calmness. Scrolling through her bright and clean photography reminds me of pranayama. The style inspires you to slow down and enjoy the process of cooking, from the selection of healthy ingredients to thoughtful wine pairings.
While some of her ingredients may intimidate a novice cook, the recipes are short, concise, and easy-to-follow.
---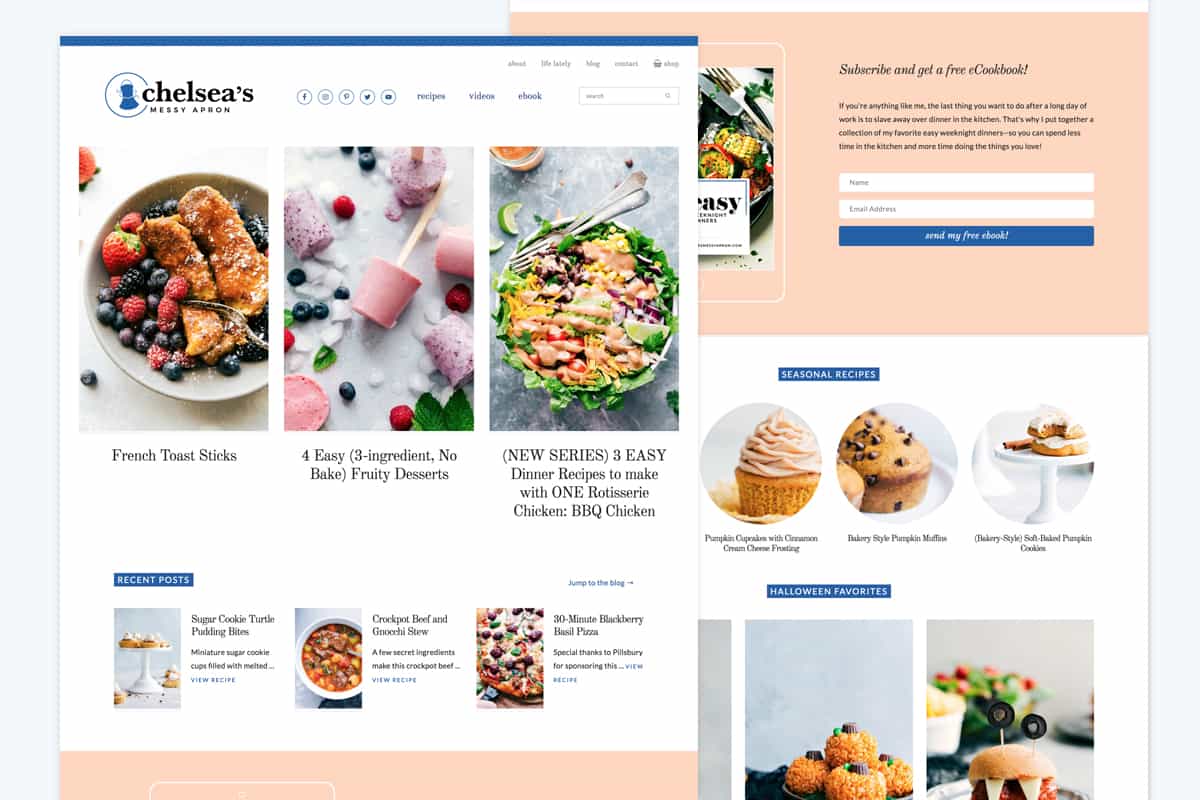 Be sweet, healthy, and successful | Chelsea's Messy Apron
In contrast to Karen, Chelsea's blog is down-to-earth, personable, and bright. And despite the messy apron, her website is well-organized and clean.
Chelsea has a degree in Exercise and Wellness, so her recipes are a fun balance of healthy, easy, and chocolate.
Currently, we're drooling over her 7 Layer Bars — the image of melted chocolate is enough to make you give up healthy eating FOR LIFE. Her blog posts combine video tutorials, insights into how she created the recipe, and printable instructions.
Want to learn her secrets? Chelsea published a book that spills the beans on how she made $40K in her first year of blogging. While we personally haven't read the book, you can learn more about it here.
---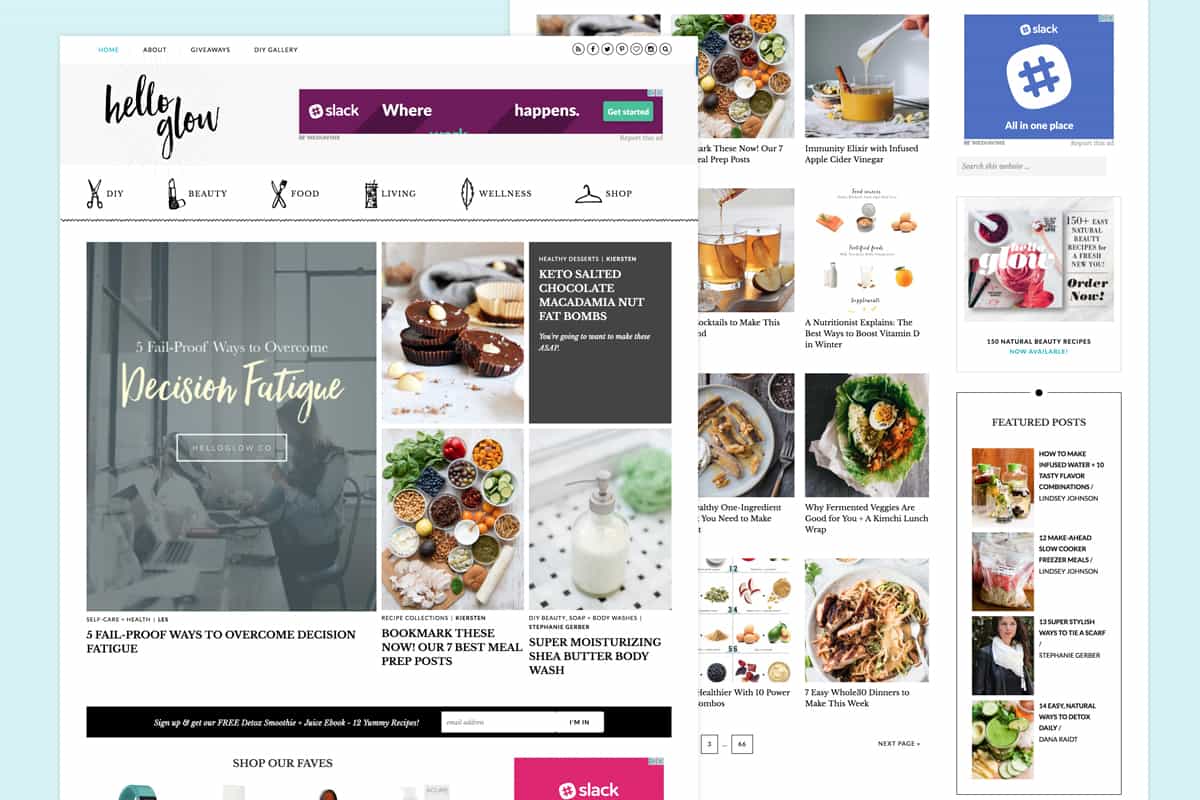 Blog about more than just food | Hello Glow
If healthy eating and style is your jam, Hello Glow is the way…to go. Stephanie Gerber is a writer and mother of three. And also an avid believer in stripes, long soaks in the tub, and red lipstick.
Her website is bright and lush. She brings a unique angle to food blogging by focusing on the whole lifestyle, not just the food. You can tell she has a great team behind the blog because the photography, graphics, and writing are cohesive and on point.
If you're a Meatless Monday Carnivore, you might just sacri-fries your life for this Sweet Potato Burger with Avocado-Lime Sauce.
Want to know how you can combine food blogging with your other passions? Explore Stephanie's page to see how she can make green living, hair care, and cooking come together… easy peasy lemon squeezy.
---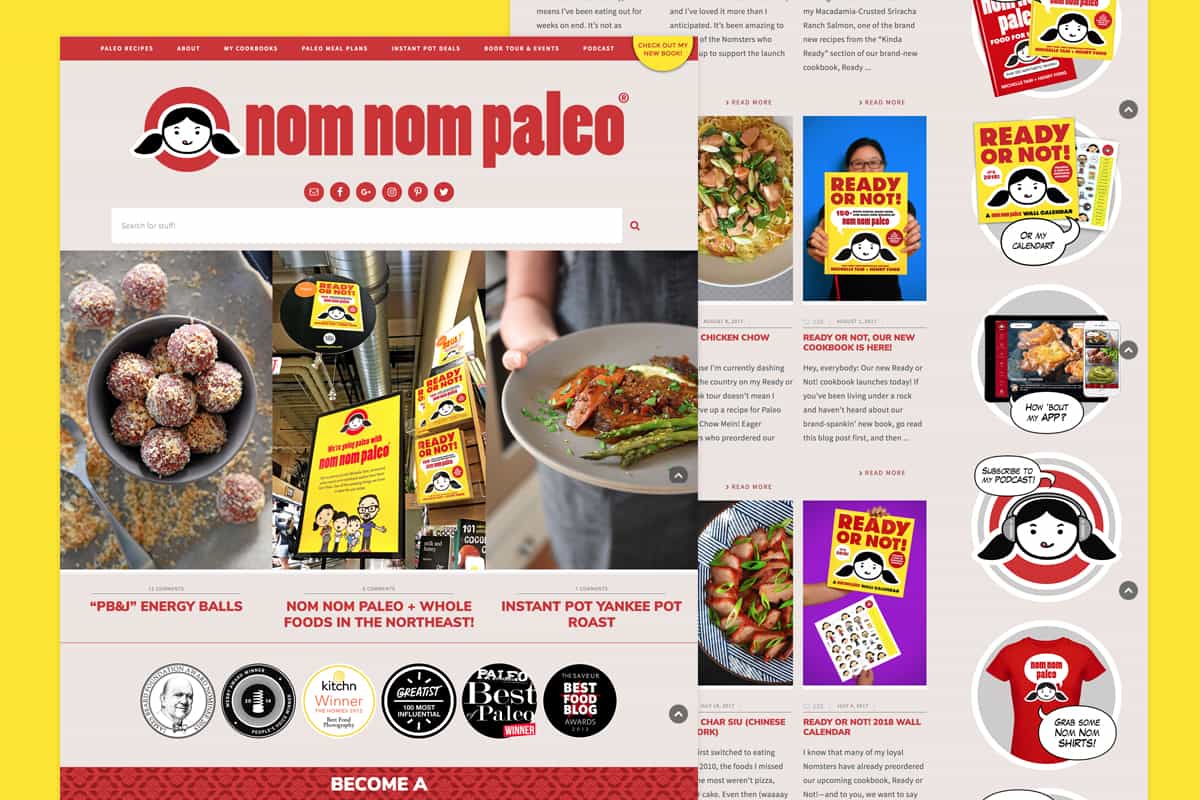 Fuse your personality with expertise | Nom Nom Paleo
Funky and packed full of personality, Michelle Tam has found the winning combination of niching down and leveling up.
Her writing is engaging — especially her about page. She talks about how she wanted to be a flavor scientist and create lab-concocted "Frankenfoods" for a living (her story gets even better from there).
She's won the Best Food Blog Award by Saveur Magazine, is now a Webby Award-winning cooking app, and won the Best of Paleo Award winning podcast. Oh, she also has a New York Times bestselling cookbook. No big deal.
But, let's talk about her recipes. She has a section devoted to Instant pots or pressure cookers. Real talk: This Pressure Cooker Lamb Shank is making on appearance on our menu soon.
Need to see how to infuse your unique personality with an award-winning blog? We recommend following Michelle!