The default_image_size setting in WordPress is used to control what default thumbnail is used when inserting an image into a post: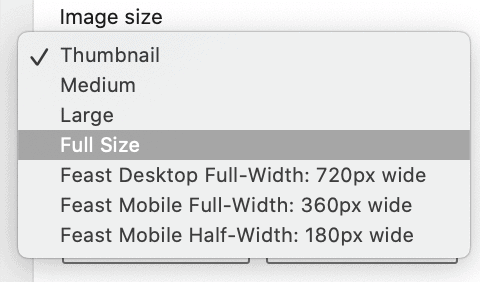 Note: this is different than the "default thumbnail size" in the Feast Plugin which is specifically for the FSRI block and the Modern categories page.
Our image optimization guide recommends that you always insert images into post at full size but you must upload images at 1200px width. This is because a "full size" image no longer has any pagespeed penalty if you're using lazyloading with WP Rocket (we recommend all sites do this).
Set the default_image_size
If you have the Feast Plugin and this is not set to "full", you'll receive a prompt to update this setting in version 6.5.0. (not yet released)
If you don't have the Feast Plugin, you'll need to manually navigate to the /wp-admin/options.php page and search for it.
Background
The classic editor originally supported the default_image_size setting, and this was overlooked when WordPress released the block editor ("Gutenberg") for 3 years.
As of 2022, it appears they've re-added support for it.
See this Github discussion ticket where we raised serious concerns about this.