Featured images can be varying sizes for a number of reasons, including:
Jump to:
Images too small
The most common cause of inconsistent image sizes is that they're being uploaded too small.
Make sure you're uploading featured images at minimum 1200x1200 px.
Selected featured image too large
If the size you've selected in the "Foodie Pro - Featured Posts" widget is larger than the featured image you've uploaded, WordPress won't be able to create a thumbnail large enough to fill the space.
To fix this, you can change the selected image size to be a smaller option.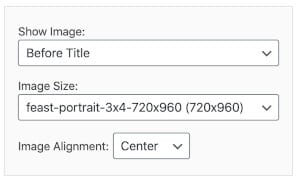 Note: if you're uploading at 1200x1200, there shouldn't be any cases where the size is too large.
Old uploads
WordPress has gone through a number of updates over the years, and sometimes the old images simply aren't compatible with the most recent version.
To test this, upload a brand new featured image (1200x1200 px) in place of the existing one, to see if this resolves the issue.
Changing themes
When changing themes (or implementing the Modern Thumbnails) you may lose the previous theme's image sizes.
To resolve this, run the regenerate thumbnails plugin then change the selected image size in your Featured Posts widgets and Customize > Theme Settings > Content Archives > Featured Image Size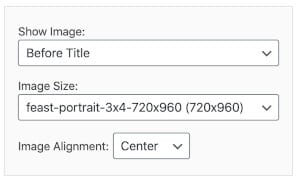 Jetpack
Jetpack contains a number of settings that can impact featured image size and quality. We do not recommend using Jetpack.