Description
The Foodie Pro theme is now only available through the Feast Plugin. If you're in your first 12 months of food blogging and would like to purchase the theme without any support, you can purchase the Foodie Pro Classic Theme.
We highly recommend purchasing the Feast Plugin, which grants access to all 5 themes plus enhanced SEO, pagespeed, core web vitals, and accessibility.
---
Rad Features
HTML5 Markup + Mobile Responsive
Color & Typography Customizer Options
Widgetized Home & Recipe pages
Featured Images
Foodie Pro Featured Posts Widget
Strategic Ad Space
Pagespeed Optimization Ready
Import demo content & widgets with a few clicks
Recommended WordPress Plugins
Framework & Hosting
This Genesis child theme requires separate purchases:
---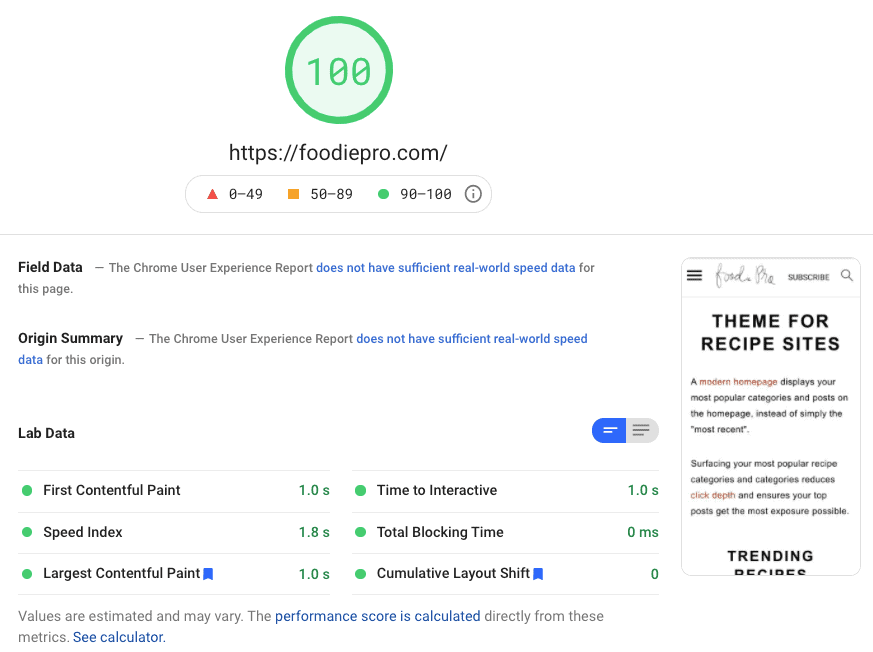 ---
Praise
"Foodie changed my blog (and I don't even think I've harnessed it's full potential). I've never looked back."
First impressions matter, especially when it comes to websites. You have a fraction of a second to make that first impression, and only 2-3 seconds to grab their attention with stunning food photography. Foodie Pro is here to make your content stand out and keep your visitors engaged.
"The thing I loved most about the Foodie theme is it's practicality, simplicity and ease of showcasing photos without making the blog look crammed. It's helped me 4x my page views simply because the theme is so user-friendly and makes readers want to stay."
We know you'll enjoy just how simple this theme is, with best practices built right in so that you don't have to spend hours researching landing pages, conversion rate optimization, configuration settings, etc. Simply install Foodie Pro after Genesis, load in the demo content and start customizing!
Clean. Crisp. Minimal. This is what we hear time and again from our customers. Foodie Pro is designed to be clutter-free, so that your visitors can focus on what's important. Those delicious recipes you spend hours writing, baking, and staging for pictures. This keeps those beautiful pictures at the forefront, engaging your readers.
"Foodie Pro is such a flexible theme. I love being able to customize with such a clean, crisp theme to start!"
Your visitors are likely looking up food recipes on their mobile devices - at work, at the grocery store, or standing in front of the fridge at home. Make sure that you're putting your best foot forward with Foodie Pro.
"Before using your theme, my mobile site looked terrible! Check me out now!! I have a much cleaner site, I'm growing and every day I learn something new and awesome I can do with this theme. Thank you!"
We've listened to your comments and suggestions over the years and have used them to design the most food-blog friendly theme out there. A combination of proper spacing with subtle colors keep the focus on the important stuff - the delicious recipes you're creating, and witty commentary to go along with it. Get your web design out of the forefront, and let your content do the talking.
"Foodie Pro fits so perfectly with what I do. My readers can concentrate on the good stuff without the distraction of a fussy theme. Perfection."
Updating your food blog theme to Foodie Pro is like going through a kitchen renovation - the end result is something that you could fantasize about but couldn't quite fully picture. Once it's done, everything is new and exciting, and blogging becomes a joy again.
"I am completely in awe of the entire look of the blog now. What a transformation it's been after installing the Foodie Pro theme."

- Arundhuti, mysaffronkitchen.net
This page contains affiliate links. Your clicks and purchases help support Feast at no extra charge to you. We only recommend products that we're madly in love with.
---
What do I get with my theme purchase?
See this post: What am I paying for?
---
What if I have more questions? How can I get support?
We include 12 months of support and updates with theme purchases. Since setup takes just a couple hours, this is 355 days longer than you actually need.
We have a dedicated support team to help you get your theme set up. Check out our helpful tutorials then submit a support ticket if you need additional assistance.
We recommend becoming familiar with our company's Principles and Best Practices, which outlines the direction of our theme development and guides our support policy.
---
Will this theme work with WooCommerce?
Yes! You can read out WooCommerce setup info here.
Please note that we don't offer integration or support for WooCommerce, and integrating it into a food blog is generally a mistake.
---
Is this theme ADA compliant?
No. The themes were not designed with accessibility in mind. While some features/best practices are implemented by default (eg. an accessibility navigation menu), actual ADA requirements are too fine-grained and specific for an off-the-shelf theme.
Any theme that claims to be ADA compliant is lying.
ADA compliance can not be achieved through a theme, it requires an audit from an accessibility expert and manual implementation of those recommendations.
For more information see our accessibility page.
Features developed through the Feast Plugin are being designed with accessibility in mind, but full compliance remains 100% the site owners responsibility.
---
Refunds
We don't offer refunds for any reason.
---
Is this theme pagespeed compatible?
Yes! Our theme is compatible with plugins that specialize in pagespeed optimization. See this post for more details.
Version Updates
What's new in the releases?
4.4.5 - February 22, 2023
Fix FSRI block styling issue caused by WP Rocket update
4.4.4 - June 29, 2022
Remove CSS animations (due to pagespeed conflicts)
Fix various WordPress styling updates
Compatibility with WordPress 6.0
4.4.1 - December 10, 2020
Replace Simple Social Icons container tag from aside to section, for accessibility compliance
Modified sidebar list styling to exclude featured posts / FSRI shortcodes
Further changes to default colors for accessibility compliance
Update hyperlinked image margins (Modern Menu logo issues)
4.4.0 - March 4, 2020 (unsupported)
Compatibility with Genesis 3.3.0
Recipe index filter + search now 100% full width on mobile
Updated comments styling
Set default entry-info color to darker grey for accessibility compliance (fixes low-contrast problems)
Set default entry-info hyperlinks to underline for accessibility compliance
Set default post hyperlinks to underline for accessibility compliance
Set default footer hyperlinks to underline for accessibility compliance
Set default sidebar hyperlinks to underline for accessibility compliance
Added styling for figcaption element to match block editor
Removed unnecessary styling from sidebar lists
Homepage and category page post titles set to font-size: 1em
Sidebar font-size reduced to 0.8em on desktop only
4.3.0 - December 6, 2019 (unsupported)
Compatibility with Genesis 3.2.0
There are no theme conflicts with WordPress 5.3.0, but there are other non-theme-related issues that are outside the scope of theme support
Added bottom border to mobile nav menu for usability
Updated prev/next styling on posts
Added nofollow to footer link
Fixed text wrapping issue for titles on the homepage and category pages
Removed WP Instagram Widget recommendation + styling
Added instructions for the "Featured Posts" widget "view more" link to categories - this text should be descriptive and optimized
Added tutorial to modify Entry Meta (above content) author bio for SEO in Genesis 3.2.0+
Added tutorial to remove Entry Meta (below content) for SEO in Genesis 3.2.0+
Removed unused styling on homepage widget titles
Moved font-size CSS for entry-meta, the sidebar and footer to desktop media query, where they may caused "font size too small" warning in Google Search Console

note: this means that font-sizes of some parts of your site will be larger on the mobile version of your site, which is intentional and correct

Fix: remove Google Font Styling from select element due to Safari crash issue - thanks Ben @ Nerdpress for the legwork on this
Fix: change .site-title from h1 to div - h1 tags should be page-specific, not site-wide
4.2.0 - September 2, 2019 (unsupported)
Compatibility with Genesis 3.1.0
Fixed mobile overflow issue with comments
Removed Genesis logo output - duplicate - Feast themes already have logo output
4.1.2 - August 2, 2019 (unsupported)
Bug fix: customizer unresponsive
4.1.0 - July 30, 2019 (unsupported)
4.1.0 is the first version tested to be compatible with Genesis 3.0.0+

Note: We do not recommend or support the use of the blog and category page templates
Instead, group posts by category (topic) and link to the category pages, see: food blog site structure

Removed plugin install recommendations that are not public repository
4.0.8 - June 28, 2019 (unsupported)
4.0.6 - April 13, 2019 (unsupported)
Updated header image pin="nopin" to data-pin-nopin="true"
Added styling for post pagination
Removed automated formatting for post-info line
Added to tutorials: how to set a favicon
Updated image sizes to match theme width (720/360)
Added styling to center images in footer, inserted using the image widget
Removed automatic styling of post-meta via CSS (slashes being appended)
4.0.0 - December 21, 2018 (unsupported)
Added PHP version check for PHP5.6 end-of-life notification
Thumbnail sizes set to 360 px and 720 px width - height changed to "9999 px" so that all images will resize to width dimensions
Woocommerce styling removed due to low usage - can be found here
Fix: added min-height:52px; for the mobile menu items to resolve clickable elements warning
Updated styling to accommodate block editor (Gutenberg) elements
Added styling for WP Rocket image lazyloading
3.2.0 - October 16, 2018 (unsupported)
Updated header whitespace to be smaller, so that more content displays above-the-fold
#before-content{display:none;} added for mobile, so that more content displays above-the-fold
Updated <figure> styling for Gutenberg
Updated dashboard for consistency across themes
Updated theme folder to include the version so that you don't need to delete the previous version when updating
3.1.7 - August 8, 2018 (unsupported)
Header changed

Updated header to use rather than background-image, with site title in its proper place (alt tag)
Header will now display at whatever resolution it's uploaded at - no coding changes required
Updated CSS to fix search-engine-unfriendly hidden-text (text-indent:-9999px;)

Updated footer function for ease of editing (we now recommend the "Genesis Simple Edits" plugin as well)
Updated <pre> style to more closely resemble gist/github
3.1.4 - March 29, 2019 (unsupported)
Renamed recipes-top to recipe-index-search
Renamed recipes-bottom to recipe-index-featured-posts
Updated aligncenter images CSS
Added more descriptive content to widget areas
3.1.1 - August 23, 2017 (unsupported)
Fixed a bug in the widget read more text which caused the widget to not save correctly in some environments
Fixed a bug with first grid item width on smaller screens
Removed a deprecated Genesis function for getting image sizes
Removed some unused legacy styles